Remembering Isak Chisi Swu: A tale of struggle for Naga independence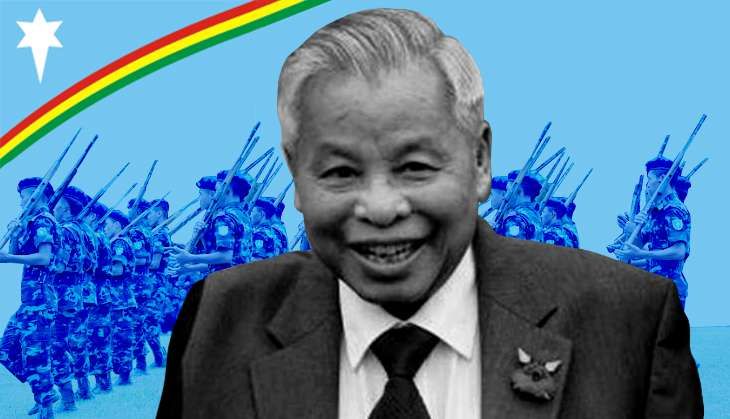 Who is Isak Chisi Swu
Swu was the face of the Naga separatist movement and the NSCN(IM) chairman
Swu died in Delhi on Tuesday. He was 87
Swu\'s story
He has been an integral part of the Naga freedom movement
Swu\'s rise to power began right after he graduated from college
More in the story
Tracing Swu\'s rise from where it all began
All you might want to know about the Naga separatist movement
Nationalist Socialist Council of Nagalim (Isak-Muivah) [NSCN(IM)] Chairman Isak Chisi Swu lived and died for Naga unity and independence.
His death, in New Delhi on Tuesday, has created a void that will forever remain in the history of the resistance movement in Naga-inhabited areas of northeast India.
Swu had always stood like a colossus advocating harmony amid the centrifugal pull of tribal sentiments that had always hampered unity in Naga society.
His unwavering loyalty was soon noticed by Angami Zhapu Phizo, president of Naga National Council (NNC), who not only recruited him but promoted him to the rank of foreign secretary. This was in the late 1950s when Swu had just graduated from St Anthony's College in Shillong.
Swu's story
Swu's biggest break came when he was asked to lead the second batch to China for training in 1967 along with general Mowu Angami.
The squad which consisted of 330 cadres, reached Yunnan in the March of 1968 where they received training and weapons.
According to some former NNC functionaries, the second batch suffered heavily as they was ambushed many times by the Myanmarese army on their return journey.
Also read: Naga rebel leader Isak Chishi Swu passes away in New Delhi
Many cadres were killed and a huge quantity of weapons and ammunition were either damaged or lost.
Swu's batch was preceded by another group of 132 men, led by Thuingaleng Muivah and General Thinoselie Keyho, that had reached China a year earlier.
In China, Swu caught up with Muivah during the "tours" that were conducted by the Chinese authorities. The cadres were taken on tours to Beijing and the Great Wall, among other places in the country.
Faltering hopes
Muivah remained in Beijing as the unofficial representative of NNC until 1970. Swu returned to Nagaland with high hopes but the movement back at home was faltering.
Senior functionaries from Swu's own Sumi tribe were revolting against the NNC leadership and were planning to join hands with the government.
Swu was persuaded to desert the NNC but he rejected his tribe's overtures and instead began to give shape to another organisation to sustain the campaign of independence.
The decisive moment came in 1975 when a section of NNC concluded the infamous Shillong Accord with the government.
Both Muivah and Swu were unnerved, as were many other functionaries who immediately joined hands to oppose the Shillong Accord and by doing so they only invited more trouble.
Rebellion story
The rebels planned they would slip away to Myanmar but Swu was arrested along with Muivah and some other accomplices by the NNC for opposing the agreement.
According to some former rebels, the duo were supposed to have been awarded capital punishment which was prevented only after some senior functionaries like Khole Konyak and SS Khaplang intervened.
In his memoirs, NSCN(IM) Vice President Khole Konyak has described how he refused to grant approval for the death sentence of the two leaders.
"I replied to the NNC authority that I have not been consulted for the arrest of the two leaders and therefore, I told the NNC leaders that I don't want to create division among the Nagas by killing any Naga leaders. In this way I saved both Issac (Isak) Swu and Muivah from the jaws of death."
Swu and Muivah were rescued and whisked away to a location hundreds of kilometers away in Thengpa, a village in Myanmar, beyond the reach of hostile forces.
New hopes
Brain storming sessions followed for several months among all functionaries who had lost faith in NNC and its leadership.
The result was the formation of the National Socialist Council of Nagaland (NSCN) in 1980 with Swu as chairman, the Myanmar-based SS Khaplang as vice chairman and Muivah as the general secretary.
NSCN soon spread its wings in the Naga-inhabited territories in the twin countries.
Swu argued in favour of "Nagaland for Christ" like other senior functionaries to unify the heterogeneous tribes on both sides of the border.
The programme succeeded to a great extent in Nagaland and some areas of Myanmar. But opposition began to grow in parts of Myanmar where age-old customs were banned and brutal means employed to wipe out the NNC.
By 1987, the Myanmarese faction led by SS Khaplang also suspected Muivah of negotiating with the Indian government.
Things came to a head a year later when cadres loyal to Khaplang converged at a place near Hanseng in Myanmar and killed almost a majority of the participants who owed their allegiance to Muivah.
Newer factions
Muivah was rescued by United Liberation Front of Asom (ULFA) and kept hidden in Margherita for months before he slipped away to Dimapur.
Swu hopped from place to place until he landed in Bhutan at the camp set up by the National Democratic Front of Bodoland (NDFB), a Bodo rebel outfit from Assam. Muivah also landed up in Bhutan weeks later.
Naga rebels from Nagaland and Manipur soon began to arrive at the camp for long meetings with the leaders. It was from this base that the beginnings of the Isak-Muivah faction or the NSCN(IM) were made which went to become the largest militant outfit in the Northeast.
Recalling the incident, president of NDFB Ranjan Daimary said, "We had a thrilling experience with Swu, Muivah and Angelius Shimray when they were guests at our camp in Bhutan. After a few months, they shifted to Kathmandu and then to Bangkok."
Daimary's efforts to catch up with them did not materialise until 1995 when discussions began at a foreign destination among delegates of predominantly Christian rebel groups in the Northeast for an alliance.
The result was the formation of the Self-Defence United Front of South-East Asian Himalayan Region which promised to work out a combined strategy for the campaign of independence.
Two years later the alliance crumbled when NSCN(IM) signed the ceasefire agreement with the Indian government.
Isak and Muivah landed in New Delhi early morning on 10 January 2003 after an invite from Prime Minister Atal Behari Vajpayee. Talks of independence have been dragging on since then with occasional reports of them heading in the right direction.
(Bhattacharyya is a senior journalist is Guwahati and author of Rendezvous With Rebels: Journey To Meet India's Most Wanted Men)
Edited by Jhinuk Sen
Also read: Naga separatist Isak Swu no more. What happens to the peace process now?