Red scare: two more Chinese dissidents say India revoked their visas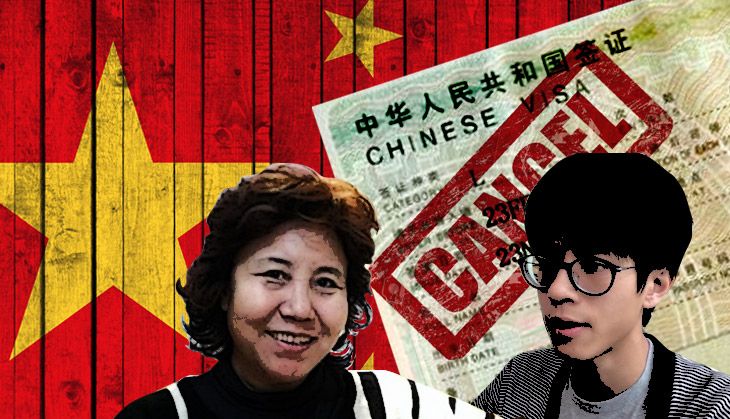 India's woes on the diplomatic front continue. Days after Uyghur leader Dolkun Isa's visa was revoked by the Narendra Modi regime, two other Chinese dissidents Ray Wong and Lu Jinghua claimed there visas were cancelled at the last minute.
All three were coming for a conference in Dharamsala that will be addressed by the Dalai Lama.
The cancellation of their visas is being seen as India bowing to Chinese pressure even though the external affairs ministry has cautioned "against meanings being read, either on visa being given to Mr Isa or its subsequent cancellation". Worse, it highlights the absence of a clear policy for dealing with such issues.
Analysts have described the flip-flop on Dolkun Isa's visa as Modi's first big foreign policy misstep. It is surprising, they have pointed out, that while the Modi government is allowing a conference on China and Democracy, it is preventing people China deems undesirable from participating in it. This contrasts starkly with China's stand. Only recently, Beijing vetoed India's request to the UN Security Council for sanctions on Masood Azhar.
Sources in the external affairs ministry, who had earlier claimed the ministry was out of loop on the revocation of Dolkun Isa's visa, say they have received "some information" from the home ministry, which issues e-visas. What's this information? Lu Jinghua's papers were illegible and there was "inconsistency in the purpose of her visit". In Ray Wong's case, there was data inconsistency in his documents. The sources also claim that visas had not been issued to Lu and Ray, so the question of revocation does not arise.
Left in the lurch
But Lu, who is famous for her role in the 1989 Tiananmen Square protests and is considered a criminal by China, has claimed that she was told at the New York airport that her visa had been cancelled. She said officials at the airport did not entertain her e-visa and made her run to the consulate. Ray Wong is a student activist based in Hong Kong.
Interestingly, justifying the revocation of Dolkun Isa's visa, the foreign ministry has claimed that he had applied for a tourist visa when he should have applied for a conference visa. "After obtaining the visa, Isa stated publicly that he was coming to attend a conference, a fact which was suppressed in the visa form and something that a tourist visa does not permit," the ministry's spokesperson Vikas Swarup has said.
China had warned against allowing Isa into India as there was a red corner notice pending against him. The home ministry's assertion that Isa had been granted an e-visa since red corner notices do not show up during processing of e-visas did not cut any ice with Beijing. So, the thinking goes, the Modi government was forced to cancel his visa.
Whatever the reason, the fiasco is seen to have damaged India politically. It has also left the Modi government red-faced by laying bare the utter lack of coordination among various ministries and agencies.
Edited by Mehraj D. Lone