Ram Rahim Singh begs for forgiveness with folded hands, gets 20-year sentence instead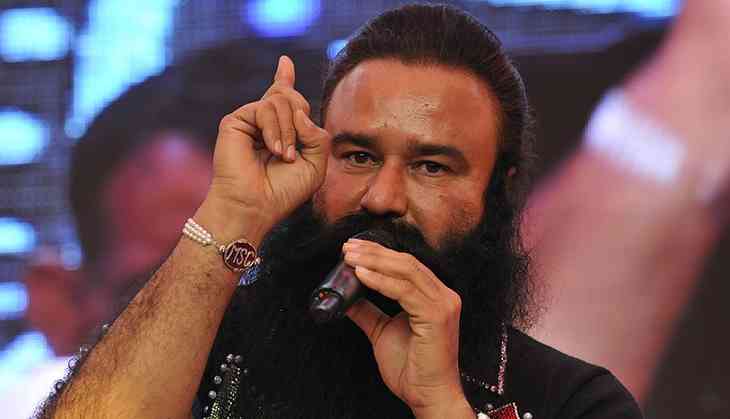 (Sunil Saxena/Hindustan Times/Getty Images)
For raping two sadhvis, the head of Dera Sacha Sauda Gurmeet Ram Rahim Singh has been sentenced to 20 years rigorous imprisonment by a special CBI court.
The Dera chief will also have to compensate both victims - a sum of Rs 15 lakh each. The CBI court also fined him Rs 65,000 for three separate offences – Rs 50,000 for rape, Rs 10,000 for attempt to murder and Rs 5,000 for criminal intimidation.
"Both these sentences in respect of Victim-A and Victim-B to run consecutively i.e. the sentence with reference to Victim-B will start after the sentence with reference to Victim-A has been completed," reads the CBI press release.
After the 'godman' was found guilty by the court in Panchkula on 25 August, large-scale violence had broken out in many parts of North India, leaving 38 people dead and 250 others injured.
To prevent any further incidents from occurring, CBI judge Jagdeep Singh was flown in a helicopter to Sunaria Jail in Rohtak, where a special court room was set up for pronouncing the quantum of sentence in a rape case.
The sentencing
Unlike 25 August, there was no violent fallout in both Punjab and Haryana, which leads to the inference that the violence on Friday in Panchkula and other areas could have been contained had preventive steps been taken by the Haryana government.
While the hearing was on to decide the quantum of sentence, Ram Rahim Singh's lawyer pleaded for leniency as his client stood with folded hands.
The court was told of all the good the convict had accomplished when it came to social welfare as well as of his ailing back. The self-styled guru then reportedly broke down while his sentence was being read out and begged for forgiveness.
But things are not looking up for Ram Rahim Singh. The lawyers representing CBI have said that they will reportedly make an appeal to have the 10-year sentence converted into life imprisonment as this is a 'rarest of rare' case.
A fortress
To not allow for a repeat of the violence last week, Rohtak was turned into a fortress with a three-tier security ring put in place around Sunaria jail, where the 50-year-old Dera chief is lodged, with 4,000 security personnel manning the area. The Army was also kept on stand by.
After the sentencing, the focus shifted to the Dera headquarters in Sirsa where a large number of followers remain holed up. Sources say that over the last two days, many have been trickling out, complaining that they were being forcibly detained inside by the Dera management.
Around the time of the sentencing, there were reports of two vehicles being torched near Fulara village in Sirsa. The area around the Dera saw deployment of a large number of police and paramilitary personnel.
More so, sources say the large scale sanitising of around 200 'Naam Charcha Ghars' (Dera camps) in both Punjab and Haryana has helped a lot in maintaining the peace.
Punjab's precautions
As a precautionary measure, the Punjab government had ordered the closure of all educational institutions, including government and private schools and colleges besides technical institutions, in the 13 sensitive districts in the Malwa belt where there are a large number of Dera supporters.
The decision was taken by Chief Minister Captain Amarinder Singh in view of the sensitivity of the matter. The Deputy Commissioners of all the 13 sensitive districts of the Malwa region Sri Muktsar Sahib, Bathinda, Barnala, Mansa, Sangrur, Patiala, Fazilka, Ferozepur, Faridkot, Moga, Ludhiana, Mohali and Fatehgarh Sahib were asked to declare a holiday in the educational institutions to avoid any sort of inconvenience to the students due to erratic bus services and other modes of transport.
While leaving it to the Centre to decide on ordering a probe into Friday's violence, Amarinder has made it clear that no compensation would be given by his government to law breakers from his state who were killed in the Panchkula 'carnage'.
He also pointed that Haryana Chief Minister Manohar Lal Khattar had made no attempt to get in touch with him even though the Punjab intelligence agencies were regularly providing their counterparts in the neighbouring state with inputs.
On 27 August, the Chief Minister had toured dozen of areas that had witnessed sporadic incidents of violence in the wake of the court verdict against the Dera chief on Friday.
He reiterated that the main cause of the trouble was allowing such a large crowd to gather in Panchkula ahead of the court verdict. This had led to the violence in which, of the 24 bodies identified so far, 11 victims each were from Haryana and Punjab and one each from Rajasthan and Uttarakhand.
Amarinder said that a large number of preventive arrests were made ahead of the sentencing. A total of 23 FIRs have been registered in Punjab. The recoveries made by the security personnel include 62 petrol bombs, a 12-bore gun with a dozen cartridges and a .22 revolver with 28 cartridges.
A harrowed Haryana
During its sanitisation drive at 103 Naam Charcha Ghars, the Haryana police recovered 14 motorcycles, one tractor, four two-wheelers and one car, besides, a large number of weapons and other 'objectionable' items.
According to the Director General of Police (DGP) BS Sandhu, 17 Naam Charcha Ghars were sanitised in Fatehabad, 13 in Ambala, 10 each in Kurukshetra and Karnal, nine each in Kaithal and Panipat, seven in Yamunanagar, six in Jind, four each in Panchkula and Hisar, three in Bhiwani, two each in Sonepat, Jhajjar, Hansi and Rewari and one each in in Gurugram, Faridabad and Rohtak.
The DGP said that one big knife, one sword and 18 gandasi were recovered from the Naam Charcha Ghars besides 104 sticks, 48 iron rods, 21 bottles of diesel, petrol and kerosene, two grass cutter swords, three axes, five sickles and two saws.
Haryana Police have also reportedly booked Dera Sacha Sauda spokespersons Aditya Insaan and Dhiman Insaan on sedition charges following directions from the Punjab and Haryana High Court to verify the report carried by a Hindi daily regarding alleged instigation of dera supporters by its five leaders.
Sedition and attempt-to-murder charges have also been slapped five Haryana police personnel, who were part of the Dera chief's security when he had arrived at Panchkula to appear in a CBI court on 25 August. The five had reportedly tried to free the godman when he had been brought out from the court after being convicted.
The Deputy Commissioner at Panchkula has invited applications or claims from affected entities regarding damage caused to public and private property. The applications or claims are to be submitted to the respective Sub Divisional Officer (Civil) in their offices.
Damage to public property
On the other hand, hitting the iron while it is hot, Amarinder has ordered strict enforcement of the recently notified Punjab Prevention of Damage to Public and Private Property Act 2014 in the wake of the violence by Dera supporters.
The Act that was notified in June this year after receiving Presidential consent following consultations with seven different central ministers, makes any act of lawlessness, arson or rioting leading to damage to property a non-bailable offence. Stringent provisions have been provided aimed at preventing such violence, with the guilty liable to imprisonment and fine, as well as payment of compensation.
According to a government spokesperson the legislation clearly provides that no person, accused of an offence punishable under this Act, shall, if he is in custody, be released on bail on furnishing his bail bond unless the prosecution has been given opportunity to oppose the bail application of such release. The offence committed under this Act, shall be cognisable.
Such offences are punishable with imprisonment up to one year, along with a fine which may extend to Rs 1 lakh. In the case of damage caused to property by fire or explosive substance, the imprisonment may be extended to two years and fine may go up to Rs 3 lakh under the provisions of the legislation.