Portents of a hate storm: beware defenders of DU #RamMandirSeminar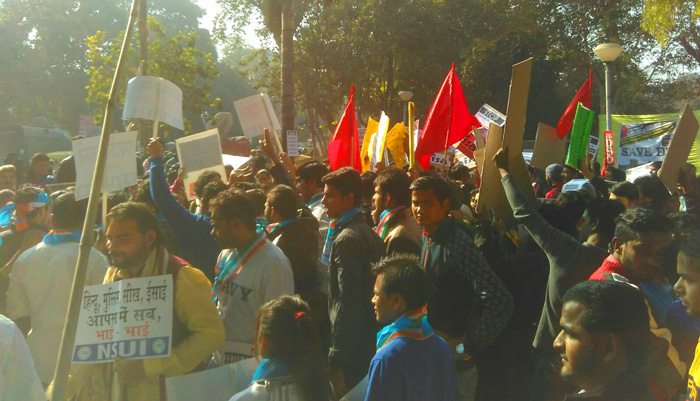 If the toxic atmosphere pervading Delhi University on 9 January is any indication, the ideological war between the liberal left and the Hindu right, increasingly assertive since the BJP came to power, is getting uglier. And it can only continue with disastrous consequences.
So, what happened?
The Arundhati Vashishtha Anusandhan Peeth, or AVAP, today inaugurated a two-day seminar "to mobilise public opinion for Ram Janmabhoomi temple" in the university's Conference Centre. It was attended by, among others, Subramanian Swamy.
Hundreds of police and paramilitary personnel were deployed, presumably to keep peace between supporters of the seminar - Bajrang Dal activists, for one - and those opposed to it such as members of NSUI and CYSS, the students unions affiliated with the Congress and AAP, respectively.
Also read: DU students protest against Ram Janmabhoomi seminar, Swamy calls it intolerance
As expected, non-Sangh students unions came out to protest, only to be denounced by the Bajrangis as "woh log", which they helpfully explained meant "all anti-national forces that have destroyed the country for sixty years".
For god's sake
After paying obeisance to the recently departed VHP leader Ashok Singhal, the seminar began with a keynote address by man of the hour, Subramanian Swamy.
Swamy, with his acerbic wit and humour, held the 500-strong audience, comprising AVAP, BJP, VHP, Bajrang Dal and ABVP activists as well as professors of the university, in thrall.
"Rajiv Gandhi promised to build Ram Mandir in Ayodhya. He went against his party to allow Ramayana on national television and laid the foundation of the Ram Mandir movement," Swamy said.
His next sentence was a barely disguised attack on Sonia Gandhi: "Magar ache logon ko buri biwi bhi milti hai," he said, meaning that Rajiv chose a "bad wife" who apparently steered him away from the "movement".
Swamy proclaimed that even though "Muslim invaders" had ransacked more than 40,000 temples over the centuries, "Hindus" were only asking for three to be rebuilt - Ram temple in Ayodhya, Krishna temple in Mathura and Kashi Vishwanath in Varanasi.
"There cannot be a compromise on these three," he declared.
Then, G Rajagopalan, the Additional Solicitor General of India, took the lectern. "Why are protests erupting outside on the word 'Rama'?" he began.
Also read: Secularists never let India remain in peace: Chandra Prakash on DU spat
"The state must restore the faith of Hindus. Ram Janmabhoomi is a question of social justice because every Hindu wants to see their faith honoured by the state," he later told Catch. Rajagopalan has worked extensively on the Babri Masjid-Ram Janmabhoomi dispute.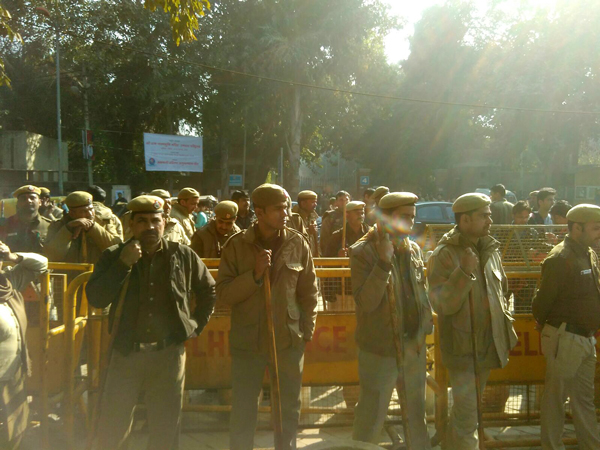 Their voice was amplified by apparently rightist professors and students from DU.
"I believe the protests going on outside are more telling of their nature than ours. I don't see why they need to protest against an academic seminar like this," said Suneel Kashyap, who was recently appointed a member of the university's Academic Council.
Why're they protesting an academic seminar. They're most intolerant, insecure: DU prof Suneel Kashyap
"Why must they stop Yogi Adityanath from entering Allahabad University and Ramdev in Jawaharlal Nehru University when they were not speaking anything political on those campuses? They accuse us of intolerance but they're the most intolerant and insecure bunch."
Chorus of hate
A group of VHP and Bajrang Dal activists gathered outside the conference hall were more blunt. Asked if they would be satisfied if the "secularists" let them build the temple peacefully, they said it won't suffice.
"If Muslims have to live in India, they have to accept our rules," one of them said to shouts of "Vande Mataram Kehna Hoga, Hindu Samaj Mein Rehna Hoga".
The anger was barely masked. While most of them insisted that "we will not be violent or take any extra-legal steps", they invariably declared, "first Ram Mandir, then Ram Rajya". "And if the state fails to deliver this, from Delhi to Ayodhya we will raze their mosques to the ground."
Also read: DU may take action against AAP student wing for rock concert
Raising his voice over the chorus, a 17-year-old student of political science declared, "if they cut our cows, we will cut their heads". This was met with cheers and shouts of Jai Shri Ram from the 40-odd mob that had gathered around.
"We are essentially peace-loving people, but they have been testing our patience for too long," Praveen Babbar, Bajrang Dal's Zila Cordinator for Badarpur. "Neither will Modiji do anything, nor will the courts. If things have to be done, the Hindu Sangathan will have to take matters in its own hands."
"And if Hindu Sangathan leaders lose their minds, we will cut off the heads of all Muslims from Delhi to Ayodhya."
For Ram Mandir, we'll cut off heads of all Muslims from Delhi to Ayodhya: Praveen Babbar, Bajrang Dal
"Hindu kabhi chhedta nahi hai, aur chhedta hai to chhodta nahi," Babbar added, to applause from his cronies. Shorn of its menacing tone, his threat means: a "Hindu" never resorts to violence but when he does, it's murderous.
Their grievances are countless. Sample this from Kaushlesh Rai, a student at the university.
"Why didn't the media report on the Malda riots? Why was Akhlaq's family given lakhs of rupees in compensation? Did he do a good deed by slaughtering the holy cow?"
"We want to peacefully establish the historical, archaeological and legal aspects of the Ram Janmabhoomi issue. I don't see why they need to protest that. Have we ever protested the many seminars they have held on Marx?"
He continued, "In 2003, Nagaland became India's first state without a temple after the Church razed all the temples there. Millions of Hindus were forcibly exiled from Kashmir in the 90s. But nobody is seen protesting and returning awards on these issues."
Also read: December 6: Ram Mandir, a commitment or convenience for the BJP?
"The state has selectively favoured a certain population for its own political agenda for years. The time has come to change this."
The state has favoured a certain population for years. It's time to change this: Kaushlesh Rai, DU
Pushing back
On the other side of the campus were "woh log" - activists of students unions such as NSUI, AISA, SFI, AISF, DSU, KYS and CYSS, shouting slogans and singing songs to protest against the seminar.
Although they failed to rally under a united banner, or even had a united voice, their objections weren't much different.
"Ram Janmabhoomi is not an academic issue. The bookings for the seminar were done in the name of 'Indian religion' and later they changed the topic to Ram Janmabhoomi," said AISA president, DU, Aman.
"The university does not allow us space to hold seminars on issues such as the Bhagana rape victims, Muzaffarnagar riots and communal violence. But it's allowing a seminar on Ram Janmabhoomi, a matter that's still sub judice and has led to violence and loss of lives historically."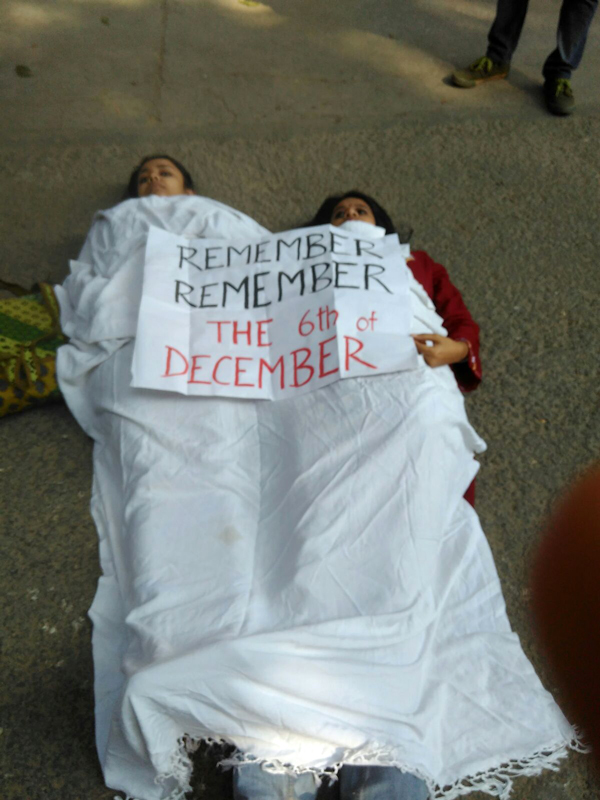 "The administration is facilitating such ideologies to flourish on the campus. It's a scheme to destroy the university. Ironically, those who fight to uphold the secular fabric and academic values of the university are barred from going in," Aman added.
Indeed, the liberal university space has been under strain since the BJP took power in 2014. Delhi University has seen a slow purging of administrators and staff members of left liberal persuasion, while people aligned with the ideology of the ruling party have been offered key positions.
Also read: Ram temple is just an excuse. UP polls are the main goal
The two sides have squared over issues such as the "dilution of academic rigour", cutting of research funding and privatisation of higher education.
While the protestors largely stayed away from the Bajrangis, as they called themselves, and the conference hall, an independent group of DU students, mostly girls, got into the conference hall to protest - by lying on the floor shrouded in blood-stained cloth.
A group of men, mostly VHP members, surrounded the girls and brusquely told them to get up and leave: "naatak band karo aur jao yahan se."
To this, one of the girls replied, "if you can make all the people who have died fighting in the name of Ram Janmabhoomi get up and leave, we will leave too".
When the police forced them out, the men taunted, "Dekho, murde bhaag rahe hain". "Look, the dead are fleeing."
The remark was loaded with such viciousness it should ring alarm bells and put us on guard.
Also read: Is India headed for Ram Mandir 2.0? Watch what people have to say