Tired of being treated shabbily, Karnataka cops plan strike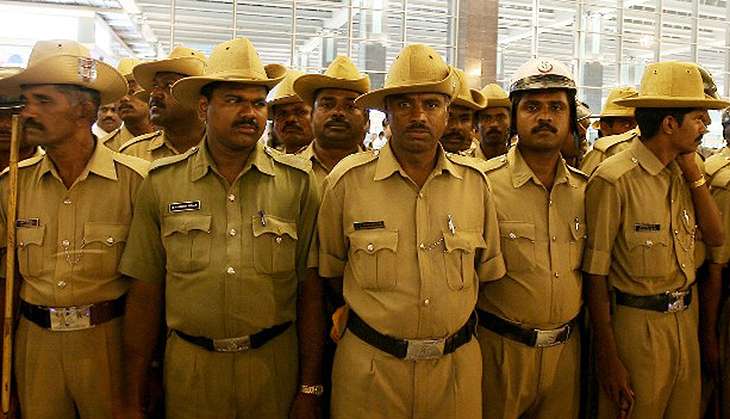 Why the strike
Constables, head constables lowly paid, over worked, not sanctioned proper leaves
Made to work as orderlies of senior police officers, judges and bureaucrats
What\'s Siddu doing
Akhila Karnataka Police Mahasabha chief V Shashidhar arrested
CM Siddaramaiah invokes ESMA ,warns forces of dire consequences
More in the story
How a newspaper report triggered outrage
What does the home minister say
Panicking at the thought of its 64,000-strong constabulary going on a day's strike on Saturday (4 June) to protest against poor salaries and working conditions, the Karnataka government came down heavy on Wednesday night to detain the strike leader.
The government exposed its 'nervousness' as it used a loyal force of around 30 policemen to swoop down on the house of the Akhila Karnataka Police Mahasabha President V Shashidhar at Yelahanka New Town after midnight.
The mild-mannered Shashidhar, a former policeman himself, has attracted nearly 50,000 to his organisation.
Also read: Tipu controversy: VHP calls for Karnataka Bandh on 13 November
The Akhila Karnataka Police Mahasabha is a registered body, but not unrecognised by the state government.
Poornima, Shashidhar's wife, said instead of trying to intimidate him by sending such a big force, they could have sent one constable and Shashidhar would have readily surrendered.
She alleged that when their daughter tried to take pictures of his arrest, the policemen snatched away her mobile phone and smashed it to the ground.
Another dozen policemen returned to the house around 3.30 am. Poornima said when she told them that they should return in the morning, the policemen threatened to break open the door.
She then spoke to her husband over phone and allowed the party in. Poornima said the police took away her husband's computer, some papers and old handbills, including chits of paper on which he had made notes for an article.
On Thursday morning, Shashidhar was produced before a magistrate and charged with serious allegations like sedition and incitement to disaffection among disciplined and armed forces.
Also read: Chilling: how Siddaramaiah slept while drought ravaged Karnataka
As compared to the sanctioned strength of civil and district armed police force of 94,000, Karnataka has only 64,000 policemen.They are lowly paid, over-worked and not provided adequate leaves.
Constables are forced to work 12-15 hours a day against the stipulated eight hours, with no fixed weekly offs.
"We cannot even avail of the full quota of 15 days' causal leave as our seniors refuse to accept leave applications unless it is an emergency," says a head constable who has 23 years of service behind him.
A constable in Karnataka draws Rs 11,600-Rs 21,000 in monthly salary; a head constable makes Rs 12,500-Rs 24,000.
In neighbouring Telangana, Chief Minister Chandrashekar Rao recently raised a constable's salary to Rs 48,000 per month.
Worse, some cops are forced to work as servants or 'orderlies' in bungalows of senior police officers or are on security duty to VIPs, including politicians, judges and bureaucrats.
Orderlies are expected to dress like domestic helps and carry out chores such as doing the dishes, mopping floors, watering gardens, fetching vegetables, escorting their boss's children to school or accompanying the lad of the house while she is shopping. They are even expected to polish the shoes and tie shoe laces of their bosses.
"This colonial system has existed for a long time, but no officer has done anything about it as they have found it convenient to have free slave labour. Even IAS officers and some ministers (specially, the home minister) have benefited from the system. More than anything, it is this degrading and demeaning practice that the policemen are protesting against," said a source.
Two days ago, a local newspaper embarrassed the government and the police brass by publishing a lead story with photographs of uniformed policemen cleaning and mopping the floor of a community hall that reportedly belongs to a HS Venkatesh, deputy inspector-general of police (railways).
Venkatesh allegedly also make policemen work at a temple he owns.
Chief Minister Siddaramaiah, who joined heads with senior police officers on devising methods to scuttle the strike, was unhappy with the media report.
Soon after, Director General of Police Om Prakash immediately ordered an inquiry and transferred Venkatesh.
Taking a serious note of the strike threat, the government has invoked provisions of the Essential Services Maintenance Act, which provides for summary dismissal. The CM has warned of dire consequences if the forces go ahead with the strike.
Home Minister G Parameshwar, who has been monitoring the situation on a daily basis, said of the 30,000 policemen who had applied for mass leave on June 4, "many have started withdrawing their leave applications, following request by the government."
Parameshwar, who also presides over Karnataka Pradesh Congress Committee, promised to improve policemen's salary during the next pay commission and said that he will look into their grievances expeditiously.
After taking over as home minister five months ago, he promised to review and abolish the orderlies' system, calling it a "hangover of the British era which had no place in modern society".
But he quickly got 'co-opted' into the system and forgot all about his promise. Perhaps this is his chance to redeem himself and be remembered forever by the humble constabulary for a good deed.
Edited by Jhinuk Sen
Also read: Karnataka Muslim official issues temple invites, Hindu groups take offence