Phooling around in Israel: Why Gul-Daudi Modi can have strange side-effects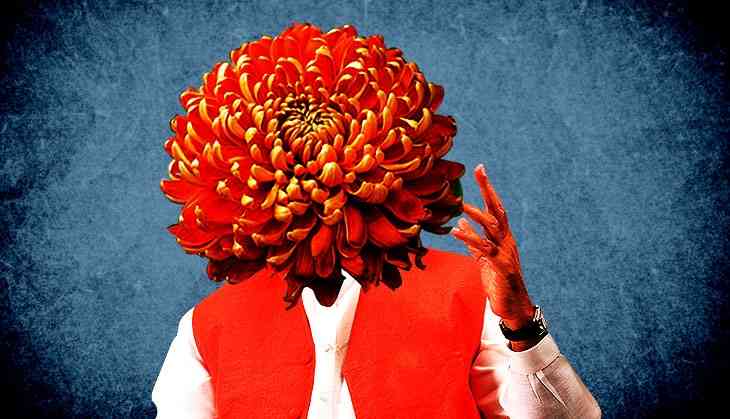 Clearly the news that flattery can get you places in India has now spread the world over. Under the current dispensation it is being used to add bells and whistles to diplomatic interactions. The Israelis have named a Chrysanthemum variety after India's Prime Minister. It has been christened "Modi". However, the public relations managers of the Jerusalem farm where they are grown, little realise the implications of such a move.


Naming a Chrysanthemum variety after Mr. Modi makes poetic sense. Hybridisers have developed a wide range of floral colours which range from pink, purple, red, yellow, bronze and orange to white. These reflect the vast palette of colours in the collection of jackets and shawls worn by the Indian Prime Minister.

Some Chrysanthemum cultivars have different colours between the disc and ray florets and this botanical phenomenon may be reflected in the combinations worn by Mr. Modi when he teams his colourful jackets with a crisp white kurta-pyjama.

This isn't the first time a flower has been named after Modi. In 2015, Singapore named an orchid after Modi which made him among 200 odd VIPs who had been given that honour. Interestingly, Singapore had proposed to name orchids after Atal Bihari Vajpayee and Manmohan Singh as well, but both the erstwhile PMs declined.


However, back home the flower is unlikely to be called Dendranthema grandiflora Modi or Chrysanthemum indicum Modi by his countrymen. Gul-Daudi is the common Hindi name of Chrysanthemum. In all likelihood, it will be called Gul-Daudi Modi or Modi Gul-Daudi in India.

The name Gul-Daudi finds mention in Sant Gyaneshwar's Geeta Gyaneshwari written in AD 1290. The name Gul-Daudi, it has been suggested, means "Flower of Daud (Gul meaning flower, Daudi, of Daud)" suggesting it came from wherever Islam came from, the flower being native to Asia and north eastern Europe.

"Flower of Daud Modi" may not sit well with someone who was projected as Hindu Hriday Samrat (King of Hindu Hearts) till very recently. Clearly, for a man who refuses to don a Muslim skullcap (prayer cap) in India or a Kippah or Yarmulke in Jerusalem, the symbolism of lending his name to Gul-Daudi has not sunk in as yet.

However, Modi who always seems to be planning his next trip abroad, has his eyes set on the far horizons. How will the rest of world absorb this christening of a flower after the Indian Prime Minister?


The origins of Chrysanthemum are in China, where it was cultivated as a flowering herb. It is depicted in Chinese pottery and is mentioned in Chinese writings as early as the 15th century BC. The ancient Chinese name for Chrysanthemum is "Chu" and the flower even has a city named after it – "Chu-Hsien" or Chrysanthemum City. It may sound odd to the Indian ear though were the Chinese to name a variety of the flower "Chu Modi".


In Japan, however, the naming of a Chrysanthemum variety after Modi will be a great honour. The flower is first believed to have appeared in Japan in the 8th Century AD. It is so highly that the Chrysanthemum appears on the Japanese Imperial seal and the Emperor's crest. The Imperial Order of the Chrysanthemum is the highest honour for chivalry in that country and Japan also celebrates a national Chrysanthemum Day. Called "kiku" in Japanese, the next time the Indian Prime Minister visits Tokyo, Kaka Modi may be welcomed with a bunch of Kiku Modis.



Chrysanthemums were brought to the US during colonial times. They are referred to there by the shortened "mums" and are given the glowing epithet "Queen of the Fall Flowers". "Modi mums" may yet find a pride of place in the vast array of Chrysanthemums found in the US.



However, the Prime Minister must use the diplomatic skills of the South Block mandarins to ban the growing of the Chrysanthemum variety named after him in some parts of Europe. In several European countries the Chrysanthemum is referred to as the death flower with its preferred use being for memorial services and to lay on graves. We have enough graves in India – too many Qabristans, as Modi himself is wont to say from time to time – and it would not do to associate the Modi flower with graves in Belgium and Austria also.



Ideally Modi should have an Indian flower named after him. The blooming Lotus is already taken by his party. His home state Gujarat has African Marigold (Tagetes erecta, which actually orginated in Mexico and not Africa) as its state flower. But imagine the inappropriateness of calling a flower Gainda Modi or Modi Gainda? Chameli and Champa also rule themselves out given the overly masculine personality of the Prime Minister.



It seems that for the time being we will have to settle for Gul-Daudi Modi till the Niti Ayog comes up with the rules for selecting the proper flower to be named after the illustrious Indian Prime Minister. Perhaps subsequently, it can also address the protocol for naming new species of insects, birds, reptiles and other animals after Indian prime ministers.