Pellets continue to blind Kashmiri kids. But it has stopped making news
Catch Team
| Updated on: 10 February 2017, 1:45 IST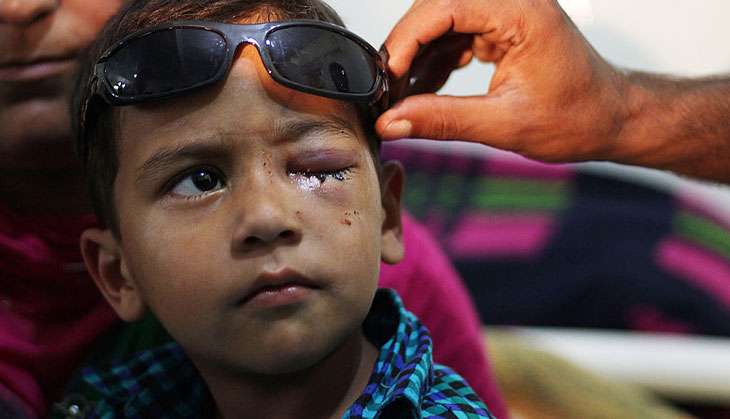 It is inexplicable why the picture of her pellet-riddled pockmarked face didn't go viral, but the story of Ifra Jan, 13, bears an uncanny resemblance to the ill-fated 14-year-old Insha Malik who lost both her eyes to pellet gunfire early in the ongoing strife in the Valley. Peace has not returned Kashmir yet.
Ifra is also from South Kashmir but from Pulwama, the neighbouring town of Shopian where Isha hails from. Ifra was also shot at home, though not inside her house as Insha was, but in the lawn of her house.
A volley of pellets fired by the police to quell an ongoing protest in the town ravaged her face. A few of them hit her eyes.
Admitted at Srinagar's Sri Maharaja Hari Singh Hospital she now stares at the prospect of complete blindness, a fate that has already befallen Insha. Doctors attending to Ifra show little hope.
"Prognosis for her is not good," said an ophthalmologist who would prefer not to be identified as the government has barred him and his colleagues from talking to media on the issue. "We are trying our best though."
But the fact that Ifra has attracted little media attention is a testimony to the routinisation of the grim humanitarian fallout in the Valley as the turmoil continues unabated.
A long list of victims
Along with Ifra, two more girls - Afroza (18) and Shabroza (20) - were also hit in the eye. Afroza, 18, has her left eye damaged by pellets. She says she was hit when she went out looking for her younger sister during the protests.
However, at the hospital, Afroza learned that her younger sister was hit in her hand by the pellet gun fire.
Shabroza, on the other hand, was hit in her left eye and according to the doctors the injury is bad and she is unlikely to recover her eyesight.
The data of the first 100 days available with the Opthalmology departments of the SMHS and the SKIMS Medical college paints a grim picture of the state of affairs.
Around 1,065 pellet victims have been admitted during the period, albeit the number have shot up since. And a shocking 523 of the victims are below 20 years of age and 101 are under 15. 370 victims with pellet injuries to their eyes are in the age group of 20-25 years.
The youngest pellet victim is four-year-old Zuhra Majeed who was hit by pellets on her legs and abdomen at her home, on the outskirts of Srinagar's Qamarwari on 10 July.
Almost no hope
Dr S Natarajan, a noted eye surgeon from Mumbai, who was flown in by the NGO Borderless World Organisation, to treat the pellet victims has been tirelessly at work during his frequent visits to the state. According to him, the prognosis for a pellet-hit eyes is always uncertain.
"Once an eye is hit by a pellet, there can be no certainty about the regaining of vision. The treatment is often a gruelling, long-drawn process and it is tricky to say which eye will recover vision, when, and to what extent," said Dr Natarajan who is also the president of Ocular Trauma Society of India.
The pellet-hit eyes, according to the doctors at the hospital, can either suffer a 'total loss of vision' or acquire 'usable vision' only.
Ifra's case hangs in the balance, precariously poised between two prospects, bad and the worse.
"We are trying our best so that she doesn't become yet another Insha," Dr Tariq Qureshi, Head of Department Opthalmology at SMHS told Catch. "She has been operated on and we are hopeful of a positive outcome."
A dark future
Meanwhile, Insha, the picture of whose disfigured, pellet-riddled face became the symbol of the ongoing turmoil, has returned to her home after her treatment at hospitals in New Delhi and Mumbai, including at AIIMS, failed to bring back her sight.
Sitting in her room with her family members and the visitors from the village, she expressed a longing to see her mother's face and to go back to her school and meet her classmates.
"I want to see your face, mother. I want to see my school, my classmates, my books," she begs her mother who breaks into loud, convulsive sobs.
Though her parents were ready to give their eyes to her, if they could be transplanted, there's no way her sight can recover. Doctors have ruled out the possibility of a transplant.
But Insha is not alone in this dark fate. Keeping her company are hundreds of others, boys and girls, men and women, partially or completely divested of vision.
And what is more unfortunate is that nobody even knows their names. They have become little more than statistics in the ongoing turmoil which has already led to the death of 95 people and injuries to over 15,000.
Edited by Jhinuk Sen