Pakistani firing was aimed at both Nawaz and Modi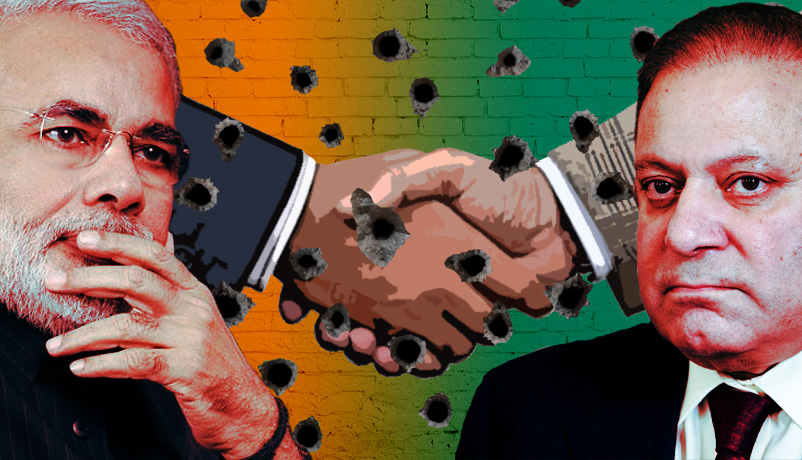 The flashpoint
The thaw in Indo-Pak ties that took place with the two Prime Ministers meeting at Ufa, may prove to be short-lived
The Pakistani security establishment is angry with PM Nawaz Sharif for leaving out Kashmir from the joint statement
Sharif had to face a barrage of criticism domestically from most quarters
Power play
Pro-Pakistan separatists Syed Ali Shah Geelani and Asiya Andrabi refused to attend the Pak High Commissioner\'s Eid Milan
The firing at the Line of Control by the Pakistani Army is aimed at putting Sharif in his place
The firing would also make it difficult for Modi to push forward with the peace process
Pakistan Prime Minister Nawaz Sharif has paid dearly for ignoring Kashmir in his talks with Prime Minister Narendra Modi on the sidelines of a meeting of the Shanghai Cooperation Organisation (SCO) in Ufa in Russia.
Putting Sharif in his place
Within hours of his return home, his reputation was mud. He was under attack from parties across the political spectrum and was being projected by the media as a weak politician, who had compromised Pakistan's Kashmir cause.
The final straw was when pro-Pakistan Kashmiri leaders in India, Syed Ali Shah Geelani and Asiya Andrabi declared a boycott of the Eid Milan dinner held by the Pakistan High Commissioner in Delhi, citing the absence of Kashmir in the Ufa statement.
That was when the firing began from across the Line of Control (LoC) and the International Border (IB) in Jammu and Kashmir. It aimed to retrieve the situation created by the Joint Press Statement issued in Ufa, show Nawaz Sharif his place and put a brake on Modi's new Pak initiative.
Sharif's political leadership has been significantly weakened. He will now hesitate to go on the front-foot to improve ties with India. Prime Minister Modi's plans for thawing the relationship have also suffered a setback. In effect, the Pakistani security establishment has achieved what it wanted.
The joint press statement made no specific mention of Kashmir. It highlighted the need to expedite the 26/11 Mumbai terrorist attack trial - an area of Indian interest. The 'core issue' of Kashmir -representing Pakistan's concern - was subsumed under the promise of the preparedness of the two sides to discuss "all outstanding issues" to "ensure peace and promote development".
Different standards for a military dictator
Not discussing Kashmir in any dialogue with India has been a problem in the past also. However, the fallout plays out differently when the Pakistani leader is a military dictator rather than an elected prime minister.
Consider a small incident which occurred in the early days of Musharraf's military dictatorship.
Sometime in the Spring of 2000, a former chief of the Indian Air Force went to Pakistan to visit his niece. She was married to the then Deputy High Commissioner of India in Islamabad.
Last straw was the pro-Pakistan Kashmiri separatists' boycott of the Pakistan High Commissioner's Eid Milan
An informal meeting was arranged with General Pervez Musharraf, who had usurped political power through a military coup the previous October. It was a rare meeting between a serving Pakistan Army Chief who had designated himself the Chief Executive of his country and an equally senior, even if retired, officer from India.
Significantly, according to an interview given to an Indian news magazine, Musharraf is alleged to have said that he would not raise the Kashmir issue if he met Prime Minister Atal Bihari Vajpayee at the UN General Assembly in New York later that September.
Musharraf was apparently very angry when the interview was brought to his notice which suggested that he might ignore the Kashmir issue for the sake of developing a good chemistry with Vajpayee.
But as he was the dictator, no one could afford to target him. They tried to blame the advisor who had facilitated the meeting. Musharraf denied that he had agreed to ignore Kashmir and the issue died down with no collateral damage.
The backlash
Prime Minister Nawaz Sharif, however, was not allowed to shrug off the allegation of ignoring the Kashmir issue in his meeting with Modi.
When he returned to Pakistan, he was greeted with a barrage of criticism from across the political spectrum. He was criticised by the Pakistan Peoples' Party, Pakistan Tehreek-e-Insaf party, Pakistan Muslim League (Quaid), Jamaat-ud-Dawa, Jamaat-e-Islami and even Syed Salahuddin of the United Jehad Council, among others.
Sherry Rehman of Pakistan Peoples' Party accused him of putting "Pakistan's concerns" on a "collective backburner". Another PPP leader and former Interior Minister Rehman Malik claimed that Modi was arrogant and had behaved as the "Tsar of Russia" at the meeting.
Tehreek-e-Insaf Vice President Shireen Mazari accused Sharif of appeasing India by failing to highlight Kashmir and Indian 'involvement' in Balochistan. She also accused him of agreeing to fast-track Mumbai attack trials but not mentioning the Samjhauta Express bomb blasts even once. PML (Q) president and former prime minister, Chaudhary Shujaat Hussain went to the extent of saying that nothing good would come out of the talks with India as long as Modi was the Prime Minister.
Hardliners (read, the security establishment) have now tried to save face with cross-border firing and the near-farcical incident of shooting down a Chinese-made 'Indian' spy drone. These attempts to bring some "symmetry" into the emerging situation demonstrate the power of the Pakistan Army which sees itself as the sole protector of Pakistan's national interest.
The security establishment in Pakistan was not only able to orchestrate political opposition to Nawaz Sharif but also target him through the media.
Pakistani commentators described the outcome of the meeting in Ufa as asymmetric - accusing Sharif of allowing Modi to do a U-turn on his Pakistan policy after his earlier belligerence. Aggressive statements from Sharif's National Security and Foreign Policy Advisor Sartaj Aziz trying to recapture lost political ground have not had the desired effect because the frontier of control had already shifted by then in favour of the army. Nawaz Sharif has, in effect, been tamed.
Setback for Modi
The fallout in India is that Modi's new Pakistan initiative has received a setback with the cross-border firing put paid to the developments in Ufa. Modi, however, still appears to be keen on salvaging the situation.
When he went to Jammu on 17 July, he refrained from discussing the cross-border firing which has resulted in one death and seven civilians injuries. He had earlier fielded his National Security Advisor and the Foreign Secretary to deal with the situation and carefully kept himself away from it.
Past experience suggests that Modi would like to return from the SAARC summit with something substantial
However, it has now become relatively more difficult for Modi to move forward on the relationship with Pakistan. This must be particularly galling for him as by signalling his desire to attend the SAARC summit in Islamabad in 2016, he has in effect set a deadline for bringing the relationship back to normalcy.
Past experience suggests that Modi would like to return from the SAARC summit with fanfare, with something substantial. Atal Bihari Vajpayee had brought back a commitment from General Musharraf that no territory under Pakistan's control would be allowed to support terrorism of any kind in 2004.
By declaring that he would go to Islamabad for the SAARC Summit, Modi is now invested in improving ties with Pakistan. However, the pitch has been queered for him by the Pakistan Army's moves.