The great Himachal road situation: negotiating multiple dilemmas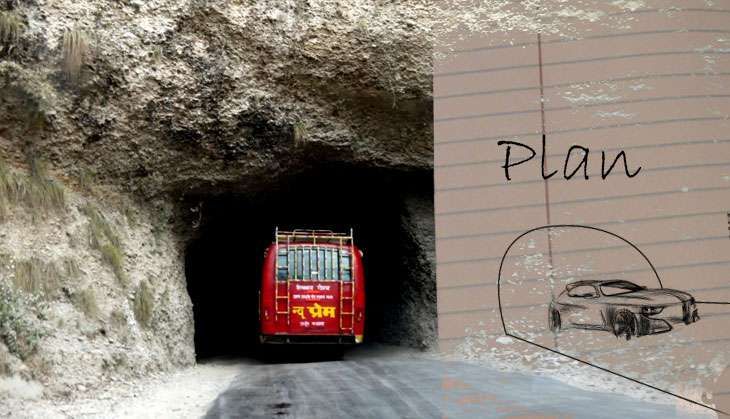 How do roads help
More roads mean more connectivity across the state

More connectivity means better chances of development
How do they not help
With increased traffic come increased chances of road accidents

Development along new roadways creates socio-economical imbalances in the state
More in the story
A Dutch traveller found Peshawar safer than Himachal

What is the government doing about Himachal\'s growing road issues - frankly, nothing
A few weeks ago, I met Jan, a 30-something Dutch man backpacking across Himachal. Jan had quit his finance-sector job back home last year and had decided to travel through Asia using his savings.
After two months in China, he went on to spend seven months in Pakistan, exploring, among other places, the Swat Valley and Peshawar.
Taken aback by his choice of travel destinations, I asked Jan if he felt unsafe in places like Peshawar that have been frontiers of violent insurgencies. He told me that while terror attacks had declined in these areas since the Pakistan army's campaign (Zarb-e-Azb) against various militant groups,. Visitors had to abide by certain well-worn dos and don'ts in these areas now.
Also read -
Cong gears up to deal with Uttarakhand-like situation in Himachal
But, Jan added, he felt far more unsafe traveling by public transport and taxis in Himachal than living in Peshawar.
On-road story
I remembered this interaction with Jan last week while reading about Nitin Gadkari, the Union Minister of Road Transport and Highways, laying the foundation for a set of road building projects across Himachal Pradesh during his visit to the state.
He announced plans to construct over forty new national highways and to redevelop several existing ones as four-lane expressways at the cost of over Rs 50,000 crore.
Though it is hard to discern the seriousness of these announcements, given that such promises are fairly routine before impending state Assembly elections, the projects have been hailed across party lines in Himachal, with former Chief Minister PK Dhumal terming it a new phase in the history of the state.
A closer look, however, reveals not only that roads have been foregrounded in policy since the state's early days, but also that their presence is an ambivalent phenomenon: while road connectivity undoubtedly advances material well-being, it also creates new risks that have not been given adequate collective thought thus far.
Roads as development
Increased material prosperity in the last two decades or so, and the extension of the road network-in large part through the Prime Minister's Rural Roads Programme (commonly known by its Hindi abbreviation PMGSY) - have together led to a boom in vehicle ownership in Himachal.
Even small hamlets in relatively off-the-grid regions are home to multiple vehicles today. For its part, the state government has prioritised the extension of bus services to rural areas connected by newly constructed roads.
The availability of transportation serves a variety of purposes, including facilitating travel for work or school, carriage for local produce, and bringing unwell villagers to medical facilities in nearby towns.
It is a common sight to see horticulturalists call the local 'Trax' driver and book a spot on the vehicle on the following morning's trip to the local mandi, returning home the same afternoon with cash in their pockets.
Increased incomes in turn have been channeled by rural Himachalis into the construction of concrete houses, opening shops and other businesses, and, crucially, into children's education, a sector in which the state has become an exemplar over recent decades.
Car-rying forward
In addition to their functional presence, automobiles inherit a certain value for those who wish to portray an image of prosperity in the local economy.
This includes the class of young men who engage in what anthropologist Bhoomika Joshi calls drivery, that is, driving automobiles as cabs or goods carriage.
For these aspirational men, cars are both a means of earning, in an otherwise scant formal job market, and markers of a seemingly-independent and aspirational lifestyle.
In short, the construction of roads in Himachal is considered to be synonymous with the popular notion of development itself. This has been so for a long time: the state's first CM, Dr YS Parmar, had recognised the importance of rural mobility and had prioritised road construction. Almost half of the first five-year plan outlay was in fact devoted to the transport sector.
However it took the PMGSY during Atal Behari Vajpayee's regime for road construction to truly boom. Inadequate finances had been the constrain during Parmar's time.
This centrally-sponsored scheme was designed to connect villages to existing road networks, and in Himachal many previously planned, but uninitiated, projects were recast as PMGSY roads. Under the PMGSY no compensation is paid to villagers whose land is acquired. Instead, land is voluntarily alienated in anticipation of positive tradeoffs expected with the arrival of the road.
The fact that this issue has not hindered the construction of dense network of rural roads over the years, says a lot about Himachal's desire for new networks.
Roads as killing machines
Last summer, I received news that a cousin had died in a car accident in a Kullu village. The story of his death was of a familiar kind: men engage in heavy drinking, at the end of which at least one person, by now unable to tell a car key from a binocular, insists on driving the vehicle back home. Others desist for a while but this person goes ahead anyway.
In most cases these events make for amusing retelling the next morning, but every so often, they turn tragic.
Here, a fellow drunkard had in fact called the cousin's home to apprise the family of his inebriated state. That night, as his wife and children watched from their porch, my cousin lost control and his car tumbled down the hill, killing him instantly and scarring his family forever.
This story, ironically, is not a surprising one for anyone who lives in Himachal. Talking to people in towns and villages, one realises the true extent of the problem: almost every person has lost a relative or neighbour to road accidents in the recent past.
Indeed, in 2013 Himachal ranked third in the country in the rate of accidental deaths per thousand registered vehicles according to the National Crime Records Bureau.
Most of these accidents occur on private vehicles but buses are frequent offenders as well. Except a few national highways that are two-lane and measure eight or more metres in width, roads in the state are single-lane, with sharp turns often at steep gradients.
Even the national highways are dangerous since here the width adds to drivers' sense of safety, and they are inclined to overspeed. Add to this regionally-rampant alcoholism and drivers' constant use of mobile phones and one will begin to grasp the contours of Himachal's road-problem.
Many highways cut through existing villages, and where they don't, new settlements develop adjacent to roads soon enough, placing pedestrians, especially young children, at the risk of being hit by the passing traffic.
Rethinking connections
On the face of it then we confront a tough question: are roads the harbingers of development, or are they mean killing machines? Careful research indicates that both discourses are partly true (and false).
Arya Sharma/Catch News
As the conceptual diagram shows, the usefulness of roads to locals' lives tends to rise sharply as rural areas first get connected. Roads continue to contribute as they become resilient to seasonal disruption with bitumen-based tarring.
Their classification as state highways further leads to better upkeep, and more public transport begins to ply on these routes.
But with the creation of national highways and incessant widening, their usefulness reaches saturation and then begins to dip due to greater danger of accidents-given higher speeds and significantly increased traffic.
Highways very often lead to spikes in property values and attract speculative investments that progressively price out locals, leading to greater social inequalities.
Given the multiple risks and diminishing usefulness to rural populations, it is surprising to find the Central and State governments continuing with the flawed unilinear idea that wider roads imply greater development.
Policy-makers need to find creative means to make road connectivity more sensitive to the needs of the rural population rather than simply feeding to the fetish of bigger highways and faster traffic.
Edited by Jhinuk Sen
More in Catch -
Uttarakhand forest fires spread to Himachal Pradesh's Kasauli
Himachal Pradesh: 22 killed in two road accidents