#Odd-even alone is useless. We need better urban redesign: Dunu Roy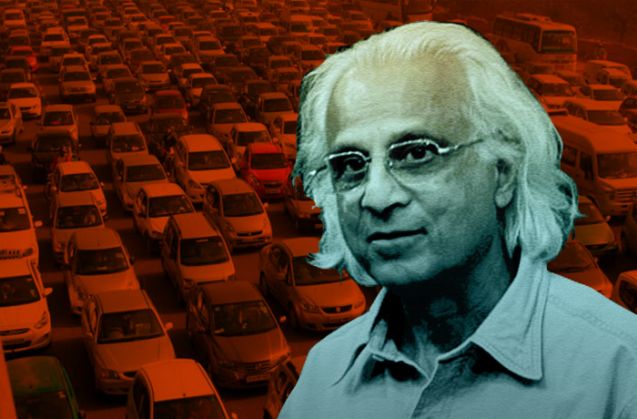 Delhi is about to witness one of the strongest measures ever implemented to curb pollution in the city. Starting 1 January 2016, the odd-even policy, which aims to halve the number of cars on the streets for a 15-day trial period, will be implemented.
The Centre has already called it a "headline-grabbing" move. But what do environmentalists and city planners feel about CM Arvind Kejriwal's decision? Will it actually curb pollution in the short term? If it doesn't work, what options does the city have to clean the hazardous air we breathe?
Also read - 5 Indian taxis, auto-rickshaws that make public transport look sexy
Catch decided to put these questions to Dunu Roy, the Director, Hazards Centre. He explains why the odd-even policy is short-sighted and why Delhi should promote cycle rickshaws, among other measures to curb pollution.
Will odd-even policy curb Delhi's pollution?
It's a tricky question. In isolation, the policy is of no use unless it's part of a larger package that says to curb pollution we will do different things. It should depend on where the pollution is coming from. Unfortunately, there is very little data on this. Two recent studies by Sarath Guttikunda and the Central Road Research Institute and an ongoing study by IIT Kanpur show that only 10% of Delhi's pollution comes from car emissions.
So if you halve the number of cars, you are going to reduce only 5% of the pollution. It does not make much sense. I would suggest something sterner like dissuading people from buying cares. For that, what you need is a good public transport system, which we don't have. As a matter of fact, public transport has been neglected for the last 15 years.
When the first Supreme Court judgment on CNG came in 2012, it ordered that for every 10,000 people, there should be one bus. At that rate, there should be 15,000 buses plying the roads of Delhi. Currently, we have only 4,700, which is not even a third of the buses required.
Only 10% of Delhi's pollution is from cars, so odd-even will reduce 5%. It makes no sense: Dunu Roy
If you don't do something about public transport quickly, just getting cars off the road will not make any difference. People still have to travel. They will shift from cars to two-wheelers, which will pollute as well.
What is needed is a well-thought out plan which makes sense for a longer term. To say you are doing an experiment for 15 days is ludicrous. When the pollution data comes in after 15 days, it will show very little difference.
If only 10% of the pollution comes from cars where does the rest come from?
Now, that is difficult to say. About 25% is purported to come from diesel - it's not very clear whether that means diesel trucks or diesel generators. So, when they hear this, they immediately start targeting trucks. But the amount of diesel consumed by generators due to load-shedding is actually quite high, and there is not even a figure for that. We don't have separate pollution data for cars, motorcycles, scooters, trucks, buses when they are on the road.
We have to do these tests in field conditions and not laboratories, but nobody has done that. Actually, we do not even know what is emitting what and how much. If the Delhi government is serious about curbing pollution, they should be doing this first.
But what are some of the short-term measures to curb pollution other than the odd-even policy?
First, what they have to do is grant more licences for three-wheelers so that more public transport, at least of the three-wheeler kind, is available. Also, reduce the taxes on three-wheelers so that fares come down.
Two, increase the number of buses. Increasing the number and frequency of trains and metros won't make much of a difference because that won't take the load off the roads. Car owners do not take the metro. They would rather take a car or a two-wheeler, which is point to point, as they've been used to it.
How would you change this pattern or behaviour?
Improve public transport. And by public transport, I don't mean the metro; I mean buses and three-wheelers and, particularly, cycle rickshaws, which are an excellent para-transit at metro stations and bus stops; they are non-polluting and provide connectivity. This means you have to give them licences and parking space.
Our city planners live in DDA colonies and are still stuck with the methods of the 60s-70s: Dunu Roy
Besides, the investment is also less - a cycle rickshaw costs 10,000 and anybody can invest in it. Instead cycle rickshaw pullers are harassed. It should be that those rides that provide better public transport should be given more space, instead more space is given to cars. This mindset has to change.
In the long run, what do you think is a workable solution to Delhi's traffic problem and pollution?
You have to change the city's design. Living in Gurgaon and working in Delhi makes no sense. You have to make distances shorter, and the only way you can do that is by redesigning the city. If most people live within two kms of their workplaces, it would immediately reduce pollution. People will then start walking and cycling to work.
Also read - 15 questions for the AAP govt on Delhi's new odd/even formula for vehicles
What about creative ways of utilising office time, like working longer weekdays to get Saturdays off, or providing options like work from home to reduce the need for commute?
You are absolutely right. You can't have your IT hub in Gurgaon while your workers live in Ghaziabad and Noida. You are increasing trip lengths since finding a place to live in Gurgaon is virtually impossible.
That's why we need urban redesign. It has not been attempted because the people planning our cities live in DDA and JDA and HUDA colonies; they have not been trained in the latest discipline of town-planning. They are still following methodologies from the 60s and the 70s. We have come a long way since then.
More in Catch - Dry run for odd/even policy on 30 December. Here's how it's going to work
What Bogota, Mexico City, Beijing's experiences tell us about Delhi's even-odd policy