Note ban: How pro-Modi trolls are terrorising our Whatsapp groups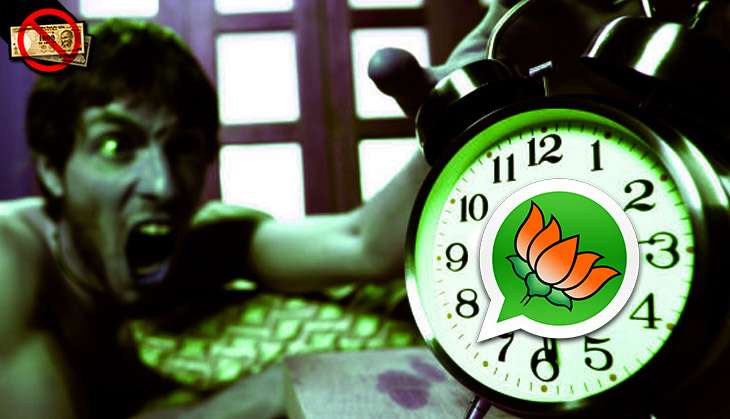 It is 2AM and a phone alert pierces through the still night. Groggily I fumble for my phone wanting to put it on silent. Who is this zombie!?
It is Purdu26 pinging away on my society's Durga Puja Committee WhatsApp group. The message reads:"Common Man - I don't have black money, why should I face the trouble for standing in queue at ATM and bank?
Soldier - I don't have any personal fight with Pak... then why should I face the bullets for you?"
Within seconds, there's another ping.
Prasun99 obviously found it hard to resist Purdu26's absurdly late-hour enthusiasm and decided to emoji bomb the s*#t out of everybody:
*Clap Clap Clap Clap Namaste Namaste Namaste Namaste Thumbs up Smiley Salute Indian flag*
Ever since the 8 November announcement made by the Prime Minister demonitising Rs 500 and Rs 1000 notes in an attempt to crack down upon India's black money, my Whatsapp number has been on the receiving end of some virulent patriotism and chest-thumping national pride.
It's all about timing
Interestingly on 8 November itself almost when the PM was still mid-way through his speech Whatsapp messages had already started trickling in:
"Surgical Strike on Black Money"
"Masterstroke by NaMo. This is what Acche Din means"
By 11 PM, less than three hours since the PM's speech, the new Rs 2000 notes were expertly dissected and said to be coming embedded with Nano GPS Chips (NGC).
"The unique feature is that it doesn't require a power source and yet can be located even if it is kept 120 meters below ground level"
Someone then asked if the chip can store music? To which there were several moments of serious consideration.
During the initial couple days, the messages were only about lauding the prime minister with as many adjectives as possible.
"The nation owes a standing ovation to the Prime Minister for taking this unprecedented and high-risk political decision which is a game-changing multidimensional effort to take on corruption, black money, protect national security and prevent capital flight..."
Then came the analysis
"The total currency with the public is close to Rs 16 lakh crore now. It was a little over Rs 4 lakh crore in 2006. Cash with the public has risen phenomenally in recent times..."
"...The proportion of the two high denomination notes in the total currency in circulation is over 85 per cent. It means that Rs 1,000 and Rs 500 notes account for over Rs 13.5 lakh crore."
"The extraordinary rise of the cash economy through high denomination notes was powered by generation of black money in real estate, stocking of gold, bribery and corruption."
Meanwhile, my milk supply had stopped, my domestic help took days of leave to stand in snaking bank queues, each time being turned down for lack of cash as she tried desperately to exchange her old notes, and I was left with 100 rupees in my wallet.
Then came the defence
One morning I woke up to this:
"Lee Kuan Yew was a revolutionary and one of the most honest politician of Singapore, responsible for its growth. This is the headlines in Singapore newspaper. They have compared Modi to him. They have recognised this. But sadly, some of Indians have failed to do so."
Indians did not bother to find out that Lee Kuan Yew was also feared as an autocratic dictator who thought people could be behaviorally engineered like robots.
On TV it was a riot. Every single channel was reporting the woes of the poor. Long queues. ATMs with no cash. We see an angry person break an ATM screen as the rest wait in anger.
Workers have lost their jobs. Salaries are indefinitely delayed. Sales have slumped. Markets are grinding to a halt. Babies are dying because private hospitals are refusing to accept old notes. A few old people have died of heart attacks waiting for eight hours without food and water in a queue.
"Beep!" pings my phone.
It is that annoying uncle in my family group who cracks sarcastic jokes that nobody gets:
"Mark Tully on Modi:
For a year or so we may witness more of Dadris, more of Kaniyahas, more of Owaisi-style shouting but finally if the society keeps its cool, acts maturely and continues to perform we will sail through and the old forces will die a natural death.
LET ME ADD to this - every day the new stir media throws in your face is all doctored by forces who wish to topple Modi govt as Modi has uprooted them and they are like fish out of the water."
After the emojis and superlatives died, my farmer cousin from Tanjore sent a 39 point list that goes like this:
"What Modiji achieved for India through demonetisation?
1. Maoists hit
4.Corrupts burning cash
5.Arhar dal crashes to Rs.80/kg in UP
9.Medicine shops making big sales
10. Delhi Metro smart cards sales increase
13. Banks plush with funds.Rs.3 lakh crore banked in 4 days!!! Cost of funds reduced for banks
14. Labourers paid Dihadi for standing in queues
17.Democracy deepened. All castes/creeds standing in same queue.
20 Najeeb Is suddenly Found & OROP is well
21. Rs.2000 notes will cut currency printing costs for Govt
21. ATMs to be reprogrammed. Business opportunities for software firms
21. Drug peddlers in Punjab hit
27. Public not wasting time on faaltu test matches and watching faaltu bollywood movies. Facing real life!!!
31.People realise there can be a selfless politician."
Whatsapp dissent
It is day 10 of #demonetisation. The PM has said it will take 50 days. Economists expect it to take four months, realistically, before our lives are pieced back together with access to money that is rightfully ours.
There is still a lot we will go through. And some lessons are bitter.
As Moumita26 learnt when she dared to ask in my Southies rock group:
"Hey, but it is looking like a riot like situation no? The demonetisation stuff seems like kashta kalam for many."
She was immediately pounced upon by five bhakts who accused her of not loving her country and threatened to get her off the group if she spread false rumours.
In case you didn't already know, your support towards demonetization is a litmus test of your patriotism.
My screen lights up again, almost intuitively. It is that software engineer brother-in-law of mine who meditates peacefully while being a closet fascist:
"We are getting many forwarded message engineered to create doubts in mind of innocent people. I will try to equip you to counter it with researched reply."
The message goes on to explain how Urjit Patel's signature is on the RBI notes when he joined only recently.
"Only in last month currency goes into production. Its no different from what we do to produce garment. Those who circulate this are novice and don't know subject well."
Aniket25 speaks up in the Durga Puja group:
"As days r passing by seems we r being fooled...seems to be the biggest scam in history"
It's been a whole hour and nobody has replied, yet.
(All Whatsapp names were changed to protect identities)
Edited by Jhinuk Sen