Note ban: Did Modi govt just allow political parties to launder black money?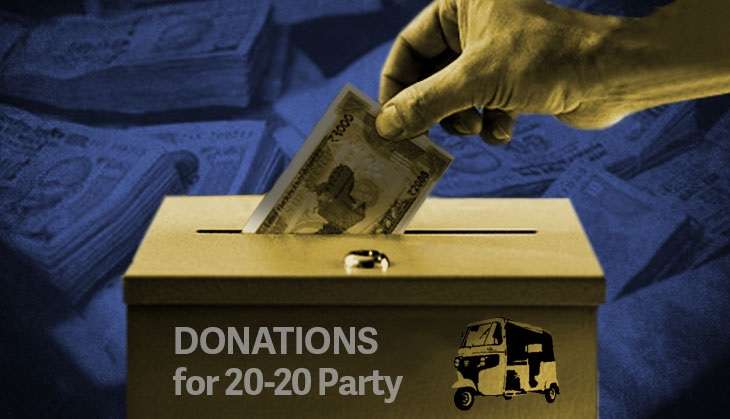 Here's the latest "demonetisation" shock from the Narendra Modi regime: unlike ordinary folk, political parties can deposit old Rs 500 and Rs 1,000 notes in their bank accounts without any fear of income tax investigation.
The fear is that this exemption encourages money laundering by the political parties. Indeed, as pointed out by Chief Election Commissioner Nasim Zaidi on 8 December, registered parties - both recognised and unrecognised - are already being "used as conduits for siphoning off black money".
In the past, various parties have come under the scanner for accepting funds from shady sources. Indeed, just last year, the Income Tax department issued notices to the Congress, AAP and 48 other parties, suspecting that "bogus or entry operator companies were converting illegal cash into legitimate money by donating it to parties".
Also Read: BJP paid crores in cash to buy land in Bihar before note ban. Amit Shah authorised deals
And these are parties that are widely recognised. There are hundreds of unrecognised parties across India that hardly anybody has even heard of. With the latest exemption, such entities can easily be turned into money laundering machines, if they aren't already, that is.
India currently has seven registered and recognised national parties, 58 registered and recognised state parties, and at least 1,786 registered but unrecognised parties (full list here).
Most unrecognised parties don't disclose much about them. They do not need to provide even a phone number; a "registered office address" is enough to be registered by the Election Commission. They rarely, if ever, contest elections. One such party called Prism, for example, fielded one Lawan Kumar in a 2013 assembly bypoll from Mandi, Himachal Pradesh (though the party is registered in Rajasthan). Save for a mention in this Hindustan Times report, barely anything is known about it.
Here are other such unrecognised parties and what Catch could dig up about them:
India Vikas Party
It has 13 "founding members", with one Akhilesh Sharma as the chief. But the party's "founding" apparently is an ongoing process since you can apply to be a "founding member". The party has a Facebook page and a Twitter account, set up in November 2015, but both are barely active. There is no phone number available. In fact, as per the latest circular from the Election Commission, the party isn't even listed - the EC lists one Total Vikas Party registered in Haryana - yet it is aiming to contest elections is 2019.
Third View Party
It is registered with the Election Commission in Maharashtra. But online searches for 'Third View Party', 'Third View Party India', 'Third View Party India elections' and 'Third View Party India Maharashtra' return nothing.
Pyramid Party of India
Registered in Andhra Pradesh, it has a Wikipedia page which claims that the party was founded on 25 February 1999 by one Brahmarshi Patriji. There are multiple reports about the party's participation in the electoral process, the latest from 2011 quoting its then president BV Reddy as asserting that they were "readying for municipal and gram panchayat elections".
There's a working phone number listed for the party but when called -- multiple times - nobody picked up. Curiously, the email address on the party's website, which hasn't been updated since just before the 2009 general election, is jayavardhan11@gmail.com.
Best Class Party
An internet search for 'Best Class Party India' comes up empty. There's no evidence of its existence on social media either. The party is registered in Uttar Pradesh.
Challengers Party
The party registered in Karnataka. Nothing else is known about it.
Jagte Raho Party
Formed in 2012 and registered with the Election Commission in 2015, this party is apparently named for its founder Praful Desai's NGO Jagte Raho. It is based in Gujarat.
BC United Front
The party seems to have fielded at least one candidate in the general election of 2009 and two in 2014. All lost heavily. It is registered in Andhra Pradesh.
Hitech Party
Registered in Uttar Pradesh, there is no evidence the party has ever contested an election. There's no trace of it on the web or on social media.
Also Read: Before Modi banned Rs 500, Rs 1000 notes BJP was busy investing in real estate