Normalising mediocrity: Why Chetan Bhagat doesn't belong in DU's (or any) syllabus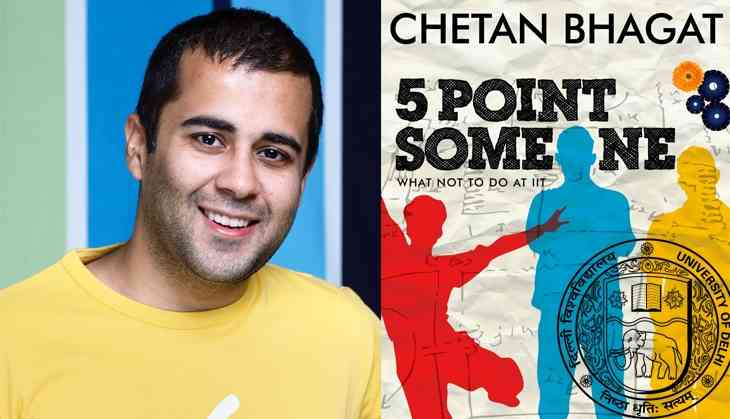 Come July, Delhi University's second-year students will study Chetan Bhagat's Five Point Someone as part of their syllabus, along with Louisa M Alcott's Little Women, Agatha Christie's Murder on the Orient Express and JK Rowling's Harry Potter and the Philosopher's Stone.
Five Point Someone will be part of the Popular Culture paper in the General Elective, which is offered to second-year undergraduate students pursuing honours and programme courses under the Choice-Based Credit System (CBCS), according to a Hindustan Times report.
This paper, however, is not for BA English Honours students. Bhagat, thankfully, is not a part of their curriculum. But unfortunately, for the rest of the Bachelors' crowd, Bhagat's mediocrity of language, plot and execution will be mandatory course material.
As the headline makes it clear, the first part of the news horrified us. It was only marginal compensation that Alcott, Christie and Rowling were thrown in, but we feel offended on their behalf. Not even by the longest stretch of imagination does Bhagat deserve to be mentioned in the same breath as the women.
Two of them are probably turning in their grave, while Rowling probably has a wand poised next to her temple waiting to Obliviate.
Why the outrage?
Ideally, in the hallowed portals of 'literature', when an Indian writer, a few novels old, makes an entry and rubs shoulders with stalwart international writers, we would be proud. But then the writer is Bhagat – and that makes this a completely different matter altogether.
Starting with Five Point Someone (2004), and following it up with One Night @ the Call Center (2005), The 3 Mistakes of My Life (2008), 2 States (2009), Revolution 2020 (2011), Half Girlfriend (2014) and One Indian Girl (2016), Bhagat can be a great case study for a flawless business model that mints money from shoddy paperbacks. But under no circumstances, can any of these books be considered literature.
And when you slot it as 'popular fiction' and make students read it, and professors teach it, the problem only gets worse. Here's why:
Bhagat's books are insanely myopic in their scope. He writes about college canteen issues that only we Indians can gorge on to the point of getting sick. The issues are uniquely and obstinately rooted to the soil – Bhagat takes on IIT, IIM, inter-cultural marriage, 2002 Gujarat riots, Call centres, 'Biharis-do-not-know-English-and do-not-care-to-learn-till-Bill Gates-can-come-to-save-a-village-school', and, of course, that time when he decided to get a wax so as he could write like a girl.
Not the communist burden, neither the diasporic problem, never the brave new world, never anything worth the paper it was printed on.
And sadly, that is what has worked for Bhagat. In a world where children hardly want to read, he came in like a messiah with bad writing and he got the lowest common denominator to read. Books were picked up as a train journey/flight read began and were discarded when the luggage was dragged away. Stunted attention spans and stunted issues make for good bedfellows evidently.
Now, Bhagat's book has been included in the curriculum on these very tenets of mass consumption. But, by that logic, wouldn't it be better if Amar Chitra Katha made its way into the backpacks of these kids?
"There has been a general degeneration in how syllabus is formed. If teachers don't have control over what is to be taught, then one way of subverting it is to read it diagonally. This has become a tradition to include and exclude texts arbitrarily. Having said that, if Bhagat's text is about popular culture, so is Amar Chitra Katha," said Sujay Thakur, who teaches English Literature at Khalsa College.
"Mass consumption cannot limit itself to just a section. Ideally, it should be universal. Sectional fantasy of the 'neo-liberal capitalist institutions' solving all problems is glossing over implications of popular notions and their subversive implications," Thakur adds.
By putting Bhagat on the syllabus, the staggering mediocrity he comes with is being normalised. What is also being normalised are the issues he writes about that reek of privilege (IIT, IIM and St Stephen grads saving the world), that are so terribly shallow they're almost offensive.
While we are stuck with this, one can only hope that this is a chance that Bhagat's works will get the intellectual deconstruction it deserves. But, well.
The whole point of making non-Literature students study literature is to help open their minds to the world out there. It does not mean they need only study international authors, there are a host of better Indian writers who are popular and should be read in place of Bhagat – Arundhati Roy, Jhumpa Lahiri, Vikram Seth, Neel Mukherjee, Nilanjana Roy, Shovon Chowdhury, Jeet Thayil, Amitav Ghosh, Jerry Pinto… the list is seemingly endless.
If you want the kids who don't normally read, to read, make them read something good so as they, at least, don't tweet like this:
Peacefully but definitely support Ram temple in Ayodhya. Ridiculous one has to beg to restore a temple at one of Hinduism's greatest sites.

— Chetan Bhagat (@chetan_bhagat) March 22, 2017