Noida's Barola village gives Narendra Modi's currency ban a thumbs-up
They say one arrives at happiness at the behest of someone else's misery. That seems especially true in India right now. Call it a coping mechanism if you will but ever since the Prime Minister Narendra Modi demonetised 500 and 1000 rupee notes, the poor are willing to go without business or income for a few days to see the rich and corrupt put behind bars
"What's a few days of sacrifice if all our efforts will culminate to imprison those who are hoarding black money?" asks Vinod Kumar, a vegetable vendor at Noida's Barola market.
Watch: 'People hoarding black money will be dealt with'

Kumar has seen a dip of fifty percent sales at his vegetable shop since Modi made the historic announcement on 8 November.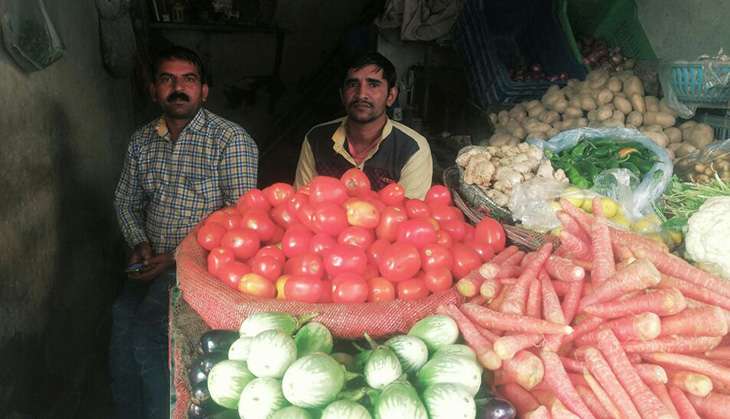 Vegetable vendor Vinod Kumar (Shriya Mohan)
Customers initially offered him 500 rupee notes to buy lots of vegetables and he accepted a few such notes but then put the brakes.
"Who wants to go to banks and stand for an entire day to exchange these notes? I need to make money that I can use right away to buy vegetables in wholesale," he says, handing out half a kilo of tomatoes in place of one to a customer. "People earlier bought vegetables for a few days. Now they buy just enough to get by for the day," he explains.
Online cab bookings put auto wallahs out of jobs
At the main road at sector 49, Raju is zipping through the crowded lanes if Barola in his auto, showing me the long queues at the ATMs.
Ever since the decision to demonetise currency was taken Raju and his friends have been sitting jobless waiting for passengers outside posh Noida apartments. "Three fourth of my daily passengers have stopped taking autos. I see them taking cabs now. They save on cash," he says. Raju has a smart phone so why doesn't he just get Paytm? "I don't understand it," he says.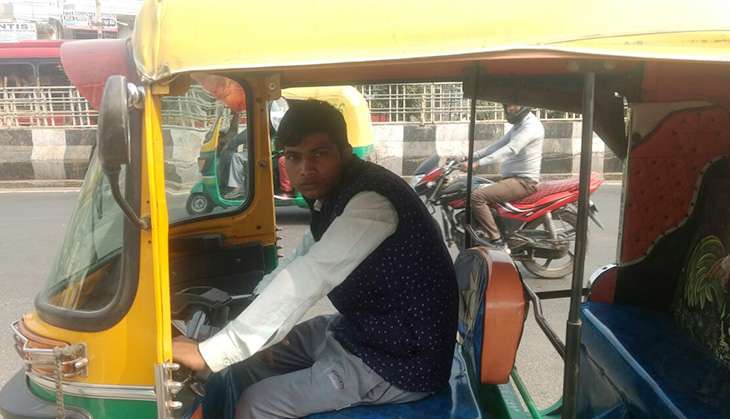 Auto driver Raju says 75% passengers have stopped taking autos (Shriya Mohan)
Raju is 17 today. He got his driver's license when he was 14. "If you live in Noida you are sustained by bribing," he explains. Which is the other thing that makes him jittery. According to him the Noida police are the most corrupt in India and they randomly stop him and take 100 rupees each time. And you always have to pay in change. Young auto wallas like Raju are easy targets to get free 100 rupee notes.

Watch: 'Good move, but earnings have gone down'

"Of the 16000 I earn each month I have to pay a rental of 8000 and a bribe of 2000 rupees each month. Since the announcement was made I've only been stopped for bribes more often than before," he says.
So who would he vote for in the Assembly elections? "BJP of course. They're the only party with the guts to do something that matters," he says.
A vow to pay taxes
Kailash Charan likes to introduce himself by his caste. "Rajput" he says when you ask him for his full name. In the 12 years that he started his own marble and granite shop at Barola he has never seen such a slump in business as he has in the last few days.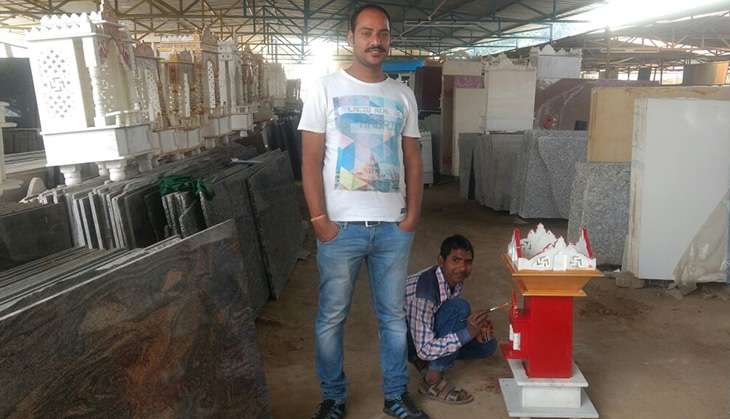 Kailash doesn't mind declaring all his income as "it's good for the country" (Shriya Mohan)
"People want to pay using 500 and 1000 rupee notes so we said we'd take it and deposit it into our bank," he says. Won't that mean he will have to declare all his income? "Yes. But its good for the country. We should all cooperate. I like many others will be forced to pay more taxes now than ever before but it's good for this country," he says thoughtfully.
Commissions
Bachanlal works as a sweeper at one of the societies at Noida Sector 78. He has four kids and a wife and is the only earning member of his family. When he went on Thursday to buy some Atta, his shop keeper told him flatly that if he wanted to pay in 500 rupees he would be charged a 10 percent commission. Holding no change, Bacchan Lal was forced to exchange a 500 rupee note for a 240 rupee sack of atta. He was issued only 210 in change. Another grocer asked him to give the 500 rupee note and buy stuff worth 400.
"People are trying to exploit our hard times. What else can we do but stick it out? I'm confident that these troubles will pass and this is the right thing our Prime Minister has done" he asks.
Courage and hope
65 year old Ram Katomi just got back from Meerut the night the PM made the announcement. She is a potter at Barola and has begun making preparations for her son's upcoming wedding in January. She had borred 40000 rupees in cash from a relative at Meerut. The night she arrived, she heard the announcement on TV with an ashen face. What would happen now?
Her 22 year old son coolly told her to wait for two days and deposit all of it into her bank. Today she did exactly that putting half and half into her two accounts at Citizen Cooperative Bank and Oriental bank of commerce at Barola. "The queue was long but it went off smoothly," she says.
"I don't know if this whole thing is good or bad. All I know is we needn't be afraid. It is the bad people who should fear this move. Not poor people like us," she says bravely.