No rest for the dead: Demonetisation issues hit cremation grounds, mourners suffer more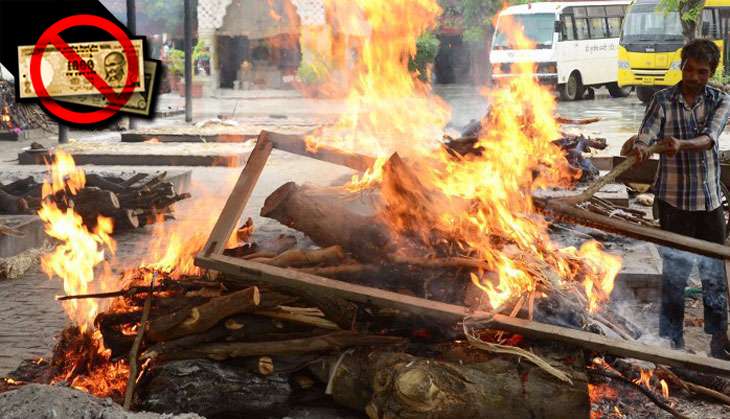 While the rest of the country struggles with getting the new notes or trying to exchange old ones, there are some people who making a killing out of Narendra Modi's demonetisation call.
The solemn occasion of cremation was turned into a profit-making opportunity by those who sell wood for the pyre, and some unscrupulous elements, after the Rs 1,000 and Rs 500 notes were declared illegal tender on the night of 8 November.
No change, no problem! Just pay more
At Manikarnika ghat in Varanasi where wood sells for Rs 300 to Rs 700 per quintal, people bringing their dead for cremation faced the problem of paying the wood seller who did not have smaller denomination notes to return.
So for wood that cost Rs 4,800, one had to pay Rs 5,000 - a flat Rs 200 extra.
What a Varanasi resident Gulshan Kapoor found more annoying was the emergence of money-changers at the cremation ground who were ready to short-change the harried pall bearers.
In exchange for a Rs 1000 note, they paid Rs 800-850. While a Rs 500 note brought in Rs 400-450, Kapoor said.
No rest for the dead
The situation, Kapoor said, has now improved with the wood-sellers and the bereaved families making adjustments. Now the sellers were accepting lesser money in case of shortage of smaller denominations and money-changers are adjusting as well.
Approximately 75 to 80 bodies are brought to Manikarnika Ghat, considered to be an ancient burning ghat for cremation,daily.
A local journalist has also confirmed that cremating the dead did prove problematic due to the shortage of small denomination notes but the situation now been normalised.
The problem was acute especially on the day after the government's announcement when people had to seek contributions from the mourners accompanying the cortege, he said.
Similar situation was witnessed at Lucknow's two cremation grounds - Bhainsakund and Gullala - when mourners had to contribute to help pay funeral expenses.