No Panchayat for illiterates: 5 disturbing things about the Supreme Court verdict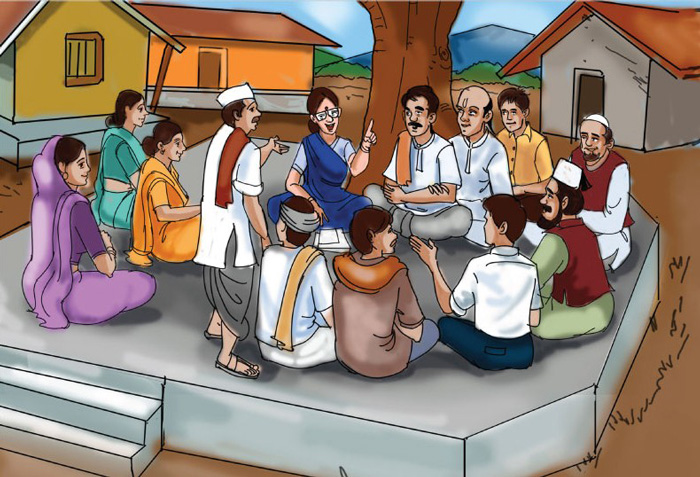 A Supreme Court Bench comprising Justices J Chelameshwar and Abhay Manohar Sapre on Thursday, 10 December, validated a Haryana law which bars those who are illiterate from contesting Panchayat polls.
The law also bars those who don't have a toilet at their house, and those who have arrears on any agricultural loan or electricity bills.
Also read - Live and let die: SC upholds the Jain practice of Santhara
In its judgment, the Bench thought such restrictions on people's rights were "reasonable". Here are five reasons why they don't seem to be so reasonable.
01
Can be MP, can't be part of Panchayat
The Constitution of India doesn't say a thing about the educational criteria for a citizen to be elected by the people.
Yes, it does make citizenship mandatory, lays down cut-off ages and gives Parliament the power to legislate on qualifications. And we have periodically taken stock, resulting in a bar on convicts and those of 'unsound' minds from becoming lawmakers.
But after that, it is left to the people.
So, anybody who is a citizen of India, and is 25 or older, is free to contest elections to the Lok Sabha and state legislatures, even if she or he is uneducated and without a toilet. But, given the new judgement, the same person who can be an MP or an MLA will now not be able to contest Panchayat polls in Haryana (and any other state which may take cue).
02
Going against democracy
According to the judgement: "It is only education which gives a human being the power to discriminate between right and wrong, good and bad."
By that logic, those not educated have zero ability to judge 'good' and 'bad'. Extend this logic and democracy would disappear: if the uneducated cannot distinguish, why have universal adult franchise, as guaranteed by the Constitution?
Clearly, this logic is flawed as India's voters - citizens of the largest democracy in the world - have continuously displayed the wisdom to discern good and bad and vote governments in and out, according to their performance.
Ironically, voters in Haryana, who are not educated, have voted a legislature which has now enacted a law to keep them out of the most primary tier of governance.
03
Education - whose fault is it anyway?
Nobody can argue against the importance of education. But those who are not educated have not stayed away from schools of their own volition. The level of education of children is directly proportional to the access to education, which is dismal in India.
Given the low level of penetration of schools in rural India, even after close to seven decades of independence, the Supreme Court should have ticked off the State for failing to take education to the last mile, rather than further punish those who are already deprived.
Also read - Want to be a Haryana sarpanch? First pass class 10 and build a toilet
04
Sanitation - govt's responsibility or public's?
About toilets, the honourable judges pointed out that the Haryana government was providing Rs 12,000 per household for constructing toilets.
Fair enough. But what about those households that are in the slums and hardly have the space to get toilets made? Instead of doling out cash, the governments could ensure hygiene in a better way by constructing toilets for those households which don't have one.
There is of course also the issue of unequal access to water and social mindsets.
05
The question of drought-hit farmers
Another provision in the contentious Act is to disqualify those who have loan arrears from fighting elections. The court has ruled that an inquiry on the indebtedness of distressed farmers was "irrelevant", and held that "we are also not sure as to how many of such people who are so deeply indebted would be genuinely interested in contesting elections".
Hypothetically, if a village completely dependent on agriculture has suffered a drought (many in India are actually suffering from a second drought in a row), and all the households there are distressed and unable to repay loans, nobody there gets to run for Gram Sabha.
Who will run the Panchayat then?
The answer is simple: the upper castes, rich and propertied people only.
MORE IN CATCH - SC says no to Haryana Panchayat elections till new laws reviewed
Damn the dams: how the NDA govt plans to Save the Ganga
Modi & Sharif revived Indo-Pak dialogue in 167 seconds. Here's how