NITI Aayog has a three-year plan to revamp education. Experts call it 'absurd'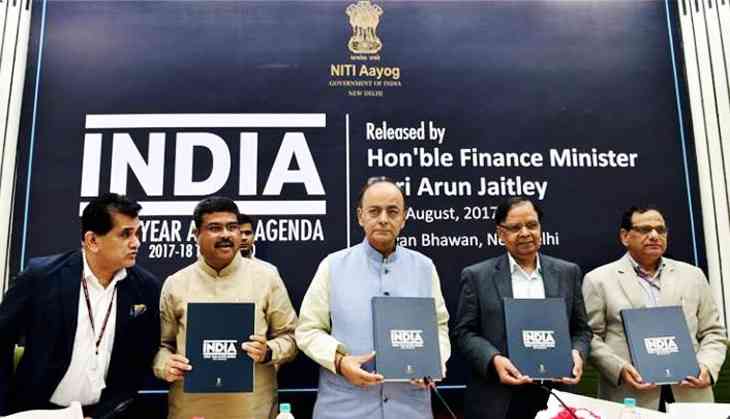 In a bid to improve higher education infrastructure and employability, the NITI Aayog has made many recommendations in its 'Three Year Action Agenda 2017-18 to 2019-20' released last week.
The agenda states that the government primarily needs to make reforms in regulatory bodies for higher education, provide autonomy for top colleges and universities, establish a system of project-specific grants, focus on improving quality of education in schools instead of just increasing enrollment, and increase focus on vocational and profession-led education.
It adds that the skill development initiatives by the government have not yet yielded desired results. "The country still faces a challenge of training a large workforce. The National Skill Development Corporation (NSDC) should target a placement rate of 80% or more by 2020."
However, many educationists have questioned the recommendations, calling them a 'step in the wrong direction'.
RTE Act
On the Right to Education Act, the NITI Aayog says: "One way to improve learning outcome is to modify the RTE Act to actually make it a 'right to learning', instead of being, as it currently is, a 'right to go to school'. The recent amendment of Rule 23(2) under the RTE Act, which makes it compulsory for all state governments to codify expected levels of learning for students in classes I to VIII, is a positive step. It requires states to prepare 'class-wise, subject-wise learning outcomes for all elementary classes' and devise 'guidelines for putting into practice continuous and comprehensive evaluation, to achieve the defined learning outcomes'.
"In implementing this mandate, states should begin by devising their learning indicators and planning a state-level measurement system for every child. Unfortunately, this success in getting more children into schools with more teachers has not translated into more education."
However, Ambarish Rai, prominent educationist and the national convenor of Right to Education, slammed the recommendations as "absurd". He told Catch: "The NITI Aayog's recommendations on the RTE Act actually diminish the kind of results we have been able to achieve since 2010 because of the Act. The government has not been able to even implement many aspects of the RTE. If the government ensures qualified teachers in schools and maintaining the mandated Pupil-Teacher Ratio, proper infrastructure etc., better learning will be facilitated automatically.
"It is as important that more and more students get enrolled in schools, instead of only focussing on proper evaluation. Once the government implements the RTE Act properly, we can concentrate on preparing 'class-wise, subject-wise learning outcomes for all elementary classes'. Even now, 10% of state schools in the country are single-teacher schools. The system is riddled with failures on the administration, infrastructure and teaching front; how are we expected to concentrate on devising learning indicators and planning a state-level measurement system for every child? The NITI Aayog says nothing about any of that. It is absurd."
UGC Act
The NITI Aayog's agenda states: "The UGC Act, 1956, is in dire need of reform. The UGC's position as an overarching regulator of every aspect of higher education from student fees to curriculum to teaching and course hours keeps India's higher education system from responding to the changes and challenges that it faces in a fast-evolving world.
"Various professional councils further complicate the regulatory environment in higher education. We should introduce a system of regulation that focusses on information disclosure and governance rather than micro management of universities. This requires an overhaul of the UGC as a regulatory system and a rationalisation of the role of professional councils."
However, a top UGC official, who did not wish to be named, rejected these recommendations, saying they made no sense.
"The NITI Aayog has made recommendations to the UGC on areas like self-financing and autonomy of universities and higher education institutes, based on which UGC reforms are constantly being made. Many aspects of UGC's regulatory capability are already being thinned down. Now the NITI Aayog has recommended an 'overhaul' of the UGC, and a change in the UGC Act of 1956," the official told Catch.
"An Act cannot be changed by the NITI Aayog or the UGC or even the government. Only the Parliament can make a change in an Act. The NITI Aayog hasn't specified how it aims to do that, and it makes no sense, since the UGC is in constant touch with it over many recommendations, and implementing reforms within the UGC."
Skill development
The NITI Aayog notes that despite numerous skill development initiatives by the government that have been undertaken till date, the country still faces a challenge of training a large workforce. "Estimates suggest that only 2.3% of India's workforce has undergone formal skill training, compared to UK's 68%, Germany's 75%, USA's 52%, Japan's 80% and South Korea's 96%," the agends states.
For the period 2013-14, India's annual skilling capacity, at around seven million, is significantly lower than the workforce entering the market annually, while the quality of skills imparted is also a matter of concern.
It recommends that all NSDC partners should be required to report on the additional metrics, including the percentage of certified candidates employed, longevity of certified candidates in their chosen job fields, wage difference between certified and unskilled candidates, number of entrepreneurs created through the vocational training ecosystems, and number of certified candidates employed in overseas vocational jobs.
According to the Skill Development Sector Achievements report, December 2016, NSDC partners skilled 24.9 lakh people, of which 12 lakh were placed in 2014-15. This translates to a placement rate of below 50%. "It is recommended that a target of a placement rate for 80% or more should be set for 2020," the Aayog states.
However, Nandita Narain, senior professor at the University of Delhi, slammed the Aayog's focus on skill development.
She told Catch: "The focus on skill development is because the government wants to produce cheap labour. For global capital to set up shop here, they need cheap labour with honed skills at various low levels. Hence, there is this shift from cognitive and intellectual ability to skill development.
"The government doesn't need more scholars who ask questions and think about society, but people who implement the need of the global business forces. Which is why not having enough placements is a problem for the government. The education system is slowly focussing more and more on skill based education. And that is extremely problematic."