NIA: Captured militant reveals how Pakistani army, ISI aid the LeT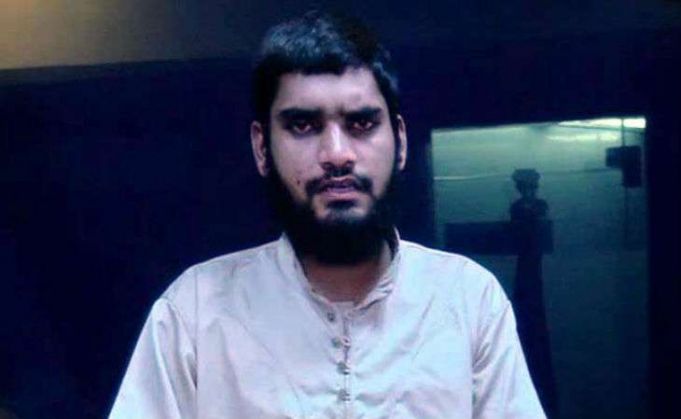 In a surprise move, the NIA Wednesday released a video of captured LeT operative Bahadur Ali claiming that Pakistani security agencies and army were involved in setting up terrorists to launch attacks on Indian soil. They were even ready, he claimed, to provide cover fire in case the attackers got into trouble crossing the LoC.
According to Bahadur, the LeT, aided by the Pakistani army, has devised a new strategy to foment trouble in Kashmir after the killing of local militant leader Burhan Wani: LeT operatives would mingle with protestors to attack the security forces.

Also Read: NIA gives clean chit to Pakistan in Pathankot attack
The captured operative's claims mirror those of Home Minister Rajnath Singh, who had in his speech in the Rajya Sabha blamed Pakistan for the ongoing unrest in Kashmir.
Bahadur, said to be from Zia Bagga village in Lahore, reportedly crossed the border into India with another operative or two in June. He was arrested from north Kashmir on 25 July, carrying an AK-47 rifle, rubberised maps, a mobile phone, a wireless handset, a grenade launcher, grenades. He has since been in the custody of the NIA.
The video was released a day after Foreign Secretary S Jaishankar summoned the Pakistani envoy Abdul Basit and registered India's protest at "continued infiltration" from across the border, and handed him a letter from Ali asking for legal aid from the Pakistani High Commission.
In response, the Pakistani foreign ministry, in a statement issued Wednesday morning, said it was necessary to establish the veracity of allegations levelled by India. It's unlikely Pakistan would accept that Ali is its citizen.
Interestingly, Islamabad is yet to provide consular access to Kulbhushan Jadhav, a former Indian naval officer arrested in Pakistan for being a spy. India has denied Jadhav was engaged in espionage.
'Startling revelations'
Ali has made startling revelations, according to Sanjeev Kumar, IG, NIA. He has said that he undertook three rounds of rigorous training in LeT's camps in Manshera, Aksa and Muzaffarabad, where Pakistani armymen were regular visitors. "Pakistani army officers in civilian clothes visit LeT facilities, and are referred to as Major Saheb and Captain Saheb," Kumar said at the press conference where the video was released. "This corroborates the statement made by Md Naveed, another Pakistani national who was arrested after the BSF convoy attack at Udhampur in August 2015."
Ali, alias Abu Saifullah, was purportedly recruited by Jamaat-ud-Dawa, the "charity" run by Hafiz Saeed, and subsequently radicalised by the LeT. The group is currently training 40-50 men from Pakistan and Afghanistan at its training camps. Ali has also told his interrogators that Hafiz Saeed himself led the funeral prayers in absentia of Abu Qasim, an LeT operative gunned down by security forces in Kashmir.
According to the NIA, the tactics used by the captured LeT operatives and the material seized from them suggest they were trained by military. Ali, for example, was using a phone that could send text messages without the use of a sim card. He had a Japanese-made wireless device tuned to the frequency bandwidth of 134-180 MHz, which is only used by the army and the police.

Also Read: 'Pakistan ISI may be spying on Indian security forces through smartphone malware'
The agency also claimed to have found on Ali water-proof rubberised maps and complicated grids, which again suggest military aid.
"Modifications done to ICOM RT sets made in Japan to cover a whole range of VHF frequency requires a high-degree of precision engineering. Providing the terrorists with specific grid references or the route to be followed and use of GPS, compass and topographical sheets also establish they were trained and mentored by military experts," the NIA says.
Pulling the strings
LeT, which is said to have links with the Pakistani spy agency, ISI, has set up a "control centre" called Alpha 3 at a tactical high-point in Pakistan Occupied Kashmir to ensure ease of communication with operatives in north Kashmir.
This, the NIA claims, enabled the LeT handlers to remain in constant touch with their operatives, directing them to launch attacks. In the case of Ali, he was constantly told to "exploit the disturbances" in the aftermath of Burhan's killing.
The security forces, it's understood, killed four LeT operatives a day after Ali was arrested. The operation in Monibal, north Kashmir, was reportedly based on information given by Ali.
Ali's statement reflects a lot of the events that have taken place in Kashmir over the past month. There are reports of militants, with their faces masked, attending protest rallies, and there have allegedly been incidents of grenades being lobbed at the security forces from within protesting crowds. The LeT's chief in Kashmir, Abu Dujana, himself is said to have been seen at a rally in Pulwama earlier this month. Hafiz Saeed reportedly confirmed his presence, telling a gathering: "Burhan Wani was martyred. Lakhs of Kashmiris came out to attend his funeral. Did you see a man being carried on the shoulders by the crowd? Do you know who he was? He is the chief of LeT."
Also Read: Suhas Warke: NIA cop who wanted to shield Malegaon accused