Netaji files reveal: Bose did suffer burns in Taiwan plane crash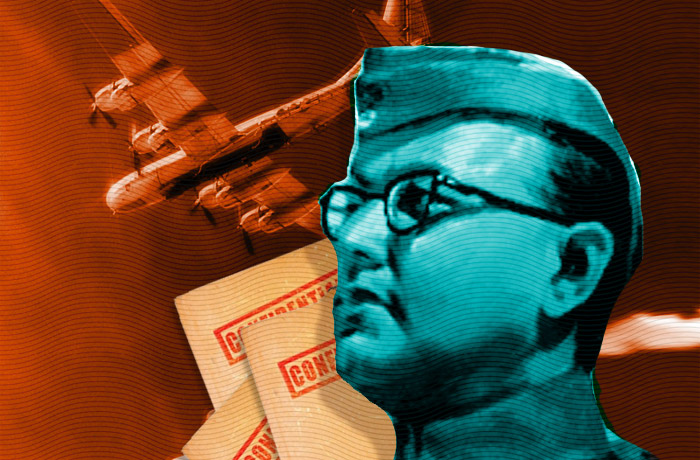 The crash
An overloaded Japanese Air Force plane crashed in Formosa (now Taiwan) on 18 August 1945
British authorities and many others concluded that Netaji died in this crash
However, many Indians have raised doubts over this theory
The evidence
According to a London-based website, Bose was indeed on the flight
The website gives accounts of various people on the flight, including Bose\'s PA Col Habib ur Rahman
More in the story
How badly was Bose hurt in the crash?
What did Bose tell his assistant after the crash?
In less than two weeks' time, India will remember Netaji Subhas Chandra Bose on his 119th birth anniversary. And by then, the mystery surrounding his disappearance and death is expected to clear up.
On Saturday, 9 January, a website run by senior London-based journalist Ashis Ray, which has been posting archival documentation on Netaji, revealed evidence related to the 1945 plane crash in Formosa (present-day Taiwan) that had purportedly resulted in his death.
Evidence suggests that Bose was indeed on the flight and was injured in the crash. But did he succumb to injuries sustained on 18 August 1945? That's something the website will only reveal on next Saturday, 16 January, one week before Netaji's birthday.
On 9 January, a website revealed evidence that Bose was present in the flight that crashed in 1945
Last year, on 14 October, Prime Minister Narendra Modi met Netaji's family members and decided to declassify files related to him.
ALSO READ: Centre to declassify files related to Netaji Subhash Chandra Bose
Since then, the mystery surrounding his disappearance has come back into the limelight, with various claims and counter-claims about him being spotted as far away as Tashkent two decades later.
MUST READ: Was Subhash Chandra Bose with Lal Bahadur Shastri in Tashkent in 1966?
But according to Ray's website, www.bosefiles.info, the former Congress president was indeed on the Japanese Air Force bomber that crashed in Taipei.
What we know so far
The Japanese aircraft took off from Tourane in Vietnam with Subhas Bose and 12 or 13 other passengers and crew.
According to the website, the details provided are based on depositions provided to an inquiry committee constituted by the Government of India in 1956, and headed by Major General Shah Nawaz Khan of Bose's Indian National Army (INA), formed by various Indian nationalists during World War II.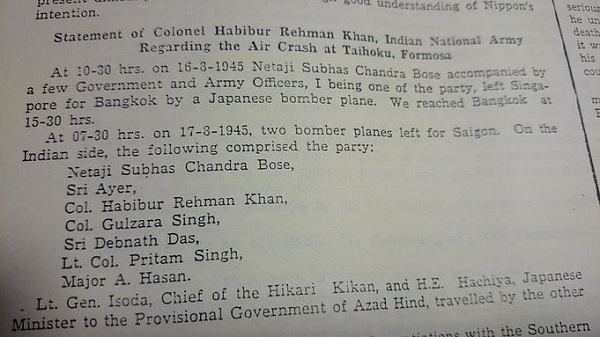 The people relevant who gave details about what happened to Bose post take-off included:
Captain Nakamura, ground engineer in-charge of maintenance at Taipei airport
Major Taro Kono, Japanese Air Staff Officer and one of the passengers

Col Habib ur Rahman, Bose's personal assistant and co-passenger

Lt Col Shiro Nonogaki, passenger
The engine that blew
Before the flight took off, Major Kono "noticed that the engine on the left side of the plane was not functioning properly."
He examined the engine, accompanied by the engineer, and found that the engine was working fine. He states that the accompanying engineer also certified that the engine was running fine.
Also read: Why the row over 'Netaji files' won't die down
Captain Nakamura concurred with Major Kono, "that the engine on the left side was defective", but was reassured that the engine was fine by the pilot, who said it was a brand new engine. According to Nakamura, the pilot tested the engine twice and 'adjusted it', and confirmed that it was working fine.
Soon after takeoff, however, Col Rahman heard a loud explosion that he recalls and describes as "a noise like a cannon shot".
Capt Nakamura, who was watching the incident from the ground, asserted that the plane tilted to its left 30-40 metres after it took off, and that he saw something falling down, which he later realised was the propeller.
Soon after takeoff, Bose aide Col Rahman heard a loud explosion that describes as a 'cannon shot'
Nakaumara confirmed that the 'plane crashed about 100 metres beyond the concrete runway and immediately caught fire in the front position'.
Bose survived the explosion
Col Rahman recounted with astonishing detail that Bose told him to go through the front of the aircraft "since there is no way out through the rear". Bose himself went through the fire, since all exits were blocked and jammed by debris. "Actually, he rushed through the fire. I followed him through the same flames," Rahman stated.
Rahman saw Bose's clothes on fire, and says it was difficult to get them off. He observed that Bose had deep cut on his head, and his face had been scorched by heat. Netaji told him he may not survive, and that in the event of his death, Rahman should inform the people of the country that he fought for freedom till his last breath.
Also read: Crucial info missing from declassified Subhas Chandra Bose files, claims Kolkata-based NGO
"Jab apney mulk wapis jayen to mulki bhaiyon ko batana ki mein akhri dam tak mulk ki azadi ke liyay larta raha hoon; woh jangi azadi ko jari rakhen. Hindustan zaroor azad hoga, oos ko koi gulam nahin rakh sakta (when you go back to our country, tell our compatriots that I fought till my last breath for the indepedence of the country; they should keep the fight for freedom going. India will certainly gain independence, nobody can keep it enslaved)," Rahman quotes Bose as saying.
Lt Col Nonogaki recalls that he saw Bose's clothes on fire, with his assistant trying to take off his coat. He surmised that since Bose was sitting near the petrol tank, he was splashed with petrol.
Netaji was rushed to the nearby Nanmon Military Hospital in a critical condition.
Veracity of the claims
While there were variations in the statements provided by all the above persons, it must be remembered that they were deposing in front of the committee 11 years after the incident.
Also read: Questions that the declassified documents on Subhas Chandra Bose might answer
All of them, however, unanimously agreed that there was a crash, and Bose did suffer severe burns and injuries as a consequence.
Subsequent to the crash, in September 1945, British authorities had sent intelligence teams to inquire about the whereabouts of Bose, and arrest him if he was alive. However, they concluded that he had died in the crash.
And so, the suspense continues, but hopefully for just one more week. As the website teases: "What happened after Bose was admitted to hospital will be posted on this website on 16 January next."
Also read: Mamata Banerjee to declassify 64 Netaji files on 18 September