Nearly 40 awards returned during Award Wapsi, says govt. Actual list has 40 more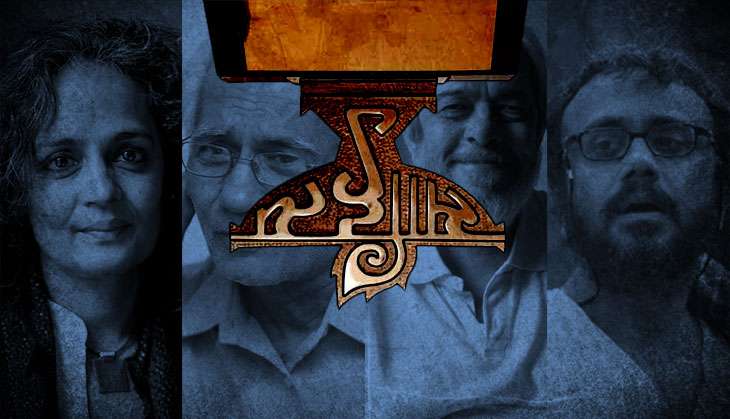 The Union government believes that nearly 40 writers returned their awards during the Award Wapsi campaign in 2015. However, this number pertains to only those who had been awarded by the Sahitya Akademi. The overall count is likely to be much higher.
Minister of Culture Mahesh Sharma has told the Lok Sabha that these writers returned their awards claiming "that there was an attack on their freedom of expression and the Akademi kept silent on the issue".
http://164.100.47.194/Loksabha/Questions/QResult15.aspx?qref=46548&lsno=16
Sharma said in the last three years, 39 writers returned their Sahitya Akademi awards. The Akademi conferred a total of 280 awards in this period.
Following Award Wapsi, the Akademi convened a special Executive Board meeting on 23 October in 2015 and another meeting on 17 December.
In these meetings, a resolution was passed to request the writers "to reconsider their decision". Only one writer, Nand Bhardwaj of Rajasthan, accepted the request and took back his decision of returning the award.
Here is the complete list of the 39 writers, as maintained by the Akademi, who returned their awards -
Hindi
1. Uday Prakash
2. Ashok Vajpeyi
3. Krishna Sobti
4. Mangalesh Dabral
5. Kashinath Singh
6. Rajesh Joshi
English
7. GN Devy
8. Nayantara Sahgal
9. Keki Daruwalla
Gujrati
10. Anil Joshi
Punjabi
11. Waryam Singh Sandhu
12. Surjit Patar
13. Jaswinder
14. Gurbachan Bhullar
15. Atamjit
16. Baldev Singh
17. Darshan Butter
18. Ajmer Singh Aulakh
19. Mohan Bhandari
Rajasthani
20. Nand Bhardwaj
21. Ambikadutt
Kannada
22. Kum Veerbhadrappa
23. Rahamat Tarikere
24. Devanuru Mahadeva
Kashmiri
25. Ghulam Nabi Khayal
26. Margoob Banihali
Urdu
27. Munawwar Rana
28. Khaleel Mamoon
Malayalam
29. Sara Joseph
Assamese
30. Homen Borgohain
31. Nirupama Borgohain
Telugu
32. Katyayani Vidmahe
TRANSLATION PRIZE
Hindi
33. Chaman Lal
Kannada
34. GN Ranganatha Rao
Marathi
35. Ibrahim Afghan
YUVA PURASKAR
English
36. Aman Sethi
Punjabi
37. Pargat Singh Satauj
BAL SAHITYA PURASKAR
Telugu
38. M. Bhoopal Reddy
GOLDEN JUBILEE AWARD
39. Mandakranta Sen
However, this list doesn't really capture the full punch of the campaign since those who returned their awards included many more than just awardees of the Akademi.
These included several filmmakers and artists as well. Some of these names were -
1. Arundhati Roy, who returned her National Award for Best Screenplay that she had won in 1989 for the film In Which Annie Gives It Those Ones.
2. Kundan Shah, who returned his National Award for the film Jaane Bhi Do Yaaron.
3. Saeed Mirza
4. Dibakar Banerjee
5. Anand Patwardhan
6. Dipankar Banerjee
7. Paresh Kamdar
8. Nishtha Jain
9. Kirti Nakhwa
10. Harshavardhan Kulkarni
11. Hari Nair
12. Rakesh Sharma
13. Indraneel Lahiri
14. Lipika Singh Darai
15. Vikrant Pawar
16. Rakesh Shukla
17. Prateek Vats
18. Cinematographer Virendra Saini
19. Ajay Raina
20. Cinematographer Ranjan Palit
21. Cinematographer Manoj Lobo
22. Filmmaker Tapan Bose
23. Filmmaker Sanjay Kak
24. Filmmaker Madhusree Dutta
25. Filmmaker Pradip Krishen
26. Vivek Sachidanand
27. PM Satheesh
28. Film editor Irene Dhar Malik
29. Cinematographer Satya Raj Nagpaul
30. Filmmaker Shriprakash
31. Cinematographer Sudhakar Reddy Yakkanti
32. Rafeeq Ellias
33. Filmmaker Amitabha Chakravarty
34. Maithil filmmaker Tarun Bharitiya
35. Documentary maker Anwar Jamal
36. Cinematographer Sudhir Palsane
37. Cinematographer Abhimanyu Dange
38. Filmmaker Manoj Nitharwal
Edited by Jhinuk Sen