Narmada dam: Modi's birthday present to himself will displace over 40,000 families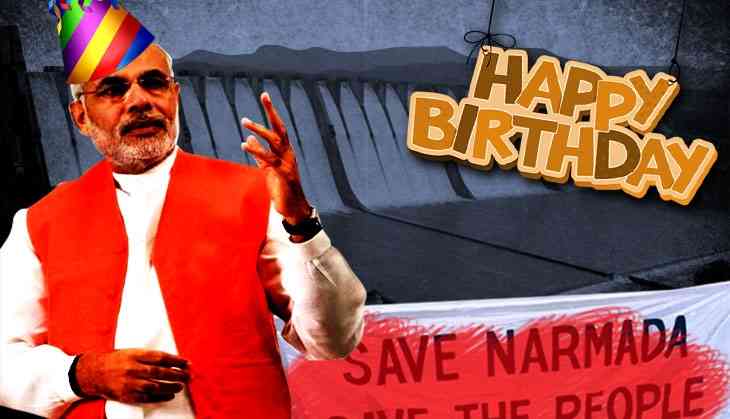 Prime Minister Narendra Modi has planned a gift for himself for his 67th birthday. On 17 September, Modi will inaugurate the Sardar SarovarDam on the Narmada river by opening the 30 massive gates installed on it.
The moment will certainly be heavy on symbolism from the perspective of those whom the dam will benefit.
However, it is also likely to be remembered for a long time as a tragic chapter in the history of the tussle between development and displacement. The dam will drown the area of residence and livelihood of more than 40,000 families in the Narmada Valley, who are yet to be rehabilitated.
Gross injustice
According to reports, the displaced families have not been given alternate sources of livelihood, many of the resettlement sites lack access to drinking water and nearly none of them have pastures for the large number of cattle present there. Even the compensation awarded to the displaced families is inadequate and not in keeping with the resettlement policy.
The National Alliance of People's Movements (NAPM), which has been leading protests by the oustees of the project to demand justice, has called this an "obscene celebration of injustice". The organisation has said that the benefits of the project, like the benefit of taking the dam's height to 121 metres as well as comprehensive downstream impact, are also yet to be clearly established.
Is it justice that thousands of families are being forced to leave their homes, their villages and their livelihood in these conditions, NAPM has asked. In a last ditch effort, the organisation also led a rally in Bhopal on 13 September. Many participated in the rally that culminated into a dialogue with Principle Secretary of the Narmada Valley Development Authority (NVDA), Rajneesh Vaish.
According to NAPM, Vaish claimed at the meeting that water supply had been provided to all the sites but this was refuted by the people who hail from there. It also emerged from the discussion that construction work to ensure access to farms outside the area that will be submerged have just been initiated. In fact, tenders have not yet been issued and this says volumes about the stage at which rehabilitation is.
The Sardar Sarovar Project has attracted endless controversies for over three decades now. A Supreme Court judgement of February 2017 had allowed the administration to close its gates and use force if the lands are not vacated by 31 July. However, the SC has repeatedly underlined that full rehabilitation is a pre-requisite, in the absence of which the inauguration of the dam will be a travesty.