Namami Gange launch: 7 ways Modi govt plans to save Ganga
Catch Team
| Updated on: 10 February 2017, 1:48 IST
The Modi government will begin executing Namami Gange, its ambitious plan to clean up River Ganga on Thursday 7 July. Labelled as one of the government's flagship projects, Namami Gange even led to the words "river development and Ganga rejuvenation" being added to the water ministry's name.
The river, which originates in the Himalayan glaciers, is polluted right from where it hits the plains at Haridwar.
Up in the hills, the river is dammed at various points, affecting its flow and capability to absorb raw sewage thrown into it by the 118 towns spread along its banks. Industrial pollution across the river course is seldom controlled. Namami Gange aims to comprehensively deal with all these pollutants.
On 7 July, 231 projects will be launched. So what are these and what are the government's future plans? Here's a quick look -
1.
231 projects will be launched across Uttarakhand, Uttar Pradesh, Bihar, Jharkhand, West Bengal, Haryana and Delhi. These projects include four programmes to directly clean the river: sewage treatment, trash skimming, drain management and modernising crematoriums. Then there are afforestation projects and biodiversity centres which are also a part of the huge list of projects. In May, the government granted Rs 2,446 crore to fund these activities.
2.
Ganga Gram Yojana: The scheme aims to help villages not pollute the Ganga. This includes preventing open defecation, building crematoriums and creating ways to manage liquid and solid waste. This will be launched in 400 villages. 85 of these villages have been adopted by the 13 IITs. All villages in Jharkhand's Sahebganj district will be developed under this program.
3.
Rajasthan Patrika
Biodiversity centres: Ganga is home to several important species, such as the Gangetic dolphin, which are threatened by the river's pollution. Biodiversity centres will be opened in Rishikesh, Dehradun, Allahabad, Varanasi, Sahebganj and three other places for restoring endangered species supported by the Ganga. Afforestation along the river will also be carried out - a draft proposal pegs the cost at Rs 2,293 crore over a period of five years.
4.
Sewage Treatment: The 118 towns along Ganga dump 3,636 million litres of untreated domestic sewage into the river. This is the river's major pollutant. Sewage Treatment Plants (STP) along the river either do not exist or are not functional. There isn't much electricity available along these belts and even if it is, it is expensive. Therefore local municipal bodies can't afford to run the plants. To resolve this, the ministry has invited private companies to enter into public-private partnerships with the Union government to run these STPs. It has also offered a lucrative 'hybrid annuity' model to finance interested private companies. The electricity question however, still remains.
5.
New law for Namami Gange: At a meeting of the National Ganga River Basin Authority (NGRBA), Water Minister Uma Bharti said a new law will be formed to clean up the river. A committee under NGRBA member Justice (retd) Giridhar Malviya will be looking into this.
6.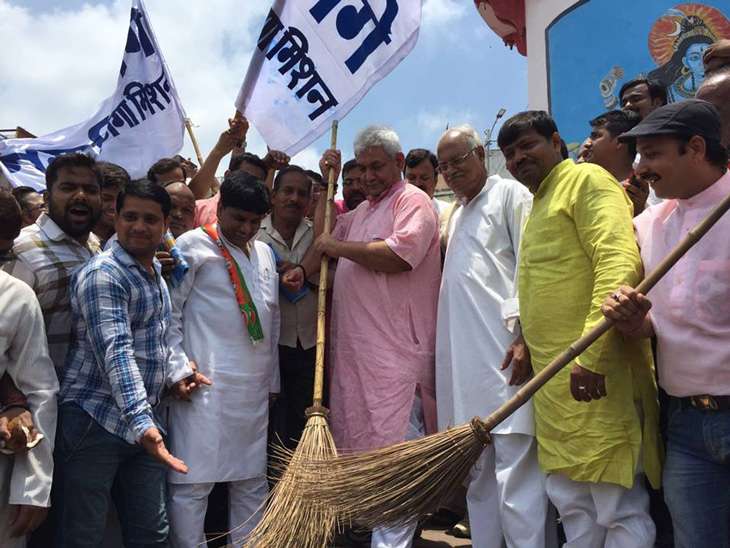 Rajasthan Patrika
Industrial pollution: There are restrictions on industries releasing effluents into the Ganga, but there is poor monitoring. To solve this, the government has placed real-time effluent monitoring stations in 508 grossly polluting industries. 150 industries found violating the rules have been asked to close down. To observe overall pollution levels, 113 real-time monitoring stations will come up along the river, Uma Bharti announced recently.
7.
The Ganga Task Force: The Ministry of Defence in May 2016 gave in-principle approval to raise four battalions of Territorial Army to protect the Ganga. The 'Composite Eco Task Force' or Ganga Task Force will plant trees, monitor river development works and raise awareness in settlements along the river. One battalion is already operational and is based in Allahabad.
Edited by Jhinuk Sen
Also Read: #Modi2: 5 reasons why PM Modi's Clean Ganga Mission seems to be losing track
Also Read: Here's what Modi is doing to clean the Ganga: a whole lot of nothing
Also Read: 'Save Ganga' handed over to corporates: masterstroke or disaster?
Also Read: This is one Ganga story you'll never forget. Everything you need to know about this holy mess