I had no role in the #ModiSharif meet: Salman Bashir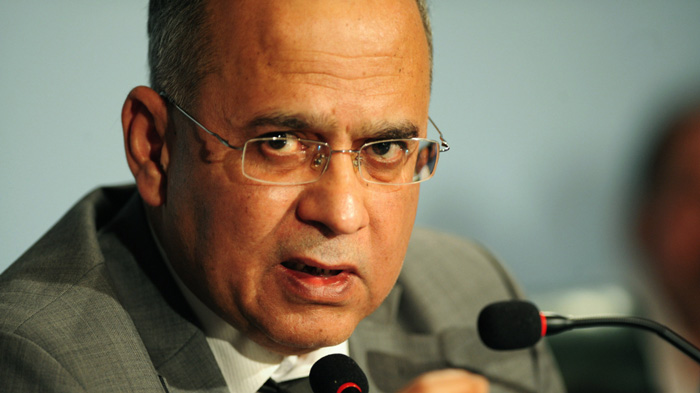 On 25 December, Prime Minister Narendra Modi dropped in on an impromptu visit to Lahore to wish Pakistan Prime Minister Nawaz Sharif on his birthday.
In the minutely calibrated world of Indo-Pak relations, this was pretty unprecedented - equivalent to a bomb.
No one in the media - or in the establishments on either side - had been kept in the loop. The excitement had barely subsided than the search began: who had brought about the visit to Lahore? Clearly, it wasn't as impromptu as it had been made out to be.
Also read - Modi-Sharif meet: Lahore visit was neither a coup nor a surprise
Before long, the speculation had settled on two names: industrialist Sajjan Jindal from India and veteran diplomat Salman Bashir from Pakistan.
The visit is being talked up as a diplomatic breakthrough, possibly as big as former prime minister Atal Bihari Vajpayee's bus journey in 1999.
Here, Bashir -- former high commissioner to India --denies having any role in the visit. But, in an email interview with Catch, the man everyone is speculating about explains how the visit could transform bilateral relations, why the media needs to be less jingoistic, and what India and Pakistan could learn from "Chinese wisdom". Excerpts:
What do you make of Narendra Modi's impromptu stopover in Lahore to wish Nawaz Sharif? Do you read it as a paradigm-shifting visit? What has it achieved for both sides or will it achieve in the long term?
The visit is indicative of the personal rapport between the two prime ministers, which augurs well for working a positive trajectory in bilateral relations.
If you are positive about the visit, what is the further mile you feel both leaders should walk to really shift the framework?
I think what needs to be worked on is delineation of a common vision in a solemn document with an action plan. We certainly need a 21st century vision and agenda for Pakistan and India.
The forthcoming SAARC Summit could provide an opportunity for such a path-charting development in bilateral relations. A preparatory process needs to be initiated to identify and build on convergences and to narrow down divergences.
Alas, Manmohan Singh couldn't do it, but good ideas do not have a shelf life: Salman Bashir
Is it really feasible for the visit to be as impromptu as it was made out to be? If not, why? Also, why was it important to frame it that way? The immediate optics apart, is it wise to break ground like this without any genuine spade work done behind the scenes?
It was impromptu by my reckoning. Both leaders deserve credit for this. It brought about a degree of informality, which is useful to start changing narratives. But the real challenge will be to work things between institutions and take it from the stratosphere (the elite) to the ground (people) level, if it's to make a difference.
What do you reckon were Nawaz Sharif's calculations in extending an invite to Modi? While one is pro-talks and peace, the images of the two leaders holding hands and hugging each other are still intriguing. There are so many thorny issues on both sides, how do they reconcile this show of personal rapport outside of a formal framework of talks, after all the sabre-rattling about beheaded soldiers and inaction on terror attacks etc.?
Prime Minister Sharif is known for his cordiality and hospitality. So no surprise there. The challenge for the two prime ministers would be to ensure that their respective governments, particularly the institutions directly concerned, deliver on the promise of a better future and the concept of shared destiny.
I don't know if Sajjan Jindal had any role. I know Naveen Jindal but we didn't discuss this: Salman Bashir
Impediments posed by bureaucratic inertia and historically-conditioned reflexes would need to be overcome. That is where the problem is and the media has be less jingoistic.
What does the Pakistani diplomatic fraternity make of the visit? The last attempt for talks was called off by India because of Pakistan's outreach to the separatists in Kashmir. What is the point of flamboyant gestures like this in the light of that? Is it the case that either Pakistan or India has shifted its position even slightly on any of these issues?
There is a wave of optimism among the foreign service here. Diplomacy and true statesmanship is to find common ground with an eye on the future, and sincere commitment to the welfare of people.
Earlier this year, there was elation over the Ufa talks, which were hailed by the media as historic. But much of that skidded after the Gurdaspur attack, the release of Zaki-ur-Rahman Lakhvi, the border killings, with both sides blaming each other for escalating the situation.
I believe everyone agrees that dialogue and cooperation is the way forward to address the pernicious issue of terrorism. That has been Pakistan's position all along.
From an India perspective, the bilateral relations are usually tripped by some action by the Pakistani army/ISI/non-state actors. Can civilian leaders make any headway without some buy-in from these quarters? Is there any buy-in?
This is an outdated and wrong perception in certain quarters in India.
Businesses can, of course, influence Indo-Pak ties. It happens everywhere, says Salman Bashir
There is speculation in the media that you played a role in catalysing this visit; that on a trip to India a few months ago, you had suggested that Modi should make an impromptu visit? Is this true? Who on the Indian side helped create a buy-in for the idea?
No, I had no role whatsoever. However, I have always wondered at the absurdity of India's self-imposed isolation. I have said at several forums that while our leaders have never had any hesitation in visiting India, the Indian side wrongly thought that a visit is some sort of a favor to Pakistan.
There is also speculation that the industrialist Sajjan Jindal played a significant role in taking up your idea and making it happen. Is this true?
I don't know if Mr Sajjan Jindal had any role. I have known Naveen Jindal but I had no opportunity to discuss these matters with the Jindals. On the other hand, I had some conversations, somewhat of similar nature, with my Indian friends in high positions when I was high commissioner in Delhi.
Alas, Prime Minister Manmohan Singh somehow could not do it. However, good ideas do not have a shelf life. As they say, there is nothing more powerful than an idea whose time has come. Let's hope that it's this moment.
India's perception that bilateral ties are tripped by Pak army, ISI is outdated & wrong: Salman Bashir
The Congress has criticised the possibility of an industrialist being involved in brokering diplomatic relations, or any behind-the-scenes outreach. What is your view on this? Is it problematic for businessmen to be involved? Especially if they have an existing business interest in the country?
Primarily, the leadership and the foreign ministries should play a leading role. Businesses can, of course, influence; that happens everywhere.
On the other hand, in a recent interview, the head of the BJP's economic wing Narendra Taneja said, "It's 2015. Diplomacy cannot be conducted as it was in 2000. Today 80% of diplomacy is decided by business communities."
There is some merit to this view.
Also read - #ModiSharif: Enjoy the bonhomie. But don't expect anything more
His contention was that though India and China have disagreements over borders, there is a robust business relationship. Similarly, India and Pakistan should focus on deepening business interests because then influential people on both sides would act as a buffer and insist on lowering political tensions. Do you agree with this view. Is there an opportunity for a radically new way of approaching India-Pakistan relations?
Absolutely, China presents an excellent example, a model in managing external relations. Both Pakistan and India could learn a lot from Chinese wisdom, diplomatic acumen, sagacity and strategic foresight.
India, Pakistan could learn from Chinese wisdom, diplomatic acumen, strategic foresight: Salman Bashir
Both Modi and Sharif ostensibly kept their intelligence agencies, armies and ministries out of the loop. While it's good that both media and the hawks in both countries were kept in the dark, is it wise to bypass institutions in diplomatic relations and make it so personality based?
Both will have to drive the relations through their respective institutions. Parliaments could also play a catalytic role, and so should the media.
Salman Bashir: The SAARC Summit could be a chance for a path-charting development in bilateral ties
India and Pakistan display a lot of inconsistency in their dealings with each other. What steps do you suggest from both sides to bring some genuine meaning into the dialogue process?
Diplomacy must bring strategic dividends, not just convoluted statements that show that it is a "draw". Aim for win-win. It's doable!
More in Catch - Modi in Lahore, Sharif in Delhi: How India-Pakistan are juggling diplomatic relations
Opposition react to Modi in Lahore: Congress criticises visit; Omar, CPI-M welcome gesture
Did Narendra Modi inform Arnab Goswami before leaving for Lahore? Twitter users have a field day