Modi's speech at India Science Congress was all slogan and no substance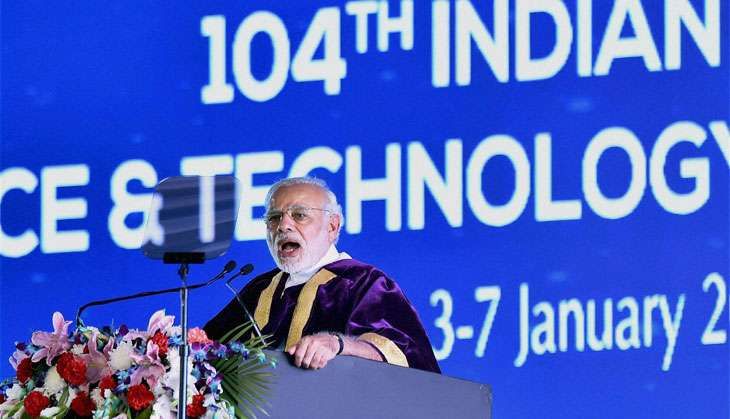 PM Modi has a penchant for the turn of phrase, presumably on the advice of advisors, though educated people turn away in embarrassment at the concepts he uses.
At the 104th session of the Indian Science Congress in Tirupati on 3 January, Modi advocated "scientific social responsibility" (SSR) to promote scientific excellence in all stakeholders, including educational institutions.
It is one thing to advocate social responsibility to scientists, which the Indian Science Congress has been practising since before the PM was born.
In fact, in all spheres of life - science, social science, humanities, technology, biology, medicine, etc - social responsibility has been practiced the world over.
For example, while developing certain vaccines or medicines, when animals, and later humans, were used to test prototypes, social responsibility was paramount. This was, most recently, used to develop the anti-HIV vaccines which will ultimately save millions of lives.
Therefore, the PM's inane effort to advocate SSR is only an embarrassing ignorance of a fairly common discourse, far from adding any thing useful to the existing store of knowledge.
Old things on repeat?
He then expounded on corporate social responsibility, CSR. But, according to media reports, he said little about that. His only (ancient) gem was that "on the lines of Corporate Social Responsibility, the concept of Scientific Social Responsibility needs to be inculcated to connect our leading institutions to all stakeholders, including schools and colleges. We must create an environment for sharing of ideas and resources."
Again trite and vacuous.
First, the responsibility of the State is not mentioned. Scientific Social Responsibility is an old discarded concept. "Scientific" Social Responsibility is normally considered basic to social science and vice versa. This the PM must have learned while studying "entire Political Science".
Second, State and social responsibility is considered in the Global South to be more important than corporate responsibility. In India, many universities, colleges and schools are starved of funds.
CSR in this corporate environment, and the current political environment, could well be a stalking horse for the privatisation of education. This trend is already in place.
Problems in the space
The ongoing Ratan Tata vs Cyrus Mistry feud highlights the problem and reality of "corporate social responsibility", not to speak of crimes of the owner of Dunlop Tyres, Pawan K Ruia, recently arrested in a corporate scam.
In any case, how much has indigenous technology through SSR which has not been funded by the state, been able to develop?
How much have private corporates, after availing state benefits, been able to produce new technologies, as distinct from the transfer of old technologies?
How much technology has the country lost with the privatisation of Heavy Engineering Corporation, Indian Drugs & Pharmaceuticals, Hindustan Machine Tools, etc by previous governments?
The extent of confusion in the Prime Minister's Office is amply clear from the following report: "
The rapid rise of Cyber Physical Systems has the potential to pose unprecedented challenges and stresses to India's demographic dividend."
The role of Biology Systems and biological research, the development of medicines, a sharp increase in the number of clinics, medical colleges and hospitals, is not mentioned.
The obsession with the term "technology" disregards the importance of "science". Many technologies are based on scientific research. Thus the stress on technology, rather than appreciating the store of science, must have struck many delegates at the Indian Science Congress.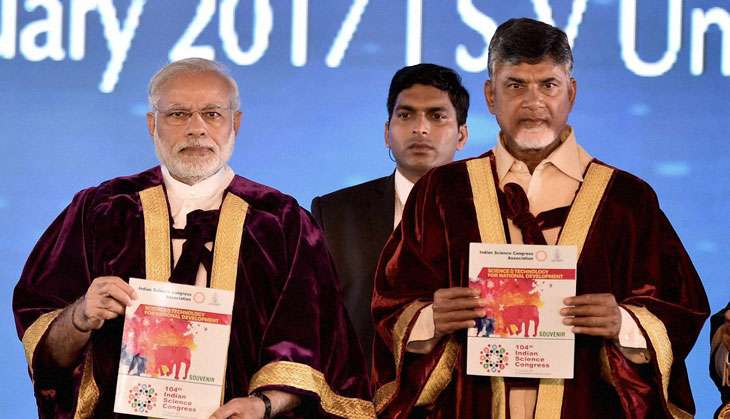 The emancipation question
The demographic dividend cannot be reaped also without the education and emancipation of women, a task far from being substantially accomplished, so far, including by previous governments.
Similarly, the spread of literacy in one of the world's most illiterate societies cannot be solved without science and state funding. Cyber Physical Systems etc alone are not answers.
The speech at Tirupati was clearly poorly drafted, with catchy slogans substituting for the absent intellectual engagement.
Henceforth, the mercurial PM should ensure that his advisors present an address worthy of a politician of his stature.