Modi's pet bullet train hits a road block named Fadnavis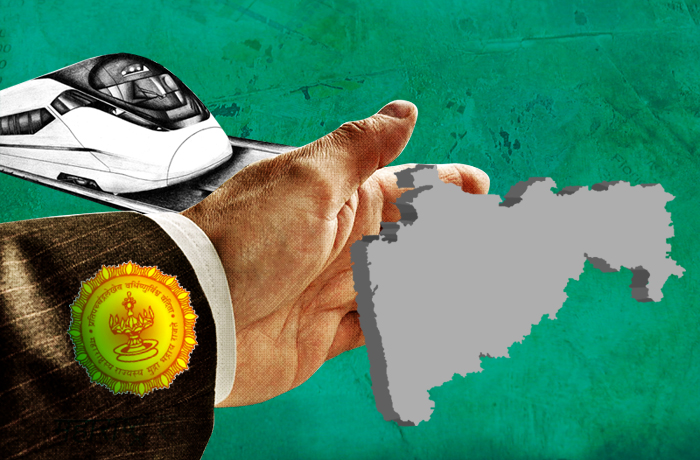 Going sour
Narendra Modi has signed an agreement on bullet trains with the Japanese PM
But the project has landed in trouble
MMRDA has refused to part with land for the project
More in the story
What will be the project\'s fate now
Why does the MMRDA take such a decision
Prime Minister Narendra Modi's dream Mumbai-Ahmedabad Bullet Train project may run aground, that too because of Devendra Fadnavis, Modi's blue-eyed boy.
The Maharashtra chief minister also heads the Mumbai Metropolitan Region Development Authority (MMRDA), which has refused to part with a plot of land at Bandra Kurla Complex for the construction of a station.
The project
The Rs 98,000 crore project was conceived in 2009. Former Railway Minister Lalu Prasad Yadav marked it in his Railway Budget for 2009-2010 for a feasibility study.
Initially, a 650-km high-speed train corridor was proposed between Pune and Ahmedabad via Mumbai. A contract for the pre-feasibility study for the route connecting Mumbai to the track was allotted to a consortium of RITES Ltd, Italferr and Systra.
However, after a series of meetings and site visits, authorities decided that the corridor will start from BKC, Mumbai. The Bandra Terminus and Lokmanya Tilak Terminus (LTT), Kurla.
Modi approved the project on 28 May last year. Since then there have been several rounds of surveys and site visits for feasibility study. Initially there was a proposal to start the route underground at Chhatrapati Shivaji Terminus. Soon the choice shifted to BKC.
The opposition
In space-starved Mumbai, land is precious. So, when the railways sought land at BKC, eyebrows were raised. Real estate rates in the area are as high as Rs 50,000/sq ft for residential complex and higher for commercial use. The value of land required for the Bullet Train project can runs into trillions of rupees.
Even before anyone else could object, MMRDA itself put its foot down, refusing to part with any land in its possession. The BKC land bank is a major source of revenue for the Authority.
"If we give away the land, the Authority will be left with no source of revenue to carry on ongoing projects; all future projects will also be jeopardised," a senior MMRDA official said, highlighting how MMRDA executed many projects in the city that should have been the responsibility of civic bodies.
MMRDA has had to part with land several times and it hasn't been compensated by the civic body or the state government. "This time we are determined not to part with any land. If this continue, the Authority will soon be handicapped," the official said.
Earlier, in January, too the Authority had refused to part with land. Then Railway Minister Suresh Prabhu met Fadnavis and convinced him to not take a decision before studying the feasibility report. Fadnavis agreed and everyone in the ministry had their fingers crossed.
However, their hopes died when Fadnavis recently wrote to Prabhu informing his inability to allocate land for the project due to financial constraints.
The decision will have long term implications on Modi's dream project for which he has signed an agreement with his Japanese counterpart. The Railway Ministry will now have to hunt for alternative land, which may be an uphill task. But the state government has suggested the ministry explore shifting the project to Kurla and Dadar, where it has huge open space.