Modi follows rivals on Twitter, and the #Bhakts are crestfallen
Catch Team
| Updated on: 14 February 2017, 6:03 IST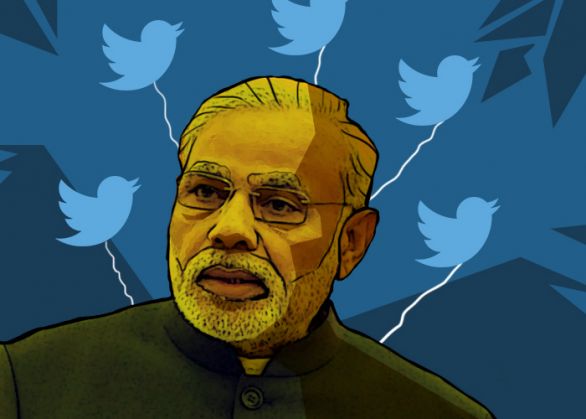 Springing a surprise, Twitter enthusiast Narendra Modi followed some of his political opponents on Holi.
They include Delhi Chief Minister Arvind Kejriwal and his deputy Manish Sisodia; Congress leaders Rahul Gandhi, Ahmed Patel and Digvijaya Singh, who is known for his acerbic statements against the BJP and the RSS; Nitish Kumar, the BJP's friend-turned-foe chief minister of Bihar.
Kejriwal, newly revealed as the only Indian in Fortune magazine's list of the world's 50 greatest politicians, clearly wasn't touched by the prime minister's gesture. Taking a dig at Modi, the AAP chief said he hoped the move entails better Centre-state relations.
.@narendramodi Sir, thank u for following me. Happy Holi. आज गिले शिकवे भूलने का दिन है। Hope better Centre-Delhi cooperation in future

- Arvind Kejriwal (@ArvindKejriwal) March 24, 2016
Among others, Modi followed Lalu Prasad, whose frontal attack on the BJP and the RSS, especially on the issue of caste-based reservation, is seen as one of the major factors that turned the Bihar election in favour of the JD(U)-RJD combine. The prime minister also followed Lalu's son and Bihar's deputy chief minister Tejashwi Yadav, who hoped it entails "speedy responses".
Thanks @narendramodi Ji for following me on twitter. Hope to make it worth out here for speedy responses & centre aided development of Bihar

- Tejashwi Yadav (@yadavtejashwi) March 25, 2016
Modi also reached out to Shatrughan Sinha, the BJP MP from Patna who has made it a point to be seen with all the adversaries of his party. Since the Bihar election, the former film star has been giving the BJP headaches by speaking out against the party line every chance he gets.
Also read - PM Modi gets a wax statue at Madam Tussauds, Twitter cannot cope with it
Another account that Modi followed was @realhistorypics, which is popular for its sharp and witty captions on archival photographs of Indian politicians. The account, which has posted multiple tweets on Modi in the past, tweeted that it was honoured to have the prime minister as a follower.
Whoah!! Honored to be followed by PM Shri @narendramodi ji. :))

- History of India (@RealHistoryPic) March 24, 2016
Since Modi came to power, many government departments have shored up their presence on social media so much so that much of their information is now being disseminated through it.
Modi and his team had extensively used social media platforms, including twitter, during the Lok Sabha election campaign.
Before this "following spree", Modi mostly followed people who constitute his support base online. Many of them seemed anguished by his latest move, particularly the following of Kejriwal.
The biggest tragedy is that @narendramodi use to follow me before 2014 elections, Then unfollowed, #IndvsPak me active thhe kya 😂😂

- Bhaiyyaji (@bhaiyyajispeaks) March 24, 2016
@narendramodi has decided 2 follow thug @ArvindKejriwal so I am unfollowing him,he has million followers so #Indian like me don't matter

- Drunken Thoughts (@Byrahulchhibber) March 25, 2016
PM must follow patriots too.Beyond S-150!@narendramodiRT @PKotekar: Modi follows rivals on Twitterhttps://t.co/g5vsNkM9sMvia NMApp

- WordBank (@musicaltrees) March 25, 2016
More in Catch - Why, oh why did PIB do this to Prime Minister Narendra Modi?!
The year on Twitter: Modi, One Direction, same-sex marriage & The Dress