JP Nadda targets India's biggest health hazard - samosas served in newspaper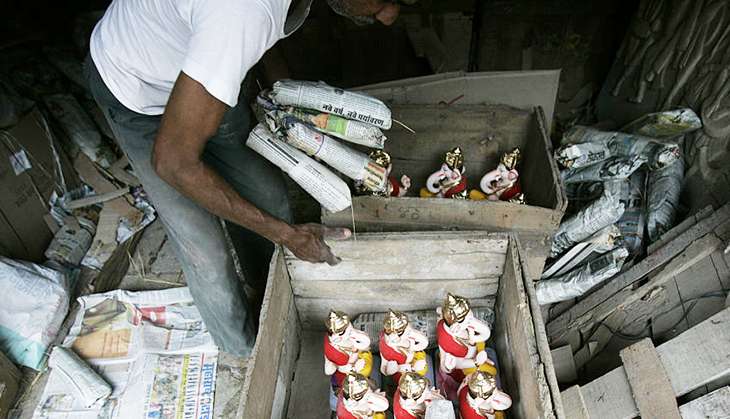 On 5 December, a group of 200-odd protestors marched to JP Nadda office, hoping to meet him. Concerned about the outbreak of Japanese Encephalitis in Odisha's Malkangiri - which has already claimed nearly 300 children in the district - they hoped to get him to intervene.
But the health minister was not available to meet them. Because, they were informed by his staff, he was busy. Presumably he was dealing with a much graver problem: the use of newspapers and printed recycled paper materials for wrapping and covering food.
Yes, you read that right.
Turns out this really was the minister's priority. On Friday, he directed the Food Safety and Standards Authority of India to issue an advisory restricting the use of newspapers and recycled paper materials for packaging food.
Also Read: Revealed: the poison in your food FSSAI has approved
"It has been observed that vendors have been using newspapers in packing and serving food, which is harmful. I urge the public to dissuade the vendors from using newspapers in packing and serving food and not to themselves use too. We have also issued an advisory to this effect to the state agencies and dissuade vendors from using newspapers in packing/serving food," the minister said.
As asked, the FSSAI directed food safety authorities of all states and union territories to take steps for restricting the use of newspapers for storage and packaging of food items.
The regulator also directed them to create awareness among "unorganised food business operators - those selling samosas and puffs, and such others - as well as consumers about the harmful effects of using newspaper for food packaging.
"Printing inks may also contain harmful colours, pigments, binders, additives and preservatives," the FSSAI directive said. Besides chemical contaminants, presence of pathogenic microorganisms in used newspapers also pose potential risk to health."
While there's no denying that using newspaper for food packaging is harmful, the minister's directive is clearly a case of misplaced priorities, if not outright bizarre. Not least because the proposed ban will be difficult to implement, if not impossible. For perspective, consider the "plastic ban". Even after multiple regulators issuing directives and the National Green Tribunal demanding a complete ban on plastic bags on 2 December, nearly every marketplace uses them daily, oblivious or unperturbed by the ban.
Also Read: Maggi mess: FSSAI says keeping options open on challenging Bombay HC order
If the FSSAI is genuinely concerned about food safety, it must get its priorities right. For often, the regulator has acted only after the milk is spilled.
It was, for instance, only when the Centre for Science and Environment alerted the public to the possible presence of carcinogenic chemicals in various brands of bread that the FSSAI banned the use of such chemicals, causing panic among the masses who consume bread on a daily basis.
That it wasn't the FSSAI's effort that revealed the presence of cancer-causing chemicals in bread should a cause of concern. More worryingly, inspection of an FSSAI facility in Gorakhpur by The Indian Express revealed understaffed labs, absence of specialised experts and inadequate testing equipment, which led to some important tests to be ignored.
A food analyst working with FSSAI who asked not to be named said, "It's usually the big brands that do the fudging and claim to have ingredients in their products when they clearly don't. But they escape stringent action; they are usually let off with a warning."
About the latest directive on newspaper packaging, the analyst pointed out the much bigger problem as far as street food is concerned: the use of high amounts of Monosodium glutamate, or MSG, as taster. MSG is so harmful that it is usually tested in parts per million by the food regulator. Research has shown that MSG is an allergen and can be detrimental to the brain. Other studies have linked MSG consumption with obesity and labelled it a trigger for asthma and headaches.
Yet, the FSSAI has no guidelines on using MSG in food items, except for some canned food products.
Although the FSSAI is currently overhauling its laboratories across the country and maximising its resources to improve sampling and tests, the regulator, and the health ministry, would do public health a lot more good by focussing more on what goes into preparing food than on how it's packaged.
Also Read: FSSAI to set new standards for alcoholic beverages