Meet Robin Chaurasiya who's turning sex workers' kids into "revolutionaries"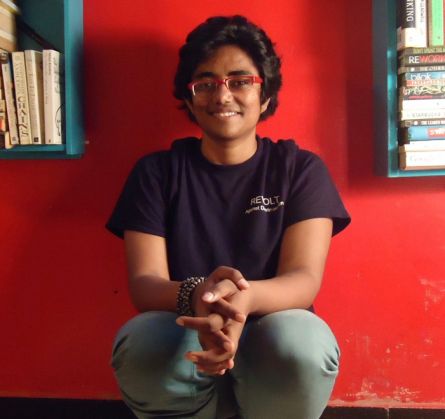 The prize
Robin Chaurasiya, founder of Kranti, has been nominated for the Global Teachers Prize
She works with the children of sex workers in Mumbai\'s Kamatipura
The challenge
Her main challenge is fighting the belief that a daughter of a sex worker will have to be a sex worker
Some of the Kranti products have become successful professionals
More in the story
What made Chaurasiya leave the US Army?
Some of Kranti\'s success stories
Robin Chaurasiya never imagined that one day she would move back to India from the US, where she grew up, to teach the girls of Kamatipura's sex workers. Or that that Stephen Hawking might call her name out one day as the top ten finalists for the Global Teachers Prize. As a child, Chaurasiya had little scope to imagine a life that could just be normal, without abuse and pain. So today, more than excitement, there is deep happiness and that elusive feeling we all chase, of having done something truly remarkable.
On 17 February, Hawking announced the list of ten finalists for the million dollar Varkey's Global Teacher's Prize, known as the Nobel prize in education. Chaurasiya's name and her school Kranti, was announced along with finalists from UK, US, Pakistan, Finland, Palestine and Kenya.
Also read: #JoshTalks: from sex worker's daughter to pro drummer, the incredible story of Sheetal Jain
"The human mind is an incredible thing. For each mind to achieve its full potential needs a spark. The spark of enquiry, excitement and passion. Often the spark comes from a teacher," said Hawking before announcing the names. According to Hawking, he was slow to learn and had untidy handwriting. It was his teacher Dikran Tahta who instilled the passion for math in him.
What Kranti does is to light that spark in the minds of girls who society has given up on. "Randi ki beti Randi banegi" (the daughter of a whore will become a whore) is what the girls heard since they were born. Some were raped as children, some were abused and some were bought and sold. When they eloped and made their way to Chaurasiya for the first time they were numb from the mental and physical torture. But gradually, there developed a quiet understanding and she worked on each one of them, starting with meditation, therapy, music and healing, before getting them to even believe that they had the right to live a different destiny.
Daughter of a whore will become a whore - is what the girls have been hearing since they were born
The revolutionaries
Chaurasiya joined the US military at the age of 16 but had to abruptly quit because of the military's "Don't ask, Don't tell" policy that discriminated against gays and lesbians. Chaurasiya was a "powerful lesbian" and created quite a riot that led to its repeal in 2011.
She started Kranti the same with 3 other co founders: Bani Das, Trina Talukdar and Sujata Jhaveri
Kranti means a revolution and Chaurasiya calls her students aged between 12 and 21 Krantikaris or revolutionaries.
"We have a lot of fun. We sing, dance, rap, study science, history, watch TED talks, learn English, learn about social justice, put up plays and travel," says 30 year old Chaurasiya who founded Kranti five years ago after working at Mumbai's Rescue Mission which similarly worked to free sex workers and give them alternative livelihoods.
That's when Chaurasiya thought why should these women and their children have scraps of opportunities thrown at them. Why can't they ever become journalists or astronauts or designers if they want to ? And the idea of Kranti was born with a promise to fight every day to create an equal space for them amidst you and me.
One of the first hitches was funding, which Chaurasiya realised was plenty of hard work because of the segment of society she chose to work on. "Most people see a need to fund education or health or drinking water, but when it comes to dealing with children of sex workers, it's the last thing people feel compelled to support," she says.
Chaurasiya quit the US military because of its policy that discriminated against gays and lesbians
The shelter home cum school located at Mumbai's red light costs about Rs 2 lakh a month to run and is presently dependent more or less entirely on individual donations and small grants. "Some months are really hard," explains Chaurasiya.
Back at Santa Cruz the girls first warm up with meditation and some deep breathing. Then they go over their journals that they each write in every day on different themes. Some write in English, some in Hindi, some use both. They do some creative exercises, logic puzzles, watch a TED video, do science experiments and then practice on their English by filling in the blanks to the lyrics of popular music.
Today they're filling in the blanks for "Borders" by MIA which is a song on the refugee crisis.
Borders, whats up with that?
Politics, whats up with that?
And they finally have to find their own "Whats up with that?" word.
"I try to be diverse in what the kids want to read and learn about. I've found that at the end of the day, kids want to know about things connected to their lives. You have to impart education and give assignments in a way that really connect to their lives," says Chaurasiya.
But is this then just a purely alternative education or will it help them pass their 10th and 12th?
Passing 12th is something Kranti strives to support, says Chaurasiya. But the way to it has to be done easily. Advanced mathematics is often not possible because the girls either don't have an appetite for it or Kranti doesn't have the bandwidth to teach it.
"But we teach logic, reasoning and deduction through Sudoku, puzzles, and solving logic and reasoning problems," says Chaurasiya.
By learning subjects like psychology, sociology, environmental science, biology and chemistry, the students of Kranti manage to pass 12th either through open exams or through the SMBT.
"We learn what their passion is and find a way to help them make money out of it," says Chaurasiya.
And Kranti's students are really going places. Some have even given TED talks.
Sheetal was raised by a Hijra sex worker while her mother danced in bars. Her mother's customers would feed her and then rape her. Today, Sheetal is a motivational speaker traveling all over India and she also trains NGO leaders. Shweta was the first girl who grew up in a red light area to go to the US and study on a scholarship. Today she's back in India practicing music therapy with an NGO.
Also read: AIDS preventive medicine available for sex workers in Sonagachi from December
But not everybody is a success story. There are enough girls with mental health problems, addictions, and a history of trauma that has run too deep. Therapy is an important part of their education. "When the girls begin to think twice about cutting themselves or harming themselves, that's a really big success story for us," says Chaurasiya.
You only need power to do something harmful
Does Chaurasiya realise that she's being nominated for the biggest education award at a time when education institutions within India and students are being shown the whip by the centre for expressing themselves intellectually and politically?
"I read a quote somewhere which said: you only need power to do something harmful. Because for everything else love is enough. The present government is focused on accumulating power in every possible way. It's clear that they want to do something harmful. The crackdown on students has a lot to do with their own fear and the insecurity of losing power," says Chaurasiya.
Govt is accumulating power in every way. Clearly, they want to do something harmful, says Chaurasiya
She feels that India's education system is very short sighted and curbs creative thought. You study to get a degree then a job, a house, a car and in the end of it all, it doesn't make you happy. "The real purpose of education should be to teach people how to be happy and make others happy," she smiles.
"Let's find out the things you enjoy, let's work on relationships, let's develop compassion and focus on being good people. Those are actually the things that are going to create happiness," believes Chaurasiya.
Also read: 9 kids go missing in Tamil Nadu every day. But rescuing them isn't enough
A plan for the prize
If Chaurasiya wins this year's Global Teachers Prize that will be announced on 13 March, she says she would like to share the prize money with all the finalists.
Back in Mumbai, she would want to move to a more spacious building for Kranti that will not just be a shelter home and a school but also have space to run some income generating programmes like a school run cafe and a bookstore. "We want to heal more. We'd like to work with boys from Kamatipura, work with teenage slum dwellers and teenage HIV victims. There's so much healing to do," she says.
Whether Chaurasiya wins the prize or not, her nomination as one of the ten best teachers in the world should send a clear message to the government of India - that it needs to build and support institutions like Kranti which nourish the dream to break free from the shackles of caste, social class and deprivation and live with no fear.