Manmohanomics 2.0: former PM to rejoin Panjab University, date awaited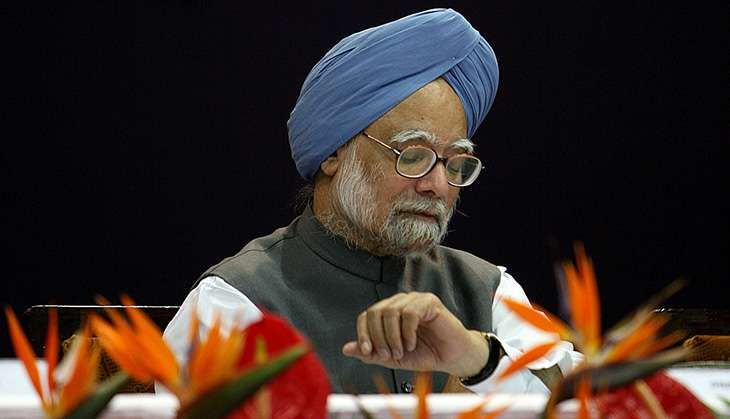 Panjab University, the alma mater of former prime minister Dr Manmohan Singh, is waiting for confirmation when the eminent economist will formally take over as the Jawaharlal Nehru Chair.
While Dr Singh had accepted the proposal from Panjab University to hold the Chair in April, he had reportedly sought a clearance from a parliamentary panel on whether his accepting the job would invite disqualification as a Rajya Sabha MP under the law pertaining to holding an office of profit.
The panel has reportedly given a green signal to him. Ironically, Dr Singh has a Chair named after him at the same university to which another eminent economist Dr Yoginder K Alagh has been nominated.
Also read - And now, a Manmohan Singh biopic based on Sanjaya Baru's The Accidental Prime Minister
"His office is yet to confirm when he will be joining us," said Professor Upinder Sawhney who heads the Department of Economics at the University.
Back to his roots
Dr Singh is not only an alumnus but also a former faculty member of Panjab University. Top academicians associated with PU are keen at him having interaction with the students and inspire them to take on a bigger role in their careers and lives.
Along with Dr Singh, Professor Alagh and Padma Bhushan awardee Ela Bhatt has also accepted the proposal to hold the Dr Manmohan Singh Chair and Mahatma Gandhi Chair respectively.
The HoD has also offered an option of videoconferencing to Dr Singh for the Chair's lectures, considering his tight schedule and health.
Panjab University and Dr Singh's tryst
Octogenarian Dr Singh had earned his Bachelor's and Master's degrees in Economics from Panjab University in 1952 and 1954 respectively with an outstanding performance, standing first throughout. He later taught in the Department of Economics and also as Chairperson of the Correspondence Department of the University.
It is after a gap of five decades that Singh would be returning to the University. Dr Singh had gone on to study at the University of Cambridge and University of Oxford after his master's degree.
A brief history of Panjab University
Panjab University was established in 1882 in Lahore in Pakistan and was relocated to Chandigarh in 1956. After the Partition, its offices functioned from Solan in Himachal Pradesh for a brief while. It is amongst the oldest universities of the country and is among the top academic institutions.
Its alumni include top names in various fields like Nobel laureate Hargobind Khorana, former President Shankar Dayal Sharma, former prime ministers IK Gujral and Dr Manmohan Singh, astronaut Kalpana Chawla, present external affairs minister Sushma Swaraj, industrialist Sunil Bharti Mittal, prominent historian Romila Thapar, Punjab's deputy chief minister Sukhbir Badal, former Haryana chief minister Bhupinder Singh Hooda etc.
Not a regular job
Eminent mathematician and former vice chancellor of the University Professor Ram Prakash Bambah told Catch, "There is no age or subject for persons of eminence to hold the Chairs at the University. These Chairs are not for routine teaching but for established distinguished people to interact with the students and inspire them in whatever time they can spare."
Bambah added, "Holding a Chair is not a regular job. Those distinguished people holding them are just paid their transportation and other nominal allowances."
He pointed that those who hold Chairs come for brief periods to the University. He said that eminent economist Dr Ajit Singh, who had headed Dr Manmohan Singh Chair, had come for four to five weeks on three occasions. Renowned writer Dr Mulk Raj Anand, who used to hold the Rabindranath Tagore Chair, was among the very few who spent a considerable amount of time at the University. Professor Bambah said that Anand spent almost three years at the University.
He hopes that Dr Singh would be able to give reasonable time to the University where he was groomed. Professor Bambah, now 90, has several fond memories to share about Dr Singh who was his junior. "Those were the times when there were hardly 40 faculty members living on the campus and everyone knew each other well. We had celebrated Dr Singh's wedding, and later their first Lohri, at the campus. I remember we had sat on durries outside their house on the crossroads and enjoyed some snacks together," he recalls.
While every expert holding a Chair at the University is a distinguished personality, Dr Singh remains someone special. "After all, he is an old student and an old faculty here. We are very proud of him and look forward to his interaction with the students and inspiring them," said Professor Bambah.
Dr Sawhney also pointed, "These eminent persons add to status of an institution. There is no such condition of their taking a fixed number of lectures etc."
Those on the campus say that they are eager to see Dr Singh, the man who spelt the era of economic neo-liberalisation for India and whose theory is widely known as Manmohanomics.
Edited by Aleesha Matharu
More in Catch - Movie on former PM Manmohan Singh lights Twitter up with Pushpak 2 jokes
What Manmohan Singh has to say about the liberalisation of Indian economy, 25 years on