Mandsaur mayhem: Man dies in police custody, wife tries to kill herself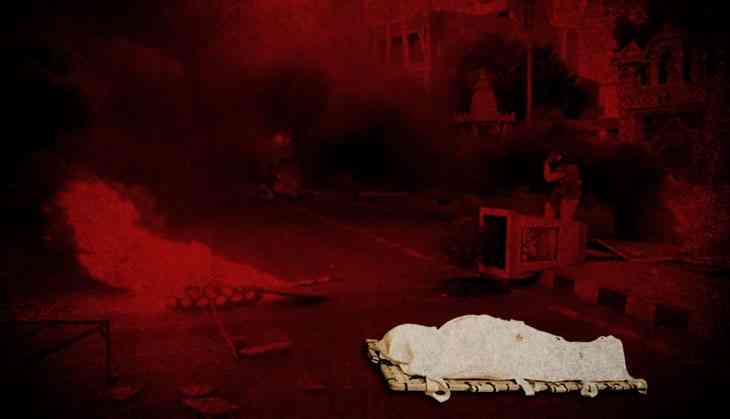 A day after Congress vice president Rahul Gandhi tried to enter violence-affected Mandsaur district in Madhya Pradesh, a 22-year-old man was killed in police custody taking the total number of dead to six. On Tuesday, five people had earlier succumbed to their injuries after police fired upon the protesting farmers demanding loan waiver and higher minimum support prices for their crops.
According to sources, the deceased, Ghanshyam Dhakad, resident of Badavan in Mandsaur district, and his friend, Ganesh Malviya, were returning from Bhawgarh to Dhaluda when they were picked up by the police on 8 June.
On Thursday, Bhawgarh witnessed clashes between police and protestors who made attempts to block the road. To disperse the protestors, the police is said to have used tear gas and brute force. Ghanshyam and Ganesh were on a bike when they were arrested by the police.
Sources informed Catch that Ghanshyam's wife tried committing suicide on hearing the news and was saved by the villagers. The family of the deceased claimed that he and his friends were on their way to a temple when police thrashed them with lathis. He and Ganesh were later arrested.
It was only at 4:00 am when the family was informed that Ghanshyam's health has deteriorated and he has been sent to MY Hospital in Indore for further treatment. Early in the morning, Ghanshyam succumbed to his injuries in the hospital.
Soon the news spread like wildfire and residents blocked roads forcing police officials and the district collector to rush to the spot. Meanwhile, police has claimed that they have no clues about Ganesh's whereabouts forcing people to reveal names of people in their custody.
The police has also asked for an inquiry and assured the victims of the kin that action would taken against those responsible for his death. Meanwhile, the senior police officers are waiting for the postmortem report before reaching to any conclusion. Catch tried to contact Mandsaur SP Manoj Kumar Singh but he did not answer any of the phone calls.
Meanwhile, except for this incident, normalcy has returned to Mandsaur with most of the shops open for the day. But locals are anticipating more trouble when Ghanshyam's body will reach his native village.
In other developments, a team of Aam Aadmi Party leaders have been asked not to visit the troubled area. A team of AAP leaders including Bhagwant Mann, Ashutosh and Sanjay Singh were planning to visit Mandsaur but the police issued a stern warning and said that they would be arrested of they try to do so. Police officials have said that prohibitory orders are in place and entry of outsiders would is restricted.
Earlier on Thursday, there was high political drama at Neemuch town on the Madhya Pradesh-Rajasthan border, as Congress vice-president Rahul Gandhi was first detained, and later arrested by the police under Section 151.
The 44-year-old leader was on his way to Mandsaur – the epicentre of violent clashes between farmers and security forces – to meet the kin of those killed in police firing on Tuesday.
On Wednesday, the district administration had said neither the Gandhi scion nor any other politician would be allowed to enter Mandsaur. But Gandhi decided to defy the state administration's orders, and was arrested after he tried to jump a barricade to enter the town.
The Congress vice-president landed at the Udaipur Airport in the morning, and then reached Mandsaur by car. However, he was stopped at the border, after which he hopped on to a bike before setting out on foot. He was then taken into preventive custody and later arrested, along with former MP CM Digvijaya Singh, senior MP Congress leader Kamal Nath, Rajasthan Congress chief Sachin Pilot and Janata Dal (United) leader Sharad Yadav.
During his attempts to reach Mandsaur, Gandhi had heated arguments with police, as did Singh, Nath and Yadav. "How can you stop me?" he was heard telling a policeman.
"One cannot enter MP if your ideology doesn't match with the RSS," said Gandhi, accusing the Narendra Modi government at the Centre of being worried only about the rich, and how loans worth lakhs iof crores taken by the rich have been waived off. "Modiji can't waive off loans of farmers, can't give good rates and bonus or compensation, he can only give bullets to farmers," he told the media.
After being detained him for more than four hours, the Gandhi scion met families of four of the victims before returning to Delhi.
The ten-day protest called by the farmers ends on 10 June and it remains to be seen whether they would take their agitation forward. Meanwhile, Madhya Pradesh chief minister Shivraj Singh Chouhan announced a slew of measures to pacify the farmers.