Latehar lynchings: Watch a cow-preacher's sermons that openly incite violence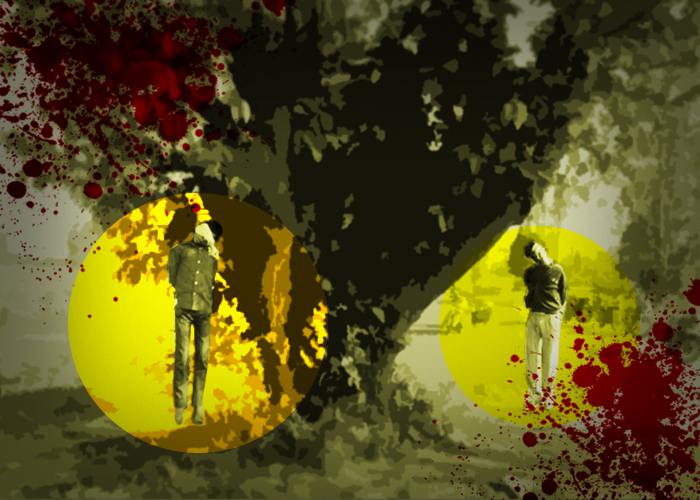 Jharkhand's Latehar district that saw the brutal hanging of two cattle traders recently has been the hotbed of a cow protection movement for at least last two years. Apart from cow protection outfits and vigilante action against cattle traders, this movement has also seen participation of gau-katha vachaks or preachers who tell stories highlighting the significance of the cow.
One such preacher is Gopal Mani Ji Maharaj who runs the Gopal Golok Dham Trust, headquartered in Dehradun. The aim of the trust, according to its website, is to "spread culture of gau-Ganga throughout India". It believes that India's ancient sages considered cow as the "best" creation of nature and as the mother of the world
The trust campaigns for getting the cow declared as the national animal of the country. It claims to run 27 gaushalas in Uttarakhand as well as other parts of India. It also aims to promote "Indian cow breed", which it calls "our actual mother" as against "foreign cow breeds" that it considers "step-mothers".
Gopal Mani travels across the country to deliver gau-kathas. In the last 7 months alone, he claims to have addressed gatherings at Dehradun, Kotdwar and Rudra Prayag in Uttarakhand, Meerut and Sitapur in Uttar Pradesh, Jammu in Jammu and Kashmir, Chandigarh, Bhatinda in Punjab, Gondiya and Pune in Maharashtra, Indirapuram near Delhi, Raipur and Durg in Chhattisgarh and Singhbhum in Jharkhand. He reportedly visited Balumath in Latehar in 2014.
Gopal Mani Maharaj addressed gatherings in Balumath in Latehar promoting cow-worship
Mani also claims to have authored a treatise on the cow, called the Dhenu Manas Granth and his trust sells it for Rs 350. His kathas are a mix of stories from Hindu mythology and his own exhortations aimed at elevating the cow to God-like status. Just as religious sermons are interspersed with chants, Mani's kathas include gentle doses of collective mooing with the preacher as well as his audience breaking into a deep and loud "Maaaaaaaaaaaaa".
Besides the theatrics, these sermons are essentially aimed at glorification of the cow and demonisation of its slaughter, at times leading to open incitement to violence. At a gau-katha delivered in Pune about a year ago, Mani said, "Raise your hands and take a pledge that that you will imitate Ram today onwards. Ram visited every sage's ashram in the forests and took a pledge raising both his hands - "I will clear this earth of all demons." And who are demons? Those who do not believe in the cow, who disrespect cows, kill cows. Whoever does this is a demon."
Be like Ram and slay demons. Demons are those who disrespect the cow, Gopal Mani says
Here are a few glimpses of the contents of Mani's gau-kathas delivered in Latehar's Balumath -
Sita Saran (Mani's son and associate, who often opens the sessions): "Religion is an ox and cow is the mother that gives birth to it. Religion emanates from Cow.
"When this country attained Independence, there were 98 crore cows here. After Independence all things grew, but mother cow's numbers came down from 98 crores to 8 crores.
Gopal Mani: "This is Balumath. Here people touch their foreheads with the soil off cow's hooves.
"This country's people used to consider the cow as god. Your ancestors used to drink urine in the morning, mattha after lunch and cow's milk in the night. This is your culture. If you do this, your health will be fine. There will be prosperity in the house. Mind will be peaceful."
"Don't compare cow with anyone. If you do that, it will be a sin. There is nothing in the world like the cow.
"The jungle-dwelling Yaduvanshis forgot the cow when they moved to the palaces. As a result, they forgot about cow urine too. Then alcohol took its place. Cow urine and alcohol are enemies like cat and mouse. That is why Yashoda started making Kanhaiya drink cow urine and also bathe with it from 5th day of his birth. Is there any Yashoda here who has done this?"
"He who does not have cow does not have sanskar and he who does not have sanskar is not human. What is the meaning of the word maanav? It means maa + nav. This means that man does not become human till he doesn't get a new mother, that is until he doesn't get cow in his life. Until he brings a cow in his life, he is not human. He is a demon."
"Cow gives sanskar...Cow is a treasure-trove of sanskar...Hang me if your kids don't become sanskari after tending to cows from 5 to 10 years of age.

"Gau Kranti (cow revolution) will be established and this flame will spread in the entire country."

"After they die, cows should be buried in the earth...60 metres of land around that spot will be fertile beyond imagination for at least next 6 years...without any manure."

"Never wear leather."

"The sinner butchers note where the cow is during daytime. Then they come in the night and take the cow away. Cows are stuffed in trucks, like sacks. They do not care if some cow's leg gets broken or neck gets broken. They tell at check-posts that these cows are useless. Such is the law in your country that cows are allowed to be taken away if they are declared useless...then the cows are tortured...not given food for many days...then they are thrashed to separate the skin from flesh...then they are taken to machines and hung upside down...then hot water is poured over them when they are alive...the skin is extracted when they are alive because the skin turns coarse after death...

"All my kathas are about Indian cows, not jersey cows...The difference is the hump. This hump brings self-control. If you drink the milk of an Indian cow, it will give you self control. If you drink the milk of a foreign, jersey cow, it will create lust."

"If you drink buffalo's milk, it is harmful for the mind."

"Women who don't look after cows, will become stagnant. This will be a curse."

"The men's choti is like an antenna, women have an entire dish in their hair. But it is of no use if they stop taking care of cows."

"India is being divided because we have stopped taking care of cows."

"Mix gobar, gaumutra and ghee, dry it and burn. It will attract deities."

"When a cow says maaaaa, it carries the vibration equivalent to the tolling of one lakh temple bells."
Edited by Aditya Menon
More in Catch:
Dadri redux: Why Latehar killings are yet another result of Hindutva frenzy
Latehar's deceased cattle trader Majloom Ansari was a cow protector of sorts
Jharkhand: 4 held in Latehar after 2 Muslim cattle traders beaten, hanged to death