Kids from Bharatiya Vidya Bhavan Erode flood SRCC. But how good are they?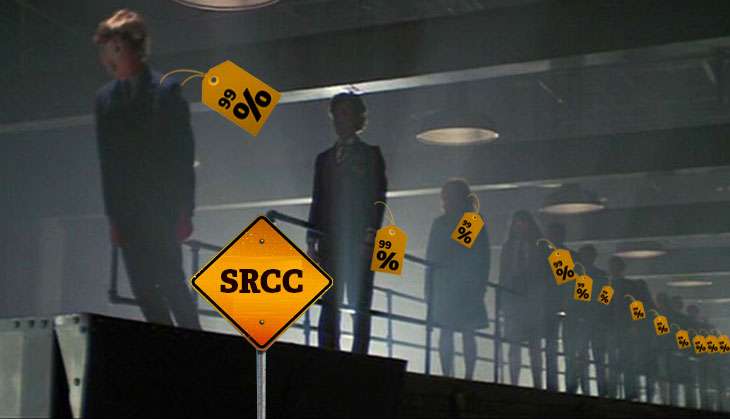 SRCC
1 in 4 kids in SRCC\'s upcoming become batch are from Bharatiya Vidya Bhawan (Erode)
The school\'s commerce average is 99.4%
This doesn\'t indicate merit. The school trains kids to "crack" board exams
More in the story
The school\'s success mantra
SRCC faculty on how intelligent the kids really are
Srihari likes to say he "cracked" his 12th board exams this March. Being a rather determined 17 year-old his single ambition was to get into New Delhi's Shri Ram College of Commerce (SRCC) and eventually become a Chartered Accountant. When he got his results in April, he knew he would make it. He scored 1188 out of 1200 in six subjects. That's 99%. "My best of three subjects - accounts, economics, commerce - is 99.875 percent" says Srihari, precise to the T.
But Srihari isn't the only one. As many as 42 others from Erode's Bharatiya Vidya Bhawan (BVB), his school, also made it into SRCC, a college known to have an obscenely high cut off percentage. 'How did they do it?' the media has been suspiciously asking ever since the results were announced.
NS Karthekeyani, the Principal of BVB, has been often been asked what secret weapon her school equips students with, to score such high numbers.
The school has 172 students in commerce. The school's commerce average is 1193 out of 1200, that is 99.4%.
"We've been motivating our students to get into commerce. For medicine limited seats are available. IT is saturated. Is it not? In commerce, the options are plenty. You can become a chartered accountant, an entrepreneur, a company secretary, a civil servant and much more. If you score full marks you get a seat at a top college like SRCC or Christ in Bangalore. It's purely merit," says Karthekeyani
To help her students score "full marks" the school offers fully packed sessions from the first day of 11th grade. They don't wait until 12th standard to begin preparations for the boards. The teachers all hold M.Com and B.Ed degrees and have at least 15 years of teaching experience in commerce. Students are given two preparatory tests each week throughout the year because "everyday would be too much". Also Karthekeyani says for the rest of the days "homework is enough". Even with all of this Karthekeyani believes that her school offers "a stress free" environment. There is Art of Living, sports and extra curricular activities for relaxation.
Following guidelines blindly
When Catch calls to speak to Srihari and offers congrats for making it to SRCC, his response comes like a textbook:
"SRCC is one of the best schools for this country in commerce and I am ..." before this reporter has to stop to tell him it wasn't a question yet.
Srihari has lived in Erode all his life and Erode's BVB, a state board affiliated school, was his first ever school. Interestingly, the moment he passed 5th grade he was put from 6th to 10th grade to another school - a CBSE affiliated school called C.S Academy. Once he passed his CBSE 10th board exams Srihari came back to BVB to ensure his 12th is passed in a state board.
Is this a common strategy?
Srihari very adeptly ducks the question and says, "The only common strategy we apply is to blindly follow our teachers' guidelines. That is more than sufficient to crack the exams," he says.
Karthekeyani attributes one of the reasons for her school to scores so well to over-preparedness. The students throughout the year are coached for a CBSE level of toughness of examination to be provided with better exposure. Then they go out to give the relatively easier state board examination.
Do Srihari or his topper friends go to coaching centre or take tuitions?
"No no not at all not at all. Our school was so sufficient," he says emphatically.
Echoes within SRCC
Over the years the SRCC has been watching a slow change in the profile and diversity of the classrooms. In the last decade the intake from Tamil Nadu has grown tremendously. This year 110 of the 160 who secured B.Com Honours admissions at SRCC were from Tamil Nadu. One in every four students is from the BVB in Erode.
Erode's BVB has itself been consistently upping its quota within SRCC. Last year, 36 of its students made it to SRCC; the year earlier, 28 students did.
But professors within SRCC are quick to clarify that these high marks in no way indicate intelligence.
"One common mistake we make is to presume that marks determine intelligence," says Professor Sanjay Bohidar, who teaches Economics at the SRCC.
Until three years ago when it was officially made to stop, many colleges had been holding separate entrance exams. "From experience, they found that the CBSE English marks secured by students and their ability to read, write and understand English literature were inversely related," he says.
"Marks only indicate mugging up. Merit is more randomly distributed than we imagine," says Bohidar explaining that the difference between a 95% or a 99% could just be attributed to a difference in evaluation.
Another worrying factor seems to be the grade inflation occurring across all boards. Bohidar says that state board toppers whether from Tamil Nadu or any state, could never earlier make it to a prestigious college like SRCC. The high cut offs invariably could be met only by CBSE students. But the scales are tilting.
Tamil Nadu board is marking liberally now. But the real culprits are CBSE and ICSE who began inflating their marks 20 years ago, says Bohidar.
Rakesh Ranjan, a professor of Economics at SRCC says, "These students from Tamil Nadu score 100 out of 100 in Hindi. But if you ask them a question they can't understand or answer properly".
"In sociology, political science, literature they score 100 out of 100. How did that happen? The grade inflation was started by CBSE and ICSE. State boards have also joined the bandwagon," says Ranjan.
The obsession with high marks has also led to very narrow definitions of what makes a correct answer. The students are now taught to write exactly how much and which points to precisely cover. It wasn't the case earlier, say Gohidar and Ranjan.
Some feel that the school is doing something fishy. "One has to go find out who corrects their answer scripts and take a look at the correction of their papers. Otherwise it is incomprehensible!" offers Ranjan.
"If you have a uniform syllabus and board, no such problem will rise," says Karthikeyani.
But education is a state subject and regional variation is important. We must urgently put our heads together to find other ways of measuring mental application and evolve sets of guidelines and policy, feels Gohidar.