Kashmir unrest: What are pellets and why it's wrong to call them non-lethal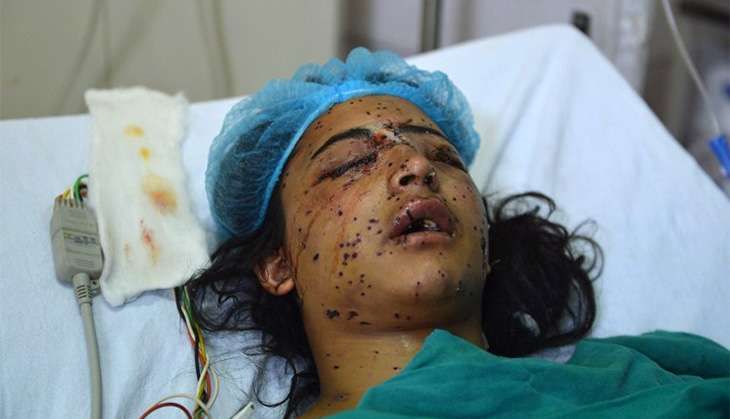 Everyday, since violent protests broke out in the valley on 8 July, new photographs of those injured by pellet guns have appeared on TV, in print and online. Hundreds of people, including children barely four years old, have been grievously injured by pellets. Some of them have lost their vision permanently. And at least one person has died because of pellet injuries.
Ten days after the protests broke out, Home Minister Rajnath Singh expressed concern over the use of pellet guns.
"We all feel sad over the lives lost and those injured," Singh said in reply to a question raised about state's response to civilian protests in Kashmir.
The Home Minister has now announced formation of an expert committee to look into use of pellet guns and to look for alternatives. The committee has been asked to submit its report in two months.
But what are these guns, why have they blinded so many people, have they been used before, has any study into their harmful effects ever been conducted and what other 'non-lethal' means of crowd control does the state have. These are some of the questions we'll try to answer here.
What are pellet guns?
While various kinds of guns can be used to fire pellets, the kind that security forces are using in Kashmir is a 12 gauge shotgun. The sort of gun that is used in close combat situations by military and police around the world.
The gun can fire several hundred pellets, that spread to form a circle over a distance, at a speed of 1200 feet per second. Because of the power with which this gun shoots projectiles, security officers are advised to use it beyond 40 yard range. Within it the chances of pellets killing a person are quite high and increase tremendously as the distance between the gun and a person reduces further.
The gun is ineffective beyond 500 yards.
Pellets are small lead balls or irregular shaped projectiles that are intended to 'sting' a person and check the momentum of an advancing mob. They come in various sizes and are graded in numbers. The lower the number, the bigger the pellets. Currently size 8-9 pellets are being used in the valley.
Why are pellets blinding so many people?
Pellets are basically meant to penetrate soft tissues in the body and cause stinging sensation and some pain, without causing serious injuries such as the ones caused by actual bullets. The SOP for the forces is to aim below the waist of their targets, however based on the injuries that protesters, and some who were not even protesting, in the valley have suffered it's clear that the security officers were clearly firing above the waist of the protestors.
Pellets aimed above the waist, have penetrated the chest and got lodged in the lungs of people, in livers and brains, and have also in several cases ruptured eyeballs and corneas of several victims. Based on the sort of injuries, in some extreme cases, what is also clear is that security forces fired these weapons at very close range.
14-year-old Insha Malik, of Shopian, was brought to hospital with 100 pellets lodged mostly in her face. She's lost vision permanently in both her eyes and is at the moment battling for her life.
At least 100 people have been operated at just one leading hospital in Srinagar - SMHS, alone so far. 30 out of them have been blinded for life.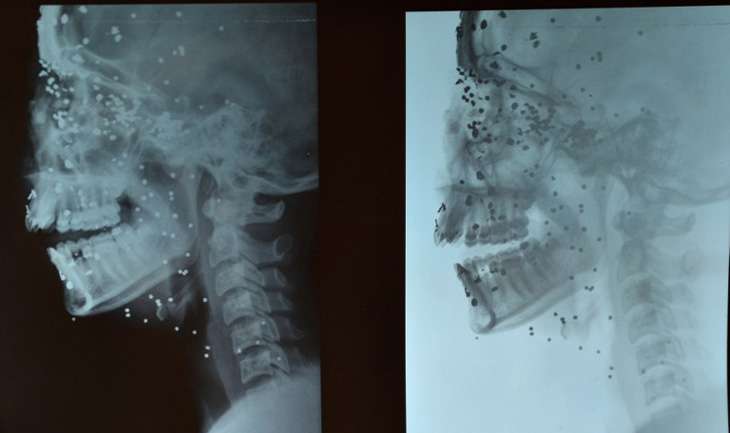 A photo taken at the surgical ICU hospital in Srinagar on 16 July shows the X-ray of 14-year-old Kashmiri Muslim girl, Insha Malik, showing the multiple pellet marks on her face that have left her blind in both eyes, after she was shot by Indian security forces (AFP Photo/Tauseef Mustafa)
Have pellet guns been used before?
Yes, pellet guns have been used before in the valley to horrible results. These guns were first introduced in the valley during the 2008 Amarnath land row. However their use was very limited. The first time they were used extensively was during 2010 agitation in the valley. Even bigger sized pellets - 4-5 - were used in the valley at that time in which around 120 lives were lost.
Has any study into their harmful effects been conducted?
Four days ago when the Home Minister was expressing concern over the use of these weapons, in the Parliament, he briefly spoke about a "study conducted by one Mannan Bukhari" and said it was among the material that was being looked into.
The study that Singh glossed over seems to be the only serious work done to analyse the effects of pellet guns.
Manan Bukhari is the head of legal cell of Mirwaiz-led Hurriyat faction. He published a book length report on the effects of pellets used in 2010 agitation, in September last year. In his book 'Scars of Pellet Gun', he claimed that pellet guns had caused death of at least 10 people, caused around injuries to 1500 people, 70 percent of which had suffered damage to their eyes.
The 283-page book was released publically and was covered widely in local and national press. Mehbooba Mufti-led state government and Narendra Modi-led centre, cannot claim to be ignorant about the lethal effects of pellet guns.
So apart from the guns, what other means of controlling crowds does the state have?
The other options are tear gas, water cannon and pepper spray. As far as tear gas is concerned, this option is fraught with danger also because the projectile can shot from the gun can also hit somebody and cause them serious damage. It happened in the case of a 14-year-old boy - Tufail Mattoo - who got hit on the head with a tear gas canister and died on the spot. It was this episode caused thousands of people to come out on roads during 2010.
Pepper spray can also prove to be dangerous. According to a leading doctor in the valley Rumana Makhdoomi, who recently wrote a piece about lethal and non-lethal weapons being used in the valley, pepper spray is known to 'precipitate respiratory problems, asthmatic attacks in vulnerable patients, dermatological problems, sleep disturbances or in extreme cases cause death.'
Though water cannon is a good crowd control tool, its use is limited because of its limited accessibility in a lot of areas.
The doctor in her piece concluded that 'none of the methods used at present in Kashmir for mob control are non-lethal.' And the one way forward to find an effective non-lethal crowd control tool could be found in consultation with health experts in the valley.
ALSO READ: In photos: Pellet guns maim, these Kashmiris are proof
ALSO READ: Govt will look at non-lethal alternatives to pellet guns: Rajnath Singh