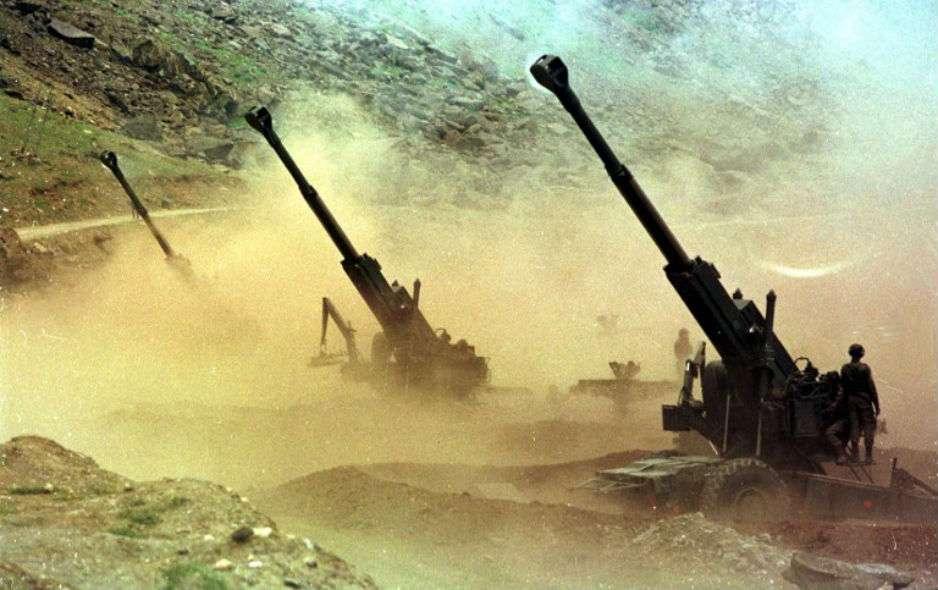 1/12
Indian artillery men fire 155mm Bofors guns at enemy positions from a gun emplacement in the Drass sector of Indian-controlled Kashmir 22 June 1999, as fighting against Islamic guerrillas who infiltrated the Indian side of the Line of Control (LOC) continues.
TAUSEEF MUSTAFA/AFP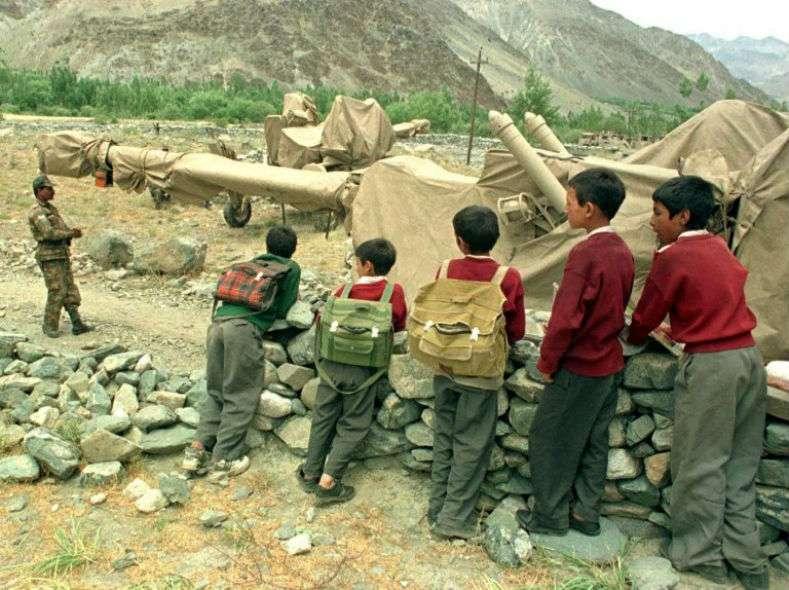 2/12
School children watch in amazement as Bofors guns are pulled out to safer places by the Indian Army in the Kargil sector 13 July 1999, as a ceasefire is imposed till 16 July 1999 for the withdrawal of Islamic infiltrators from the region.
Arko Datta/AFP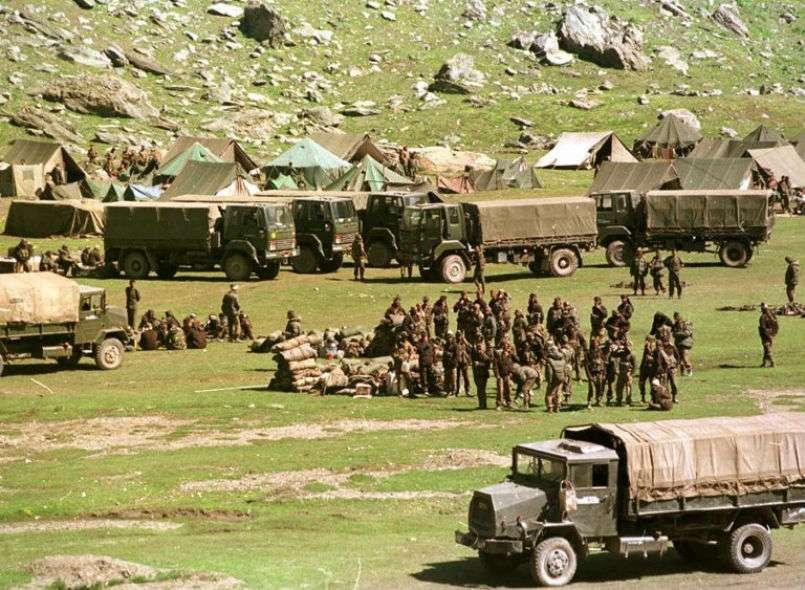 3/12
Indian army soldiers at a staging area in the Kashmir battle zone of Drass, 01 July 1999, before leaving for a combat station in strategic heights which are occupied by Islamic raiders from Pakistan. Indian artillery units in northern Kashmir began a major bombardment 02 July ahead of what was expected to be the largest ground assault so far against the Islamic infiltrators.
MUSTAFA TAUSEEF/AFP
This is an advertisement.
To view next image, click on the next button.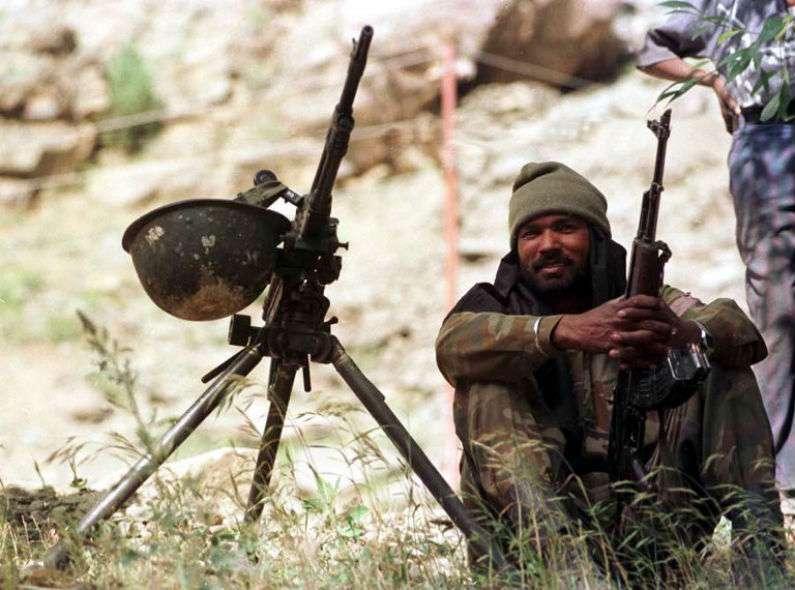 4/12
A Indian infantry trooper mounts a vigil besides his machine gun in the Kashmir battle zone of Drass 01 July 1999. Thousands of Indian soldiers are fighting Islamic raiders on strategic peaks in the disputed Indian zone of Kashmir since May 9.
MUSTAFA TAUSEEF/AFP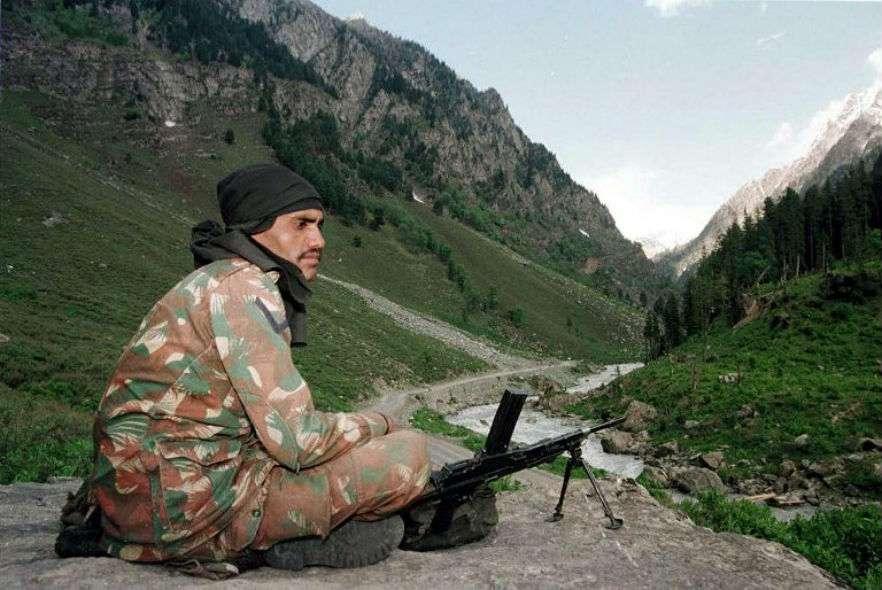 5/12
An Indian soldier keeps watch over a deserted road that goes up the hill towards Kargil and is under strict supervision by Indian troops, who are not allowing any civilian movement in the area. Heavy artillery exchanges between India and Pakistan in Kashmir entered a ninth day Monday, as Indian troops consolidated their positions in an offensive against Moslem rebels.
TAUSEEF MUSTAFA/AFP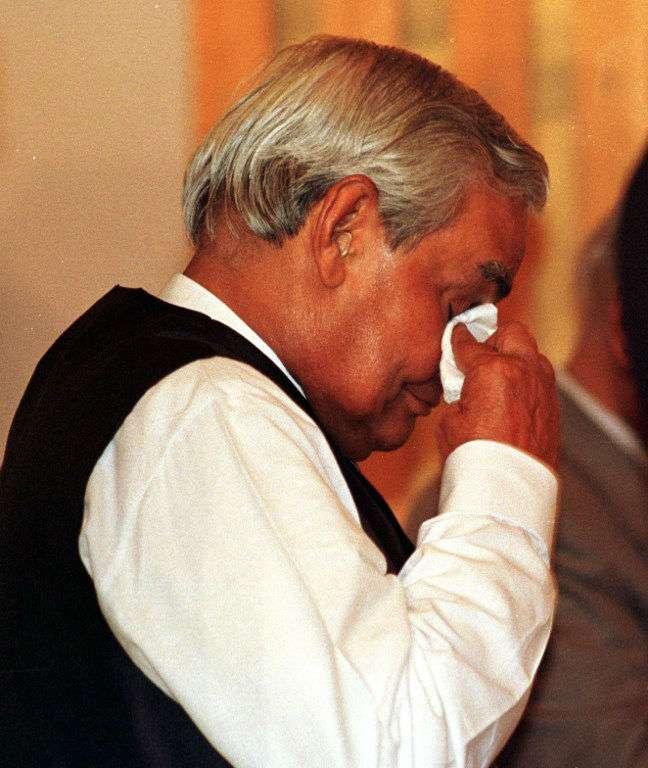 6/12
Indian Prime Minister Atal Behari Vajpayee wipes his eyes as he leaves a press conference in Srinagar 13 June 1999, following his visit to Kargil, where Indian troops are attempting to flush out islamic guerrillas, allegedly backed by Pakistan, who have infiltrated the Indian side of the Line of Control that separates Indian held and Pakistan-held Kashmir.
JOHN MACDOUGALL/AFP
This is an advertisement.
To view next image, click on the next button.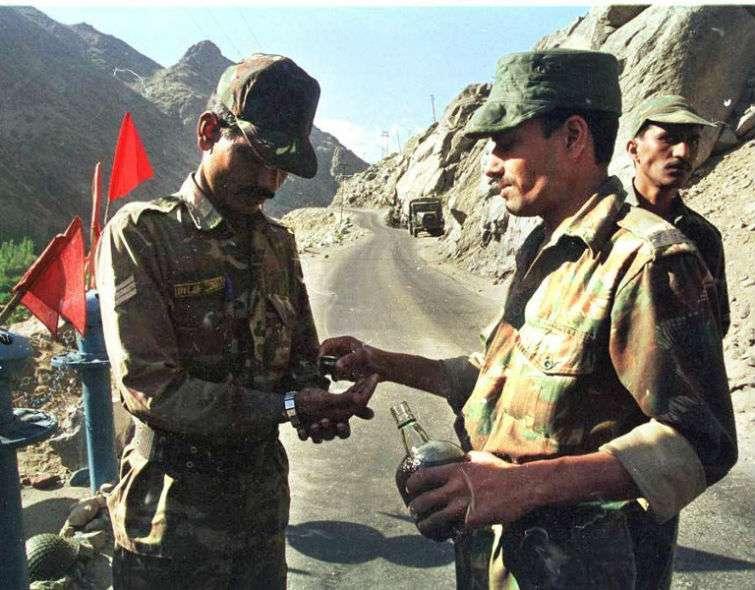 7/12
Indian soldiers from the Signal Corp recieve a tot of rum on a day of rememberance for their dead comrade on the out-skirts of Kargil on 07 July 1999. The soldiers drink to remember signalman Deeparam who died in the 1971 war with Pakistan whilst laying telephone lines, the only signalman in the regiment to die in combat.
MUSTAFA TAUSEEF/AFP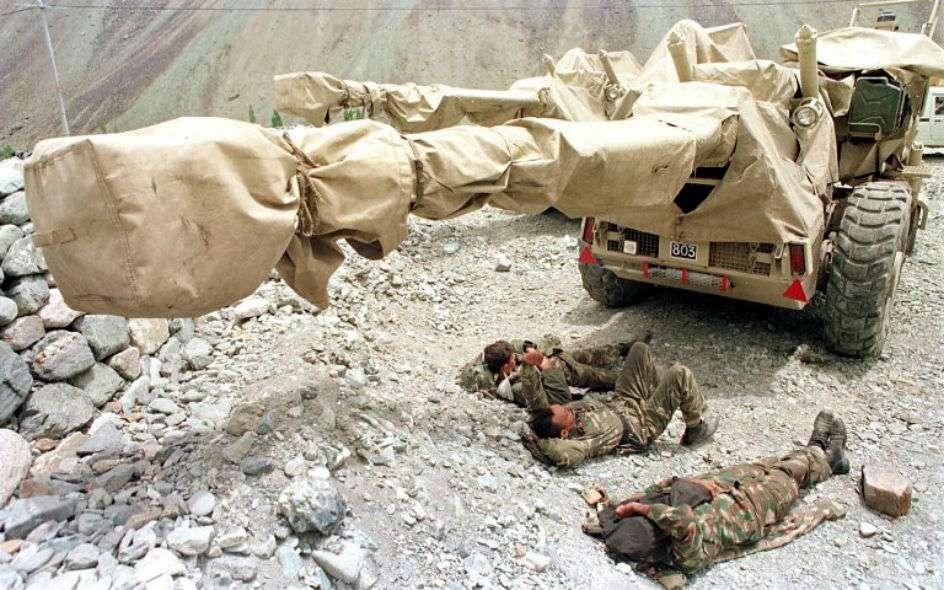 8/12
Soldiers of an artillery regiment take a nap under Bofors guns, which have been temporarily deactivated near Kargil 12 July 1999, due to the present ceasefire agreed upon by both India and Pakistan. India halted its military offensives in Kashmir 12 July and set a deadline for the pullout of all Islamic infiltrators from the disputed territory.
ARKO DATTA/AFP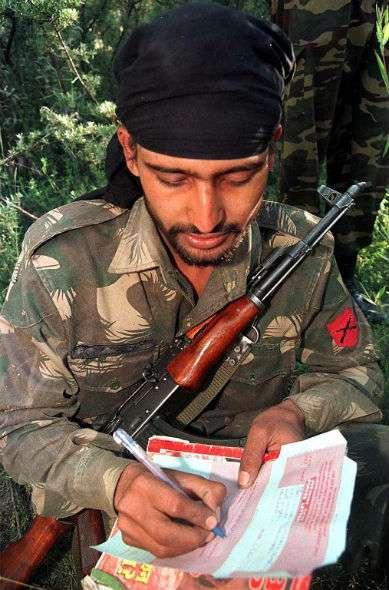 9/12
DIVAS_9: An Indian army soldier writes a letter to his family back home, while fighting alleged Pakistan-backed guerrillas in the Kargil sector of Indian-controlled Kashmir, 27 June 1999. India engaged Islamic guerillas holed up in the mountains of Kashmir in fierce artillery and hand-to-hand combat today in the northern Batalik, Drass and Kargil regions.
MUSTAFA TAUSEEF/AFP
This is an advertisement.
To view next image, click on the next button.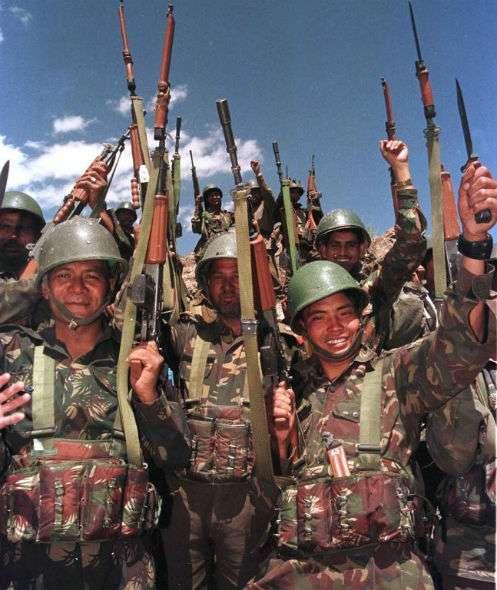 10/12
Naga soldiers cheer before leaving on a military assault, 01 July 1999, near Kargil on the Indian side of the disputed region of Kashmir. The Naga tribal warriors, formerly head-hunters, have been deployed to beat back new intrusions by Pakistani-backed forces in the Himalayan territory.
MUSTAFA TAUSEEF/AFP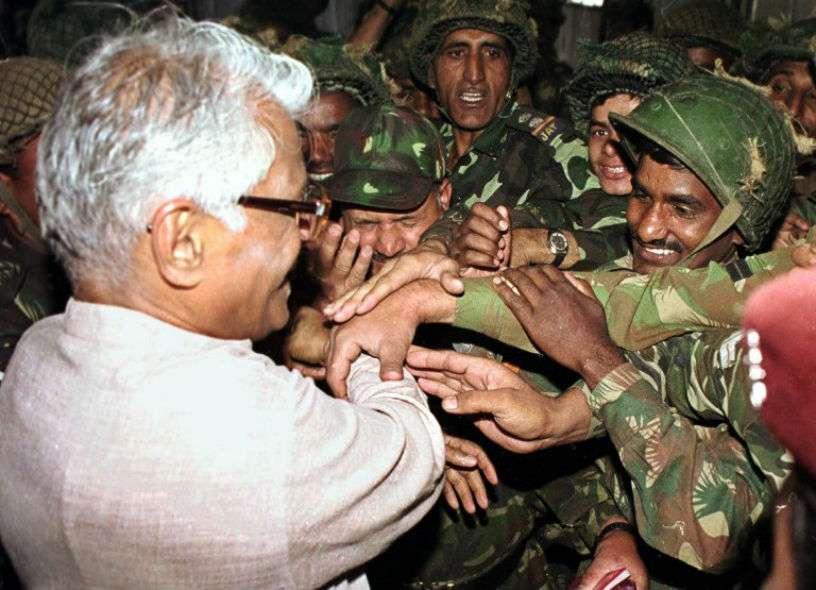 11/12
Enthusiastic Indian army 'jawans' (soldiers) rush to shake hands with Indian defence minister George Fernandes during his visit to Kargil 22 July 1999. Fernandes said that there could be no talks between India and Pakistan regarding the Line of Control until all Islamic infiltrators withdrew from Indian territory and that all shelling from across the border comes to a halt.
MUSTAFA TAUSEEF/AFP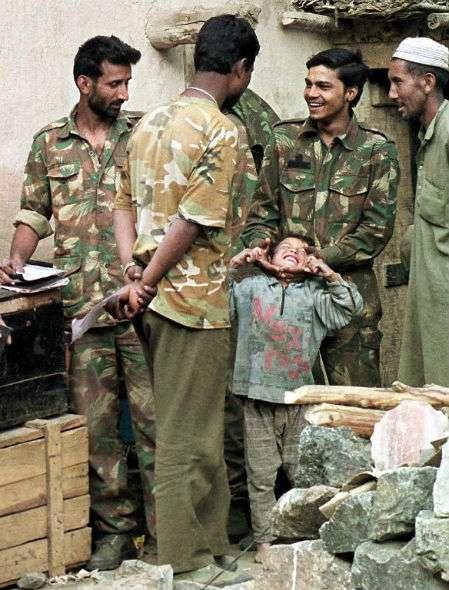 This is an advertisement.
To view next image, click on the next button.
Kargil War: Celebrating 17th anniversary of India's victory over Pakistan
26 July, 1999, that\'s when the Kargil War ended with India victorious over Pakistan. Today, India is celebrating the 17th anniversary of this very war. The war began in May, 1999, after the infiltration of Pakistani troops into Kargil districts of Jammu and Kashmir along the Line of Control (LOC). The war went on for two months. It is also referred as Operation Vijay, which was the name of the Indian operation, to clear the Kargil sector.
The 18,000 feet high-altitude battle in the rocky terrain was fought under extreme low temperatures. India positioned five infantry divisions, five independent brigades and 44 battalions of paramilitary troops in Kashmir and deployed 60 frontline aircrafts.
Tiger Hill, one of the highest peaks in the Drass-Kargil area of the state, was the main point during the war. The war resulted in the death of hundreds of soldiers on both sides and left thousands injured.
On 14 July, then Prime Minister Atal Bihari Vajpayee declared Operation Vijay a sucess and India and Pakistan ceased firing. 12 days later, on 26 July, Kargil War officially came to an end. On that day, the Indian Army announced the complete eviction of Pakistani intruders.
Here are a few rare images of Indian army soldiers during the Kargil war.