Kanpur train crash: Mission Zero Accident in tatters, Modi must follow Vajpayee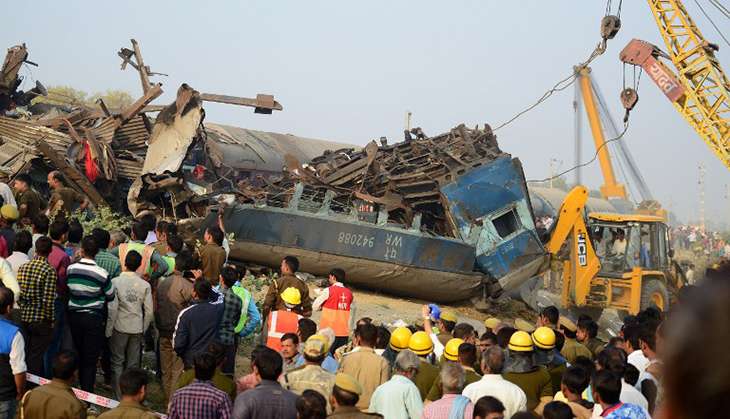 On the day of the derailment of the Indore-Patna Express near Kanpur, which resulted in death of 145 people and injured hundreds of others, Prime Minister Narendra Modi addressed railway employees via video conferencing and requested them to strive towards achieving zero accidents.
However, the Prime Minister conveniently forgot how his own Finance Ministry had, earlier this year, scrapped the Railway Minister's proposal seeking safety funds to the tune of Rs 1.2 lakh crore for the next five years.
Experts believe that unless such a corpus is created, accidents will continue to happen, and incidents like the recent derailment will become mere footnotes in the history of the Indian Railways.
What Vajpayee did
Unlike the NDA's former Prime Minister Atal Bihari Vajpayee and the then-Railway Minister Nitish Kumar, who sanctioned Rs 17,000 crore for non-lapsable safety funds to replace ageing railway assets, Modi's mantra for zero accidents has a hollow ring to it.
Citing instances from the developed world, experts claim the Indian Railways has not been able to transform with changing times, which is jeopardising passenger safety.
While heaping praises on Vajpayee, experts blame successive governments for the mess one of the world's largest railway networks in in.
"In 1999-2000, when accidents were at an all time high, the then-NDA government took a call and said it can't go on like this. It set up safety funds with the intent of renewal and replacement. And the results were for all to see, and the railways' safety performance improved and the number of accidents came down substantially. We need similar interventions, and that too, at the earliest," said JP Batra, former chairman of the Railway Board.
According to Batra, a thrust on safety management and introduction of technology are crucial to avoid such accidents, and that simple reliance on humans is not enough. "Greater induction of technical support will help the management in identifying if there are fractures in the track, as happened during the Indore-Patna Express derailment. Such technology is available in developed countries, and has been phenomenal in containing such mishaps," he added.
Kakodkar Committee recommendations
Batra suggested similar interventions by the incumbent government and the implementation of the 2012 High-Level Safety Review Committee headed by Dr Anil Kakodkar, former Atomic Energy Commissioner.
The Kakodkar committee's recommendations are gathering dust in the Railway Ministry, and many believe if implemented, they could change the face of the railways and be a big step in bringing down incidents like these.
Earlier this year, while presenting the Rail Budget, Suresh Prabhu announced Mission Zero Accident. However, the ministry has not been able to implement most of the recommendations of the report.
According to data tabled in Parliament: "So far, 22 recommendations of the Committee have been implemented, while 20 recommendations are in the final stages of implementation."