JFR Jacob, hero of India's greatest war story who was moved by poetry
It won't be a stretch to say that it was Lt Gen JFR Jacob who converted the ceasefire during the 1971 war into total surrender from Pakistan. It won't be entirely wrong to say either that it was his masterstroke of a manoeuvre that changed the history of this region by birthing a new country. Heroes, after all, deserve a few trumpeting statements.
Also read - Nation pays tribute to war hero Lt General, JFR Jacob
Jack Jacob was born in Calcutta in 1923 in a deeply religious Jewish family of Iraqi-origin. In the years preceding World War II, they adopted a Jewish family fleeing persecution in Hitler's Germany.
Appalled by the horrors of the Nazis that family recounted and inspired by war poetry from the likes of Siegfried Sassoon and Wilfred Owen, Jacob joined the British Indian army, only to face the ugliness of anti-semitism. He was taken aback because, as he would later tell an Israeli magazine, "among Indians it does not exist".
But he persisted. The war ended, Nazi Germany fell and Jacob returned home. He stayed in the army, and after Independence, rose swiftly through the ranks. In 1969, the army chief Sam Manekshaw made him Chief of Staff, Eastern Command.
His finest moment
It was in that command that Jacob had his finest moment: on 16 December 1971, he flew to Dhaka and persuaded the Pakistani army commander in East Pakistan, Lt Gen AAK Niazi, to surrender.
A few weeks into the war, Niazi had invited him to lunch to discuss a ceasefire. Jacob, accompanied by just one officer, instead went with an "instrument of surrender" and bluffed the Pakistani commander into surrendering his 93,000-strong army.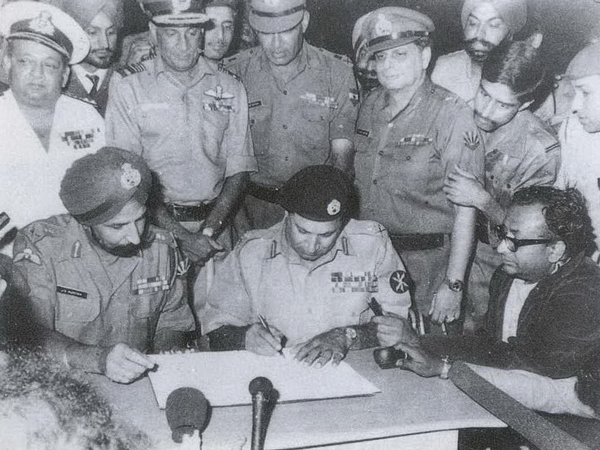 It was no mean feat. Jacob had no more than 3,000 men behind him. So he "appealed to God for help and said the Shema Yisrael", he recalled later. At Niazi's place, he went out to the verandah, pacing and smoking his pipe the entire half an hour he was there. "And I was thinking, suppose he doesn't surrender, what do I do? He has 30,000 troops, we have 3,000. He can fight for three weeks at least!"
Yet, Niazi surrendered to what is celebrated as the biggest strategic bluff in independent India's history of warfare.
"His strongest contribution was to the strategy of bypassing strong points on the border. This means, instead of tackling the enemy's strong points head on, you bypass them or outflank them. He went into the rear areas and isolated Niazi's vital strong points," says his longtime friend and fellow soldier Major Gen Ashok Mehta.
I was born in India and served her my whole life. This is where I want die: JFR Jacob
"Jacob was personally responsible for the race to convert the ceasefire the Pakistanis were hankering after into a surrender. Around 14 December, when already 4-5 vetoes had been used by the Soviets in India's favour, the US was asking the Security Council to enforce a ceasefire. That would have shaped history differently," Mehta recalls.
"Jacob, by using para forces, gave false information to the BBC that a brigade had landed north of Dhaka though it was only a battalion. That coupled with the use of the air force to hit the governor's headquarters in Dhaka did tremendous psychological damage to the Pakistani forces."
Larger than life
As is true of all great stories, Jacob's celebrated victory has spawned many doubts and quite a few conspiracy theories as well.
Niazi, for one, would later claim that Jacob had arm-twisted him. But the Hamoodur Rahman Commission, which probed the Pakistani Army's loss, said Niazi "displayed a shameful and abject attitude in agreeing to surrender when he had himself offered a ceasefire to the Indian commander-in-chief".
"General Jacob and I had long arguments over whether Dhaka was the objective ad initio or whether Dhaka became the objective after operations progressed much faster than imagined. He maintained that Dhaka was an original objective," says Mehta. "Lt General Sagat Singh had a different opinion on this. Unfortunately, that argument was never settled."
Jacob's claim, however, was eventually validated by none other than the enemy. A study of the campaign by Pakistan's National Defence College concluded that "the credit really goes to Gen Jacob's meticulous preparations in the Indian eastern command and to the implementation by his corps commanders".
Also read - How Lt General Jacob forced Pakistani army into a defeat in the 1971 war thanks to his glorious bluff
Vice Admiral KK Nayyar, another close friend of Gen Jacob, also brushed aside all controversies. "He was a great Indian and a great general. I knew him very well. It's wrong and greatly disturbing to make controversies around the Dhaka surrender," he says, adding for good measure, "He was more devoted to the country than many people I have seen in high places."
Not only Niazi's surrender, Jacob also played a pivotal role in Operation Jackpot, which was meant to raise Mukti Vahini.
Jacob was the last of the major actors of that great campaign. So, there aren't many around to attest to the claims and stories involving him. Major General Sheru Thapliyal suggests that Jacob had said "he got a telephone call from Sam Maneksaw who told him that the Eastern Staff should be prepared to march into Bangladesh. Jacob suggested to Sam that it won't be possible".
Thapliyal questions, "But why would Sam Manekshaw speak to the Chief of Staff? If at all, he should speak to the army commander. And there were a few other issues. Having said that, nobody can deny his contribution in the 1971 war. We have indeed lost a great soldier."
Soldier and statesman
After retiring from the army and following an unsatisfactory stint in business, Jacob joined the BJP as an advisor on military affairs. He was made governor of Goa in 1998 during a period of profound political instability in the state. In the months following his appointment, several governments were formed and fell.
Finally, in 1999, Jacob built consensus among state party leaders to impose governor's rule. His stint as the Goa governor is held up by his admirers as a shining example of getting a slow and inefficient system to work. He made surprise visits to government offices, opened his doors to citizens' requests and complains, and, most importantly, worked aggressively to save two large tracts of jungle from miners.
One of the last Jews to serve in the Indian army, Jacob was an exemplary figure in his small and rapidly vanishing community in India. He had deep ties with Israel. Some people claim that he used these contacts to help get financial help for India during the crunch of of the early 1990s.
Jacob was a celebrated figure in Israel, hailed by people leaders like Shimon Peres. In a personal letter to him, President Peres wrote, "We are proud that as an Indian Jew, you have played such an important role in the defense and development of your country, and trust that your friendship will serve to promote deeper and broader ties and cooperation between Israel and India."
Do you know an entire section in the Israeli military museum Latrun is dedicated to JFR Jacob?
In 1995, Jacob was on stage as an honored guest at the opening ceremony of celebrations making 3,000 years of Jerusalem.
A small section in the Israeli military museum Latrun is dedicated entirely to Jacob. It displays his uniform, sword and pistol. He also donated his mother's silver wedding girdle and jewellery to the Indian Jewish Museum in Lod, Israel.
But Jacob loved India above all else. "The Israelis were very impressed by the fact that there was a three star general in the Indian Army. I must tell you that he was as aggressive as you find most Israeli military men. He intensely cared for India's security and was a proud army man. He was a proud Indian through and through. There is no doubt about that," says Nayyar.
A complex personality
In his later days, Jacob for a while lived in a Victorian-style bungalow in Kalimpong. His companions remember him as happy and cheerful.
"We knew each other very well. I has reviewed both his books. After retirement, I was slightly critical of Jacob for which he used to pull my leg. Jacob had a bit of a problem with Sam Manekshaw. He always felt that he had not been rewarded for his efforts in the 1971 war," reminisces Gen Mehta.
"When I reminded him that only commanders get rewarded, he joked, 'I know you are Sam Manekshaw's boy'. He held this against the government too. But when the BJP came to power, they rewarded him by making him governor of Punjab and Goa."
JFR Jacob intensely cared for India's security. He was a proud Indian through and through: KK Nayyar
So, could it be that India's last serving Jewish war hero didn't get his due? "He reached the highest professional level in the armed forces," says Nayyar. "I believe he got his due. He was happy and active in his later days. I met him regularly, up until a few weeks ago actually."
Jacob was ever the eccentric man. Thapliyal recounts this incident: "I first met him in 1975 in the School of Artillery. He had come for a conference. One evening at the club, a young captain asked him, 'Sir, what would you like to drink', to which he replied, 'buffalo milk'."
"This youngster was taken aback. There was commotion. Somebody went to the dairy to fetch buffalo milk, which was then served to him by this captain. Jacob looked up at the captain and said, 'Are you crazy, who has buffalo milk in the evening'. That was returned and some whiskey was brought for the man."
A few years ago, Jacob said in an interview, "I was born in India and served her my whole life. This is where I want die."
And he did. JFR Jacob, a man of war moved by poetry, died of pneumonia at around 8.30 am at the Army Hospital in Delhi. He died aged 93 and a lifelong bachelor.
More in Catch - Bangladesh hangs two top opposition leaders for war crimes committed during 1971 war