'JNU will never buckle under pressure': Left maintains a stronghold in student elections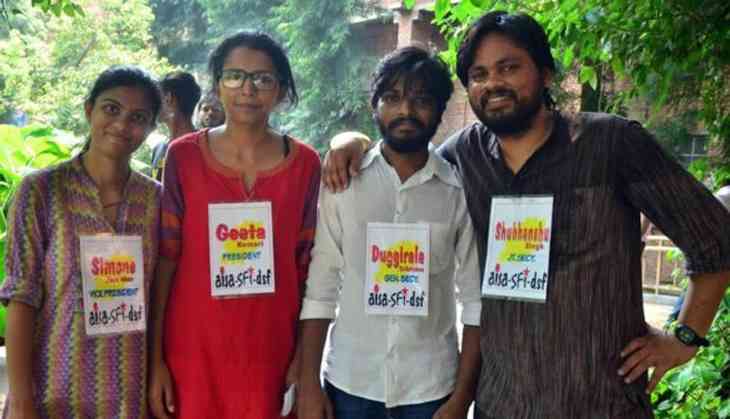 Singing, sloganeering and celebrations - that is just a taste of the mood at Jawaharlal Nehru University today. A Left bastion for years, the university has once again showed solidarity with the red flag with the united-Left alliance retaining its stronghold on student politics in the campus.
The alliance, which fielded Geeta Kumari as their presidential candidate, was able to retain all four central panel seats in the Jawaharlal Nehru University Students' Union (JNUSU) elections. It pushed Akhil Bharatiya Vidyarthi Parishad (ABVP) into the second position and beat not just Birsa Ambedkar Phule Students' Association (BAPSA), but also other Left parties like All India Students' Federation (AISF) which had decided to contest outside of the alliance.
Kumari and Simone Zoya Khan from the All India Students' Association (AISA) are the new president and vice-president; Duggirala Srikrishna from the Students' Federation of India (SFI) has been elected as the secretary and Shubanshu Singh from the Democratic Students' Federation (DSF) is joint secretary.
Adorned with garlands and surrounded by supporters, Kumari said, "JNU was able to defeat fascist forces once again, proving that JNU students will never buckle under pressure from anyone."
"This win signifies that JNU still believes in debate and dissent. No matter how much we are bullied and beaten, we will continue to fight the good fight," Kumari, who hails from Panipat in Haryana and pursuing an MPhil in Modern History, told Catch.
A close contest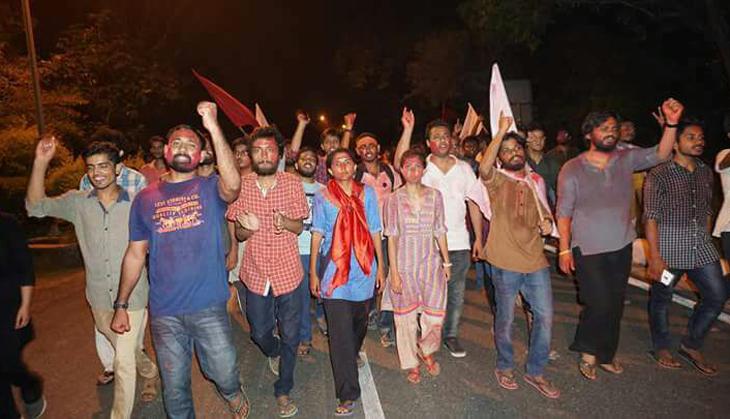 Social media
ABVP presidential candidate Nidhi Tripathi, who came a close second to Kumari remained undeterred. "We have not lost. ABVP has the majority on campus; it is the Left that is in minority. It is the strength of ABVP's ideology that has forced so many Left student groups to make an alliance. The sole purpose of their alliance was to defeat the ABVP. It is an ideological win for ABVP in the campus," she said.
A close contest on the post of president, Kumari defeated Tripathi by a margin of just 464 votes. Kumari will be taking over from Mohit Pandey, also from AISA, as the president.
"I am so grateful that the students recognised the hard work we have put in. Mohit AISA set a great example in our effort against the fascist government which is in a nexus with the JNU-VC. This win is a mandate against the autocratic administration in this campus," Kumari said.
"It's alarming that ABVP managed to get the amount of votes that they did. It means that they do have some amount of significant support in the campus and that is worrisome. It is a reflection of what is happening around the country. But I am glad that better sense prevails in the majority of JNU students. The Left alliance was once again able to stop ABVP from destroying this campus and its ideology."
Additionally, Simone Zoya Khan won her spot by defeating ABVP by 848 votes. Khan, who is originally from Uttar Pradesh, has lived most of her life in Assam and is pursuing a PhD from the School of International Studies (SIS).
"We are so glad that we were able to retain the office of the student body. It is just the beginning though. Our main agenda is to create a political battle in the Najeeb Ahmed disappearance and seek justice for him and his family. Of course, apart from that, we want to challenge the seat cut based on UGC gazette. Most importantly, saving the autonomy of our democratic institution is our prime agenda. We will maintain and preserve the democratic ideology of this campus from fascist forces," she said.
The two female office bearers are also good friends. "Everyone has been asking us for a treat. For JNU that means chai and bread omelette at the dhaba. That is how we are celebrating this evening; by treating everyone to chai and bread omelette."
The other candidates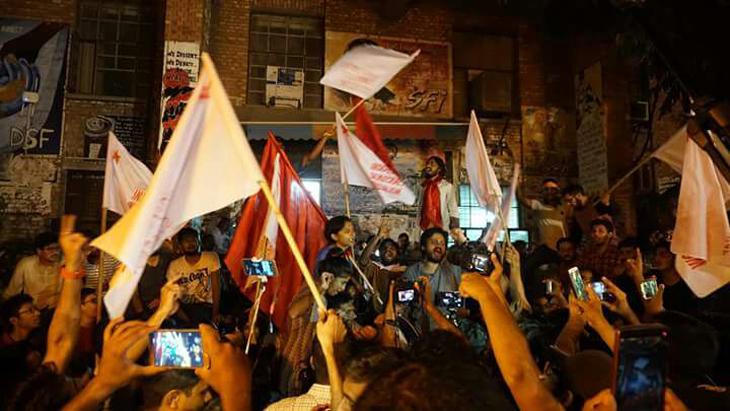 Social media
The Ambedkarite group Birsa Ambedkar Phule Student'; Association (BAPSA), which had emerged as a third pole last year, also gave a spirited fight. Their candidates finished third on all seats.
AISF –former JNUSU president Kanhaiya Kumar's party – failed to make a mark in the elections despite fielding Aparajitha Raja, the daughter of Rajya Sabha member and Communist Party of India leader D Raja.
Aparajitha Raja, daughter of CPI leader D Raja, finished fifth on the post of President with 416 votes, just behind independent candidate Farooque Alam who got 419 votes.
Interestingly, a large number of students, especially in the Science schools opted for NOTA. A total of 1,512 NOTA votes were polled across all posts.