Diplomatese: why it's time to let Pakistan take the first step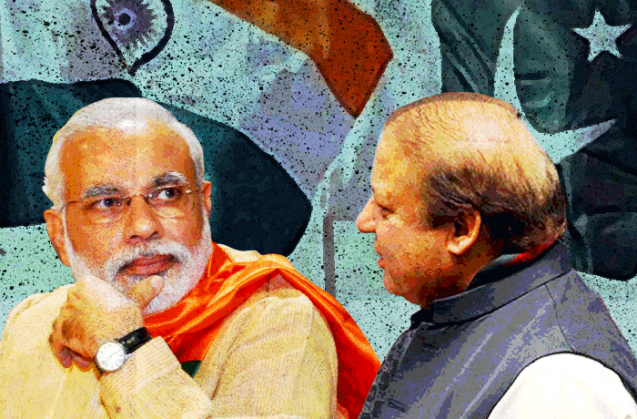 Failed dialogue
Pakistan has scuttled talks with India twice in the last one year
The aborted NSA level talks is the latest example
It was naive to expect that Pakistan would discuss terror without bringing up Kashmir
Pakistan\'s Deep State would never have allowed it
The strategy
India must wait for Pakistan to take the first step
PM Modi needs to rethink his Pakistan policy
There\'s no point in giving the impression that India is desperate for dialogue
It must instead focus on dealing with the rise of China
Pakistan has managed to derail talks with India at the last minute on two occasions in the last 12 months. This is a fact that India cannot ignore.
For Prime Minister Narendra Modi - hitherto a votary of a hard line towards Pakistan - there is every reason to rethink his peace moves towards Pakistan.
Talks were bound to fail
In retrospect, it is possible to argue that hardly any positive outcome could have been expected from the NSA level talks. It was a snap decision taken on the sidelines of an SCO (Shanghai Co-operation Organisation) Meet in Ufa, and without any adequate preparation. Past follies, whenever similar hurried talks were held, were overlooked.
The impression created is that while India was keen to hold talks, Pakistan sidestepped an Indian attempt to present a chargesheet before the world, regarding Pakistan's perfidy in protecting terrorists present on its soil.
Also read: Be mature guys; there's a lot at stake in India, Pak
Before resetting the compass regarding India-Pakistan relations, it might be useful for India to conduct a post-mortem on how Pakistan had once again pulled the wool over our eyes.
First, India was naive to believe that Pakistan would restrict talks with India to merely discussing terror issues, without bringing up the Kashmir question, even if Prime Minister Nawaz Sharif had agreed to this in Ufa. Anybody familiar with Pakistani politics would know that the Pakistani 'Deep State' would not allow India-Pakistan talks to be held under such conditions.
For another, the timing of the talks seemed particularly inappropriate. Pakistan had intensified its shelling across the LoC and the International Border, and also conducted two terror attacks in Gurdaspur and Udhampur.
Most important, it was already apparent that the civilian leadership in Pakistan had ceded ground to the Army, to an extent that the Armed Forces had once again become the arbiter of Pakistan's destiny.
Where does this leave India-Pakistan relations for now?
Pakistan's sabre-rattling following the aborted talks does not augur well for an early resumption of the reconciliation process. It has accused India of acting as a 'regional super power' and warned that Pakistan as a nuclear power, knows how to defend itself.
Experts warn that the collapse of such initiatives often bring about certain sociological changes. Therefore, it might have been better not to have taken any such initiative. Both sides are now expected to indulge in semantics to try and secure an advantage over the other, instead of trying to reach a modus vivendi.
India was naive to believe that Pakistan would have dialogue only on terror
As it is, Pakistan has been intent for some time on 'turning the clock back' rather than in moving forward. For example, it deliberately reversed an earlier policy and refused to invite the Speaker of the Jammu & Kashmir Assembly to the Commonwealth Parliamentary Conference, scheduled to be held in Islamabad. On a previous occasion, when the Conference was held in Islamabad, Pakistan had raised no such objection.
Other indications of increased negativity include Pakistan's attempt to involve the UN in dealing with local conflicts in Jammu and Kashmir. Pakistan also seems to think that the situation in South Asia and beyond, is shifting in its favour since it has more leverage today with the Ashraf Ghani government in Afghanistan, and has developed a closer relationship with the current Saudi leadership.
Above all, Pakistan sees its close nexus with China as a game changer. India should, hence, beware the 'siren song' that has already begun to emanate from Islamabad.
What should India do?
India should, instead, shift its focus away from Pakistan for now, and take a close look at current trends that are impacting geo-politics of Asia. These have both an economic and strategic fall out.
India's priority should be on how to adapt to the strategic subtext of two important Economic Agreements - the Regional Comprehensive Economic Partnership (RCEP) and the China-Pakistan Economic Corridor (CPEC). China is a key player in both of them while Pakistan is involved in the CPEC. 'China's rise' and its impact on Asia's geo-political order will have far greater consequences for India, than mending of relations with Pakistan.
Relations between India and Pakistan have tended to be adversarial for most of the time, and positively hostile for long periods. Any new engagement with leaders in Pakistan can wait. It is imperative that India avoids giving any impression that it feels compelled to enter into a new dialogue with Pakistan and that it is willing to give concessions to make this happen.
If and when a dialogue process is initiated, India must get over the flawed dynamic of the past - that there is a strong and sizable constituency in Pakistan that wants peace with India.
Also read - India-Pakistan: Pak views on peace still misleading and disturbing
Another assumption that is often made is that this section is represented by the civilian leadership and only the Military stands in the way of better relations. This is hardly borne out by the history of India-Pakistan relations. Civilian leaders like the Bhuttos have been as difficult to deal with as the military dictators who have run Pakistan for most of the time.
On the other hand, General Pervez Musharraf between 2002 and 2007 made several conciliatory moves, more than any of his civilian predecessors.
Wait and watch
It would be best for India to adopt a 'wait and watch' policy. India should not also overly depend on external support for its Pakistan policy - whether from old friends like Russia or new found ones like the UAE, let alone the Western powers.
India should leave it to Pakistan to come up with any future initiative. This is again not a time for grand standing or grand strategies. It would be best to concentrate on small acts in multiple domains.
A key priority, however, must be to see that terrorist outfits based in Pakistan are prevented from launching fresh attacks on targets in India, as the security situation in that country deteriorates further.