India to host the biggest summit of African leaders. Here's what to expect
Seema Guha
| Updated on: 13 February 2017, 5:23 IST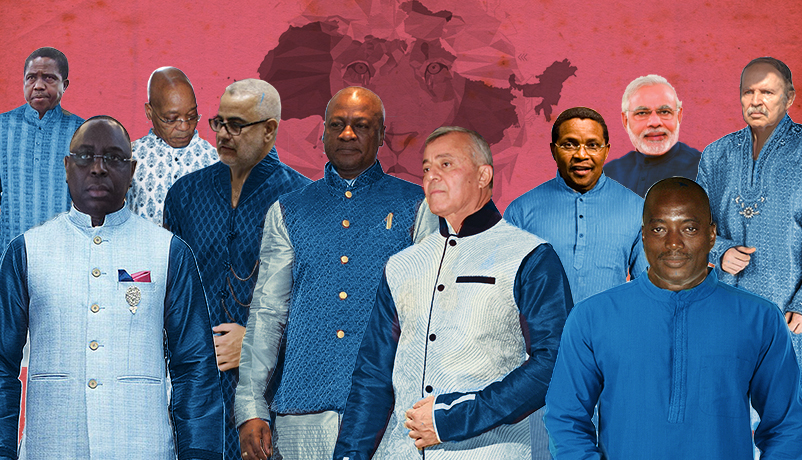 The summit
India is preparing to host the India-Africa summit
55 African leaders have been invited. 37 have already confirmed
This is India\'s attempt to woo the resource rich continent
The presence
China\'s presence in Africa is too huge for India to compete with
But India has made its mark in sectors like education, health and e-governance
From $3 billion in 2002, India-Africa trade reached $62 billion in 2011
More in the story
What impact will the summit have?
What should India\'s strategy in Africa be?
India is organising a glittering summit for African leaders, as it tries to woo the resource rich continent where China's footprints are writ large. The summit promises to be a true Modi style extravaganza, with 55 heads of state being invited. Out of these, 37 have already confirmed their attendance.
This will be the biggest gathering of African leaders in India.
The government has already asked African consulates for the measurements of their heads of state so that they can be gifted a Modi-style kurta and churidar for the photo-op.
But what can we expect from the statement beyond the photo-op.
New Delhi's outreach to Africa began during the UPA rule, when Prime Minister Manmohan Singh held the first India-Africa summit in April 2008. The second was held in Addis Ababa. This will be the third session.
No competition with China
It is China which started the trend of inviting African leaders. In 2006, 48 African leaders were invited to Beijing to celebrate its partnership with the continent. The rest of the world followed with copy-cat summits. The European Union in 2007, India in 2008 and finally in 2014, President Barack Obama invited African leaders to Washington to revive American business's flagging interest in the continent.
China is Africa's largest trading partner. In 2013, the quantum of the trade was estimated to be about $200 billion. With the Chinese economy slowing down, there is anxiety in Africa given how closely the two are linked. But it will be difficult for any other country to overtake China.
"India should not and cannot compete with China in Africa. We are not engaged in major infrastructure projects but in building capacity in education, health, e-governance. We have been providing light engineering goods like pumps and tractors to African nations for many years,'' said Kanwal Sibal former foreign secretary.
What India must do
"We now need to step up our engagement. The fact that African leaders are taking time off to come to Delhi for the meet is a vote of confidence in India and Prime Minister Modi," he added.
New Delhi has been smart to invite all the countries, and not confining themselves to only those that matter.
"India's focus in Africa is on a development partnership and I think it is the right approach. Capacity building is the key word ," said Ruchita Beri of the Institute of Defence Studies and Strategic Analyses. "60% of India's line of credit goes to Africa," she added.
Pan-African e-network
One of India's major projects is the pan-African e-network.
The project was conceived by former President APJ Abdul Kalam and was formally launched in 2009. India has set up a fibre-optic network to provide satellite connectivity to several African countries. The project cost at that point was roughly Rs 542 crores.
The fibre-optic network provided linkages for tele-education and telemedicine, internet, video-conferencing and VoIP services to African countries. These centres were connected to some of India's best universities as well as to super-specialty hospitals, enabling African countries to gain from India's expertise in health and education.
The receiving centres are equipped by India and local staff trained by Indian experts. The project also helps to set-up and support e-governance, e-commerce, resource mapping and meteorological services.
In Africa, India cannot compete with China, whose trade with the continent is about $200 billion
The first phase covered 11 countries, the second 12. This project has been hugely successful in many of the African states and has been widely appreciated. "These are the kind of programs India should continue across Africa. The government needs to spread this across as many nations as possible," said Beri.
Understanding China's dominance in Africa
China's hunger for oil, gas, gold, copper, zinc, diamonds and other mineral resources, backed by its money power, has made Beijing a favourite among African leaders. It has poured in billions of dollars to fund infrastructure projects which help move raw materials out of Africa. China is building a $10 billion port in Tanzania. It has also built roads, railways and even football stadiums for a soccer crazy continent. In 2014, it pledged $20 billion in infrastructure projects in Africa. But job creation has not kept pace with Beijing's huge investments.
China pours in money, gets plane-load of its own workers to camp at the site and delivers projects on time. It works quietly and never interferes in domestic politics. Unlike Western democracies, China does not raise embarrassing questions on human rights.
But efficiency also has its flipside. The Chinese come in, build their townships and have little to do with the local population. According to reports, roughly 750,000 Chinese have settled in Africa over the past decade. Several clashes between police forces and Chinese nationals have already been registered throughout Africa.
The families of Chinese workers often set up their own shops so the local market gets little from this huge inflow of labour from China. "The Chinese are aloof and perhaps the language barrier prevents interaction with the local people. The Chinese townships that spring up with infrastructure projects are isolated from locals. There is a sense of arrogance, possibly because of the money power China yields. The Chinese may be popular with the rulers, but certainly not with the common man,'' said Sreeram Chaulia, Dean Jindal School of International Affairs.
But India is also in the picture
Though China is miles ahead, India is not doing badly either. India-Africa trade has been growing. From a mere $3 billion in 2002, it had reached a robust figure of $62 billion in 2011.India and Africa set a goal of two-way trade reaching $70 billion by 2015. India buys oil from Nigeria, Algeria, Mozambique and Angola.
ONGC Videsh, Oil India are hoping to invest in oil and gas in these countries. India's private companies have invested in Africa. Tata Motors, the Mahindra Group, Cipla and Ashok Leyland all have presence in Africa. Bharti Airtel made major news when the company bought Zain Africa in 2010 for $10.7 billion.
African business have also invested in India. South African Breweries has a majority stake in Mysore Breweries in India and the South African energy giant Sasol is assessing the viability of investing in India. While major Indian brands have been welcomed across Africa, there are a few which have given India a bad name.
One such company is Karuturi Global, a Bangalore-based company which grabbed headlines when it leased 100,000 hectares in Gambella, one of Ethiopia's poorest areas. The deal was to bring technology to farming and teach local people better use of land. Jobs were also promised. Karuturi was able to fulfill none of its promises.
The local had no jobs. Those employed also got much lower wages than the going rate. There was tremendous backlash across the region. Finally in February this year, the company closed down operations of its farm in Gambella. Apart from Karuturi , there have been no major problems for Indian companies. Most of the Indian companies are much smaller in scale than the Chinese. But Indian projects touch the lives of ordinary African.
While the summit this month will not be the time to strike agreements, the goodwill will help promote India in Africa. Though much is being made of African nations supporting India as it moves to get into an expanded UN Security Council, the African position is not clear.