India Tales: kept from school by father, Andhra kids go to police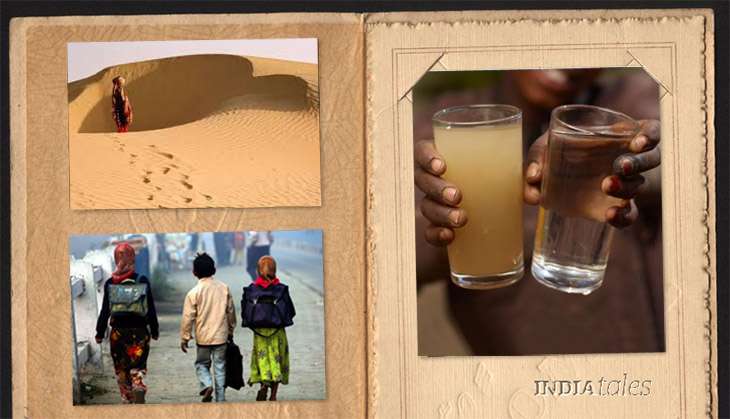 01
Polluted water kills 8-year-old Jaipur girl, her mother dies of shock
In shock after the death of her eight-year-old daughter, Kamlesh, a resident of Gopalpura in Jaipur, Rajasthan, died late last month. She had refused to touch food or drink for 20 days. Pragati, her daughter, had died from drinking polluted water.
Kamlesh's husband Motilal said "she was emotionally wrecked by the death of our daughter". After refusing to take food for over a week, she grew weak and was admitted in ICU, where she breathed her last.
"She would cry uncontrollably and saying 'my daughter is alive, dress her in lahenga chunni'," Motilal said. Kamlesh and Motilal have another 3-year-old daughter. "Now, I have to live for her. I have lost everything else," Motilal said.
The polluted water that took Pragati's life has made hundreds of people sick in and around Gopalpura. At least 500 people in Ganesh and Mangal Vihar neighbourhoods have been treated for diarrhoea and vomiting, the city's health officials said.
02
Coming to dry Thar: water from Narmada and Indira Gandhi canals
Relief is coming to the harsh desert of Barmer and Jaisalmer. By March 2017, Ramsar and Shiv in Barmer will be the confluence of the Narmada Canal, bringing water from Sardar Sarovar dam in Gujarat, and the Indira Gandhi Canal, carrying water from Harike Barrage in Punjab.
"This confluence will be a great boon to the people who have long suffered water scarcity," said a government official overseeing the work. "Narmada reached Seelu village near Sanchor in 2012. Its water is available for drinking in Gudamalani and Dhorimanna of Barmer. The plan is to take the Narmada waters to Chautan and Ramsar. Their tributaries are under construction now."
"Indira Gandhi Canal from Punjab reached Jaisalmer around 1990. Now Chautan and Ramsar will get its water too. This region will now be known as the place where Narmada canal and Indira Gandhi Canal meet."
03
Kept from school by their father, 2 Andhra children go to police
Recently, two children from Bapulapadu village in Krishna district of Andhra Pradesh, went to the police and said they did not want to live with their parents anymore. Why? They were being kept from school.
The police, unable to "resolve the situation", sent the children into the custody of the Child Welfare department, which has now issued "strict instructions" to the parents to not interfere with the children's education.
According to the police, Siddiqui, 11, and Shannu, 9, complained that their father Mohammed Akram, an autorickshaw driver, was "addicted" to gambling, leaving their mother struggling to feed the family. "Akram has lost all his money in gambling and is now running away from family responsibilities and wants Siddiqui and Shannu to work in a shop to earn money," a police officer said.
The two children had, sometime ago, gone to live with their maternal grandparents and "were receiving education there", but Akram recently brought them back "after creating a ruckus". According to the police, he would beat the children to make them work. "One day, the kids managed to escape, and with the help of their grandparents approached the police," said police inspector Viravalli P Murali Krishan.
Krishan said the children were "given the option of living in custody of the State Women and Child Welfare Department". After they expressed their willingness, they were handed over to the department. The parents have been warned to not to disturb the children."