India's journalists speak up at Delhi's Press Club post Gauri Lankesh's murder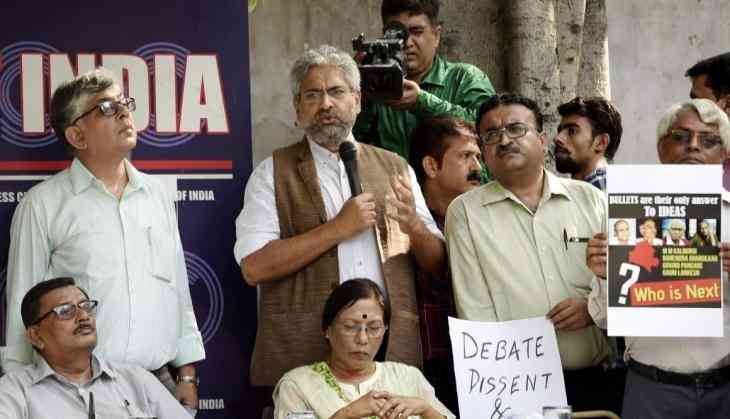 The Wire editor Siddharth Varadarajan speaks at PCI. (Photo: PTI)
After a day of shock and anguish following veteran journalist Gauri Lankesh's cold-blooded murder at her Bengaluru residence, journalists and activists collected at different venues all over the country as a sign of protest. Delhi saw a large collection of people at Press Club of India, including politicians, academicians, students, and, of course, journalists.
Here, for a change, many prominent voices who may not always agree with each other spoke in unison. The message was singular – that all the rational minds in the country must stand together.
The atmosphere was markedly different for journalists as, instead of prodding others for answers, they openly opined, shared personal experiences, and remembered their dear friend and colleague Gauri, and, most significantly, agreed to not forget.
The need to unionise
General Secretary of the Delhi Union of Journalists (DUJ), Sujata Madhok spoke to Catch about what Lankesh's murder meant for women journalists in India.
"I think women journalists will increasingly have to choose which side they're on, who they speak for and who they speak against. I find a lot of people are neutral, couldn't be bothered, indifferent. People don't want to unionise. People would rather join a Press Club... but there's a limit to how much such organisations will resist.
"You need strong organisations," Madhok insisted, adding, "Not just places where you eat, drink and socialise."
Talking about the hate journalists get on social media and the ramifications it could have, she said, "I think some journalists are particularly vulnerable today, women journalists too. So many of them are being trolled.
"I don't understand this Facebook, Twitter and their methods... how this kind of language, abuse, these kinds of murderous threats are being traded so freely through these social media channels. I'm appalled that they're doing nothing to stop them."
The PM must answer
Senior journalist Ravish Kumar called everyone's attention to how, while there are so many views on the matter, the one question that needs answering is – Who killed Gauri? Will Siddaramaiah ensure that the investigation is done right?
"It deeply upsets me that the person this country has elected as its leader with a lot of expectations follows someone like Dadhich who calls a person who just died 'kutiya'," Ravish said, making a direct reference to PM Modi's choice of Twitter follows.
"No matter how much he complains about our nation, our PM can never complain that the public has repeatedly voted him and his party in. Where did a busy man like him find the time to follow people like this? He must tell us.
Ravish demanded an answer from the PM, saying, "When he returns from China and Burma, he must first unfollow these people. Then he must apologise and make it clear that this isn't Hindutva or nationalism.
Of course, there can't be a Ravish speech without a bit of satire. He said, "If the PM can't find anyone to follow in all of India, he can follow me. I can assure him that I won't make him feel insulted. I'll send him beautiful poetry, share stories. He'll never feel he lives in a country that doesn't love him."
Look past differences
Senior journalist Barkha Dutt spoke about the need to stick together in a difficult political climate.
"Earlier this year I was called to speak at an international conference where I was asked to speak on the question: Are journalists under siege everywhere? I was put on a panel with journalists from Russia and Turkey.
"At least we're not getting killed," she had said back then. "I thought this morning I would have to revise my appraisal," Dutt admitted.
To journalists who gathered at Press Club, she said, "We may not always see eye to eye. Today if we remain silent, today if we bicker among ourselves, make this about this camp versus this camp, today if let politicians who've come here hijack this conversation, I think we'll do a disservice to our profession and to the reasons we became journalists.
"Gauri was my senior in the profession, I've seen her work and she had on occasion been critical of my work."
Speaking about her privilege, she said it's important for us to voice ourselves for those who do not have the same opportunities. "We are able to galvanise and gather when our colleagues across our country cannot."
Finally, she spoke about the real threat social media poses. "I used to block/mute rape and death threats. I don't think we should ignore anything. We should stand up, speak, report, and let's please stand together."
No more 'chalta hai'
The Wire editor Siddharth Varadarajan called our attention to Gauri's killers.
"I think there should be no doubt in our mind that she has been targeted for her work as a journalist. Don't pay attention to the rumour mongering on Twitter, connect the dots, do your work as journalists," he said.
"See what stand she took, who were the people she was against, who were the people against her, that'll give you an idea who was out to target her," he added.
Speaking about the right-wing celebration on social media, he said, "In the past 15-16 hours, the kind of tasteless display we've seen from fascist right-wing elements that have been openly celebrating her death on social media. Inflammatory, provocative comments can also be found on the timelines of prominent leaders, including the Prime Minister.
"It is the 'chalta hai' attitude [towards all this] that has led to the death of Gauri Lankesh."
Varadarajan asked everyone to question, for if everyone questioned those 15-20 people who always speak up cannot be hunted down.
"Why was Gauri Lankesh targeted? Because she questioned."
Independent journalist Neha Dixit, who had spoken to Gauri earlier yesterday, said, "This kind of grievous act, this kind of murder is not going to stop us. We will continue what Gauri started and was doing very efficiently. We will not shut our mouths and we'll continue doing it with more force."
Letter to the CM
The meeting resulted in the drafting of a letter to Karnataka CM Siddaramaiah, the full text of which is attached here:
"This is to draw your kind attention to the dastardly murder of Gauri Lankesh, senior journalist and editor of Gauri Lankesh Patrike at her residence in Bangalore on September 5, 2017. The murder has sent shock waves across the journalist community for its brazenness as well as it has involved the killing of a woman journalist known for her outspoken views. She was a firm believer in the Indian Constitution and the values of democracy and secularism enshrined in it.
We are aware that the state government has already instituted an investigation and inquiry into the murder. We the undersigned, urge your government to put in all efforts to nab the killers at the earliest in order to restore confidence in the journalist community as well as the people of India."