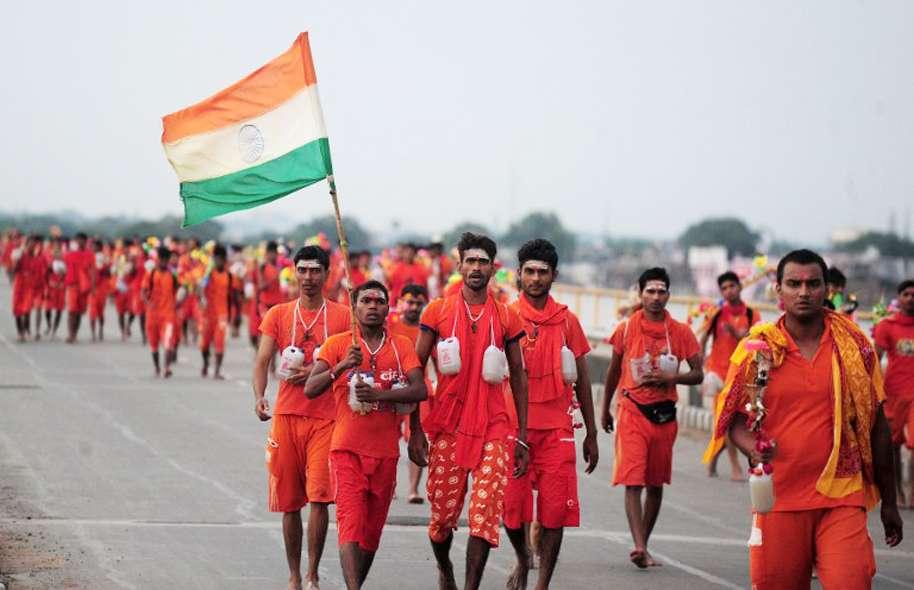 1/8
Kanwariyas with the tricolour in Allahabad
AFP Photo/Sanjay Kanojia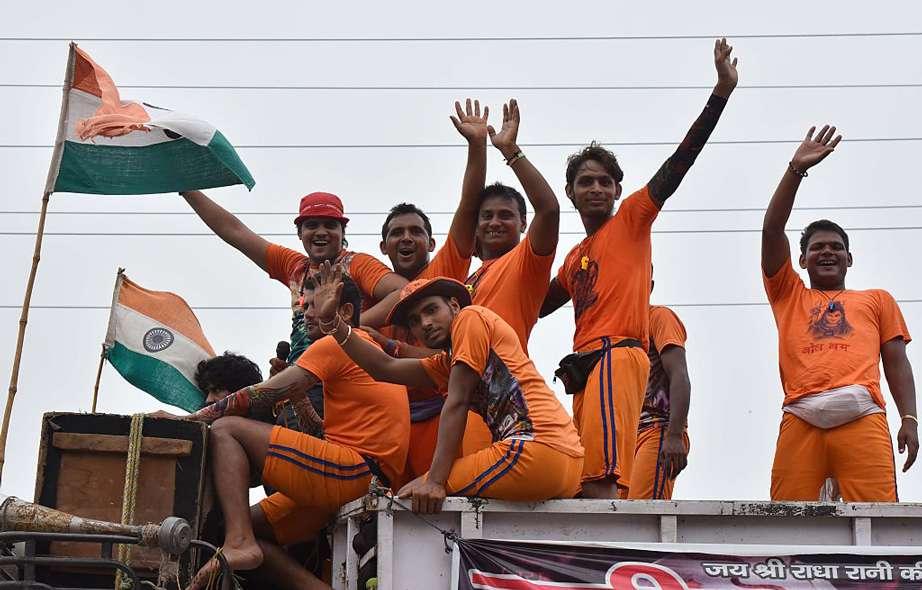 2/8
Kanwariyas atop a truck bearing the tricolour in New Delhi
Ravi Choudhary/Hindustan Times/Getty Images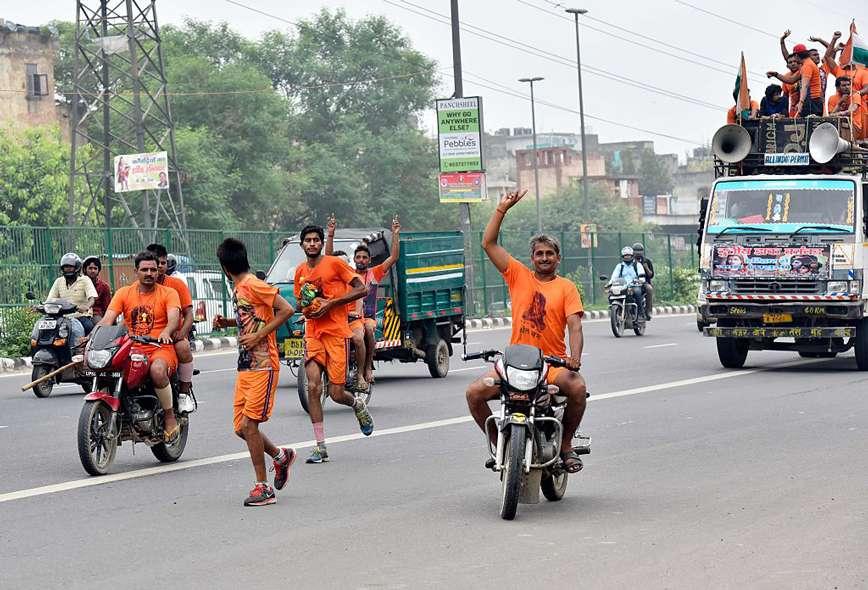 3/8
A group of Kanwariyas passing through New Delhi
Ravi Choudhary/Hindustan Times/Getty Images
This is an advertisement.
To view next image, click on the next button.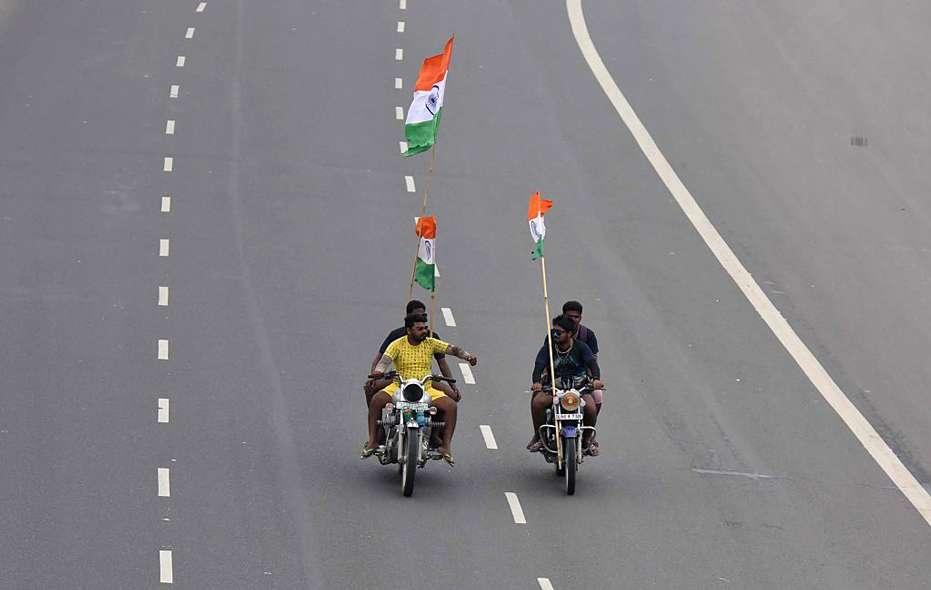 4/8
Kanwariyas ride their bikes bearing the tricolour on a national highway
Ravi Choudhary/Hindustan Times/Getty Images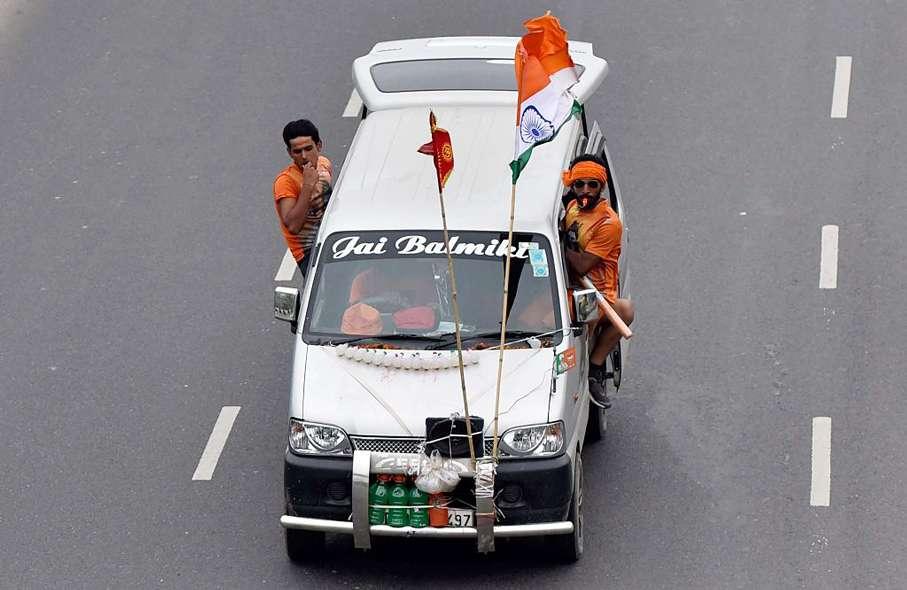 5/8
Kanwariyas in a car bearing the national flag in New Delhi
Ravi Choudhary/Hindustan Times/Getty Images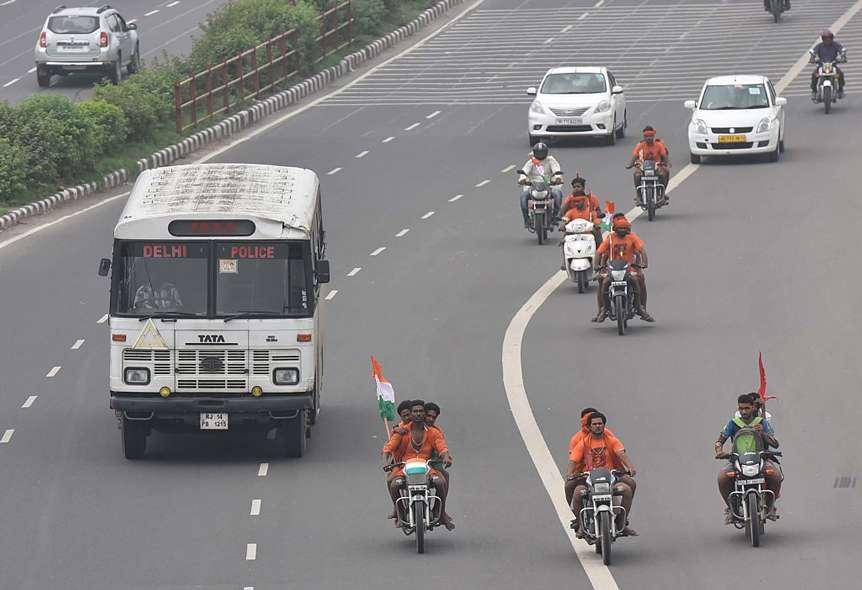 6/8
Kanwariyas ride their bikes through New Delhi while carrying tricolours
Ravi Choudhary/Hindustan Times/Getty Images
This is an advertisement.
To view next image, click on the next button.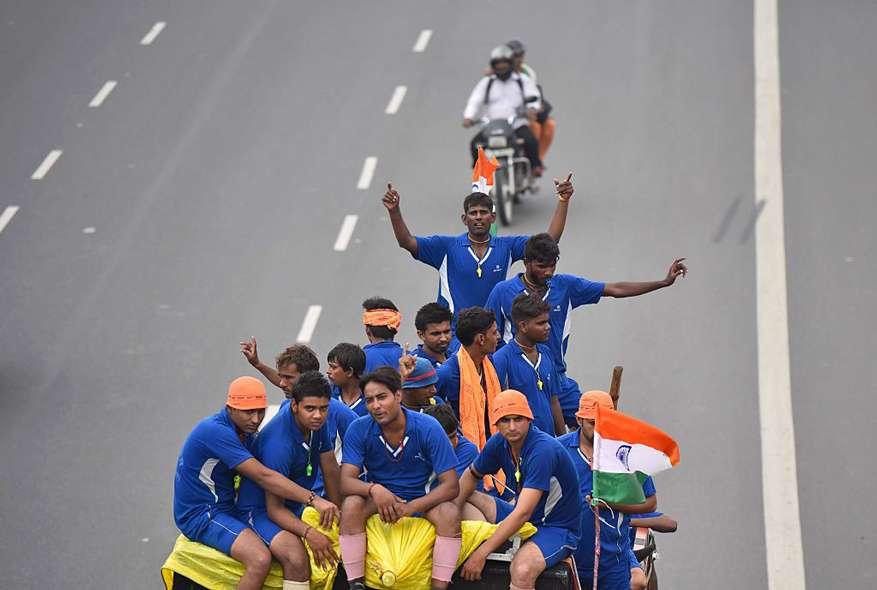 7/8
Kanwariyas atop a truck bearing the national flag
Ravi Choudhary/Hindustan Times/Getty Images
8/8
Members of the Sikh community welcome Kanwariyas in Umaria, Madhya Pradesh
PTI photo
In pics: Kanwariyas go hyper-nationalist, with a little help from RSS
For some, it is the ultimate sign of bhakti; for many others, it is an annual menace.
Every year, thousands of young men embark on the long journey from the plains of north India to collect water from Ganga in Uttarakhand. But this year, the Kanwar Yatra saw something unprecedented. The young men, notorious for their aggression and widespread hooliganism, were seen carrying the national flag and chanting Bharat Mata ki jai and Vande Mataram.
Thanks to the Rashtriya Swayamsewak Sangh (RSS), kanwariyas could now use the national flag to beat up unsuspecting civilians who live next to the highways they walk on, or in towns like Rishikesh and Haridwar, where they congregate to flaunt their underwear, and dance to songs lifted from Bollywood hits.
This year, the RSS distributed thousands of flags and t-shirts with various depictions of Bharat Mata. They bore messages like "Mera Bharat, mera kartavya (My India, my duty)" and "Ek kanwar rashtra ke naam" displayed on them. Before the start of the yatra, RSS had asked the kanwariyas to bring a kanwar (the contraption used to carry the \'holy\' water) for Bharat Mata from Haridwar.
According to reports, the RSS distributed 10,000 flags in 350 centres across 14 districts of western UP, and had entrusted one of its frontal organisations, Dharam Jagran Samanvay Samiti, to carry out its diktat.
The RSS has always backed the kanwariyas, ignoring the brute machismo these devotees of Shiva display, mostly under the influence of alcohol. Operating in packs, they carry lathis and baseball bats and wait for an opportunity to unleash their fury on whosoever questions their behaviour. Even policemen seek refuge when kanwariyas are at their brutal best.
Over the last couple of decades, the movement has gained popularity among unemployed youth, who seek the respect of the society by indulging in something so \'godly\'.
But now, the fear is that with flags in their hands, this swarm of locusts could soon be eating away the secular fabric of the nation. Remember, not long ago, the same flag was used to beat up JNU students assembled outside a court premises in New Delhi.
P.S.: While there are this brand of kanwariyas, there are also those who are untouched by this lathi-wielding, bike-riding jamboree. These are the ones who walk barefoot for hundreds of kilometres, with bandaged and blood-soaked feet, to appease Shiva. Their sacrifice deserves utmost respect.
(Text by Akash Bisht, photo selection by Vikas Kumar)
More in Catch
Kanwar Yatra begins, Ghaziabad police deploy 2,000 officers to ensure security