Hurriyat leader Bhat releases autobiography, takes dig at colleagues' response to unrest
Catch Team
| Updated on: 10 February 2017, 1:39 IST
It was a vintage Professor Abdul Gani Bhat at the release of the first volume of his autobiography Beyond Me at his residence in Srinagar's upscale locality of Jawahar Nagar.
The former Hurriyat chairman was in his elements. He gave a thrilling speech, tossed wisecracks and bon mots and took oblique yet blunt digs at the strategies his separatist colleagues are using to spearhead the ongoing unrest.
"Our leader is like a blind rider on a lame horse," he said in what was seen as a reference to the hawkish Hurriyat patriarch Syed Ali Shah Geelani.
As his speech progressed, and his face contorted into its myriad theatrical expressions, he became even more critical of the separatist leadership the current turmoil.
"Your strategy is like jumping into a river. But before doing so, you don't even pause to think if you can swim," Bhat said.
Bhat hadn't invited any of his Hurriyat colleagues, including even Mirwaiz Umar Farooq, the chairman of the moderate Hurriyat to which he also belongs, to the function.
What is more, he held the function on Friday, when Kashmir observes its strictest weekly shutdown in response to Hurriyat's controversial protest calendar.
No names
Though he didn't name any leader nor specifically rubbish any strategy, Bhat's target seemed crystal clear. His speech sought to address the growing public resentment in Kashmir against the persisting Hurriyat calendar which prescribes a weekly timetable of protests and an uninterrupted shutdown.
"Those who lead should do so in the light of a deeper understanding of what is needed to be done. He should possess the light of vision, the light of mind, sharp and penetrating," he said.
"In darkness, our heads can collide. We can lose ourselves. This is why we need leaders who can see and understand."
Bhat questioned - albeit again by implication - the standing of the "leaders of two-member parties" to decide on behalf of the people of Kashmir.
"We have now become a community of leaders. There are now leaders for every two people. We have no common men left among us," Bhat said in what was seen as a comment at the recent meeting of the Hurriyat with the civil society groups which decided in favour of continuing the shutdown.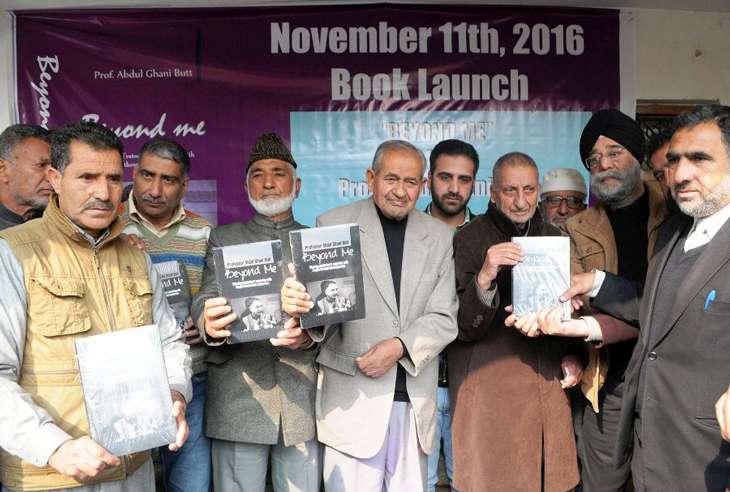 Bilal Bahadur/KL
The person & not the politics
Bhat didn't dwell much on his autobiography, just saying that it is more about himself than about the politics. Being the first volume, the book only covers the early period of his life up to 1987, a year before the armed secessionist struggle began in Kashmir. A professor of Persian at Sopore Degree College, Bhat was dismissed from service in 1986 for what he said "being a threat to the security of the state".
A year later he plunged into politics by becoming the founding member of the Muslim United Front (MUF), a conglomerate of the largely secessionist religious and political organisations which contested the fateful 1987 Assembly election.
Bhat was the Chief Spokesman of MUF and a member of its Majlis-e-Muntazima (Executive Council) together with Jamaat chief Ghulam Muhammad Bhat, Abbas Ansari, Qazi Nisar and Dr Ghulam Qadir Wani. Nisar and Wani have since been assassinated.
MUF was tipped to do well in the polls but the exercise was widely believed to have been rigged to ensure the return of National Conference to power in a coalition with Congress. A year on, a full-fledged armed revolt began against New Dehi's rule in the state.
In January 2011, Bhat had created a flutter when he blamed "own people" for the killing of separatist leaders Molvi Farooq and Abdul Ghani Lone, the fathers of current Hurriyat chairman, Mirwaiz Umar Farooq and Sajad Gani Lone respectively.
"Time has come to speak the truth. Neither the Army nor the police killed Lone sahib and Molvi Farooq sahib but our own people," Bhat had said while addressing a seminar on the role of intellectuals in the separatist movement.
What's next?
The next volume of his book, Bhat said, will be "all about politics".
It will cover the period from the creation of MUF up to the present. He will also write about the little known period of 1986-1989, the four years when Kashmir went from being a teetering, bitterly contested political turf between National Conference and the MUF to one of the world's most troubled spots awash with weapons.
And he would also write about his interactions in Pakistan and New Delhi and also about the significant events in Kashmir.
"My brother fell to bullets, Qazi Nisar (a top separatist leader) fell to bullets, Molvi Farooq fell to bullets, Abdul Gani Lone fell to bullets. And if I also don't fall to bullets, I will write," he said.
Edited by Jhinuk Sen