See: how Hindu Sena wished Donald Trump 'happy birthday'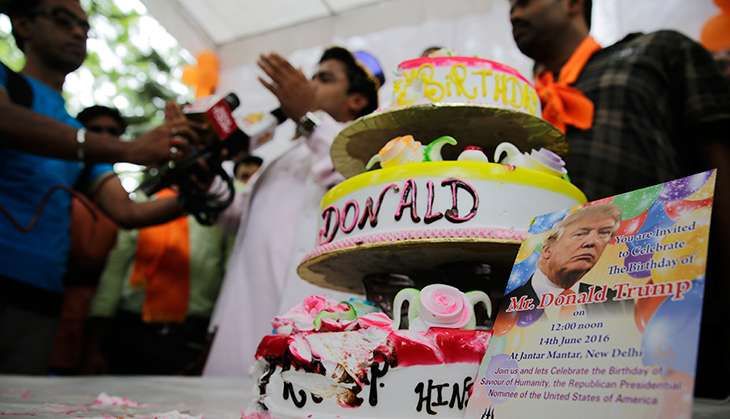 The 'party' for Trump's 70th birthday was organised by the members of the political outfit Hindu Sena who are ardent supporters of BJP and, especially, Prime Minister Narendra Modi.
Vikas Kumar/Catch News
Vikas Kumar/Catch News
Vikas Kumar/Catch News
While the activists wore kids' birthday hats, colourful balloons and a cake with 'Happy Birthday Trump' inscribed on it added flair to the occasion.
The venue had many posters of Donald Trump at the venue, but, the one showing Trump with a gun caught everyone's attention.
Media personnel moved around clicking photographs and chatting with the Hindu Sena activists while the occasion was celebrated.
On Monday, photos of Hindu Sena's printed invite to celebrate Donald Trump's birthday were doing the rounds of social media much to the pleasure and displeasure of users.
When asked why they are so enthusiastic about Trump's birthday, all activists agreed that only Trump could wipe out 'Islamic Terrorism' from the face of the earth.
Vikas Kumar/Catch News
Vikas Kumar/Catch News
It would be safe to say that this is definitely not how India sees Donald Trump.
There are only a handful of these Hindu Sena activists and their understanding of global affairs seems limited. A few days ago, the same outfit had organised a yajna for Trump's victory at Jantar Mantar.
Yet, their antics have successfully attracted media's attention. Even some foreign journalists were seen covering the event.
As the party went on, the activists enjoyed their cake and were magnanimous enough to share it with the curious onlookers as well.
Vikas Kumar/Catch News
Vikas Kumar/Catch News
More in Catch - Donald Trump's Super Tuesday speech may be his strangest one yet
'27% Militant muslims' and other recent Donald Trump quotes guaranteed to scare you