High & dry Himachal: MSP, not MRP, leaves consumers at mercy of liquor vends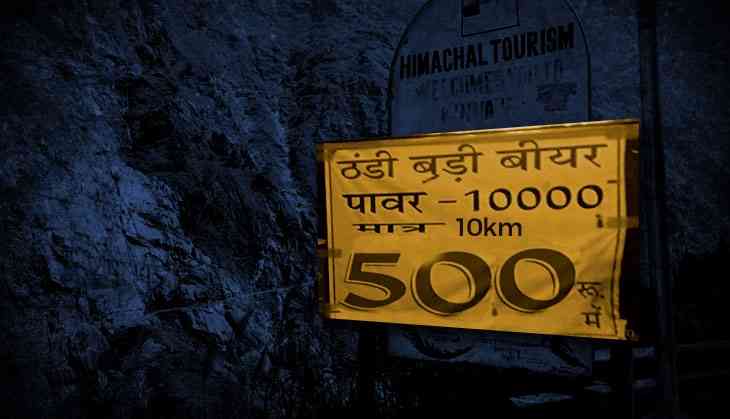 The recent Supreme Court order on shifting of liquor vends and bars away from highways has ensured that both tourists and locals in Himachal Pradesh aren't exactly in high spirits.
Worse, a state government decision on going in for a Minimum Sales Price (MSP) for liquor instead of Maximum Retail Price (MRP) has led to a plethora of problems - not only for consumers but also in the social sphere.
More so, the fruit wine industry, which has always thrived on the sales through outlets located along the highways, is taking a big hit.
Problems of pricing
The primary issue is that of the reintroduction of MSP on liquor. Officials in the state say that the policy shift by the Excise and Taxation Department was carried out to allow for a level playing field to liquor contractors bidding for the annual auction of vends. This would also complete the double job of keeping government revenues safe.
"Our duty is fixed on the sale on every bottle. The idea was also to ensure that the retailers do not supply spurious or adulterated product to consumers in the competition of selling on the lowest price. Hence, the policy was to ensure that they do not sell below a specified rate," disclosed an official.
But the initiative has boomeranged, largely because retailers are openly fleecing the customers in the absence of an MRP.
For example, a bottle of beer with the MSP of Rs 100 printed on the label is being sold for Rs 180 to Rs 200. The prices for the same have shot through the roof if one even dares to visit a bar. Billing isn't customarily done at retail outlets or vends.
So consumers, particularly tourists, stand a harried lot.
Additional Excise and Taxation Commissioner KK Sharma told Catch, "We have been receiving a number of complaints in this regard. We are going to look into it."
Sources disclosed that the number of vends that were auctioned this year has come down on account of the Supreme Court judgment. In order to make up for the losses, the government auctioned vends at a higher rate and now the vendors are openly misusing the MSP model.
Geographical issues
There is also a widespread belief in the state that the Supreme Court needs to have a re-look at its directive as such sweeping orders which force liquor vends to shift often create multiple socio economic problems.
The topography and demographic spread in hill states like Himachal is such that settlements, particularly in the higher reaches are along the single roads marked as state or national highways.
"Now you cannot ask a vendor to have a shop 500 metres down the gorge. The only option is to go uphill and such locations are either residential areas or have religious or educational institutions in close proximity. This why there are widespread agitations, specially by women, against liquor vends that have come up after the order," said an official.
"We had a harrowing time when we were told at Narkanda and even in Kalpa that to get a bottle of liquor we would have to travel several kilometres. This is definitely going to hit the tourism in a big way," said Tushar, a tourist from Gujarat.
An official further shared the fact that hoteliers who also run bars have been hit hard. While a vend or even a bar can be shifted elsewhere, it is impossible to shift 50 or 100 room hotels. "What we have gathered is that while liquor accounted for 30% sale in a bar, food accounted for the other 70%" he said.
He also disclosed that with tourists and locals being compelled to go long distances for purchasing liquor, there is every chance of illegal sales picking up in every locality for small premiums and this will have its own cascading effect on both the government revenue as well as the social fabric.
Wine industry in low spirits
But it is the state's fruit wine industry that is bearing the maximum brunt on account of the Supreme Court order along with a faulty government policy. With the government having clubbed sweet wine with alcohol, the sales along the highways have come to a halt.
The state's fruit wine industry has been a model of sorts for many other states. Reintroduced in 1992 under the Shanta Kumar led BJP government, it has helped in making optimum use of horticultural surplus. It was earlier classified under the fruit processing industry. The industry helped prevent orchards of certain fruits from vanishing as it helped take care of surplus produce.
But wine makers are now ruing the fact that the government has placed them in the same category as hard liquor and beer.
"They have equated us with large scale producers. While they sell up to 5 lakh cartons a year, our sales do not cross 10,000 cartons," said a wine maker.
Himachal Pradesh roughly produces around 3 lakh litres of fruit wine every year. Before the court order, one could see tourists purchasing large quantities from road side shops, but not any more.
"The Supreme Court order has impacted us badly. The state government also needs to re-look into its policy where it is treating us at par with manufacturers of hard drinks. We are poles apart in terms of sales, revenue and logistics. Nowhere else including states like Maharashtra, Meghalaya and Goa is sweet wine clubbed with hard liquor," says Girish Minocha, the owner of a fruit processing unit at Shoghi near Shimla.
Edited by Aleesha Matharu