Here's what the 'terrorist mourners' of Yakub really think
The procession
Nearly 8,000 people turned up for Yakub Memon\'s funeral
This upset right-wing extremists on social media
Tathagata Roy labelled some mourners \'potential terrorists\'
The draw
Mourners didn\'t see Yakub as a terrorist; felt he didn\'t deserve death
They felt he was paying for the sins of his brother
Locals claimed they wouldn\'t have turned up if Tiger Memon had been hanged
Many saw injustice: Yakub was hanged while \'93 rioters roam free
In death as in life, controversy didn't spare Yakub Memon.
His funeral on 30 July drew nearly 8,000 mourners, rattling the Hindutva brigade. So much so that Tripura Governor Tathagata Roy publicly demanded that they be watched as "potential terrorists".
But not many asked: Who were these mourners? What brought them to Yakub's funeral? Would they have come if it was not Yakub but Tiger Memon, his brother and alleged architect of the 1993 bombings?
Put these questions to the mourners themselves and the responses are telling.
Almost no one wanted their names put on record for fear of being harassed and misunderstood.
"There is a feeling in the community that Yakub and Tiger are different. Even people from other communities feel this, or why else would Yakub's fellow prisoners in Nagpur go on a fast on the eve of his hanging," said a hotelier across the street from Bismillah Manzil.
Bismillah Manzil in Mahim, Mumbai, is the residence of Yakub's elder brother Suleman, and it was here that his body was brought for funeral.
'Had Yakub died in jail, people would have forgotten him. His hanging has made sure he lives on as a martyr'
"Had Tiger been given the death penalty, I am sure no one - or at least not many - would have turned out for his funeral because our community will never support killing of innocent people," the hotelier added.
"Yakub had surrendered before the Indian authorities. But instead of showing him some mercy, the government ensured that he got the severest punishment."
For the hotelier and other mourners, Yakub clearly wasn't a terrorist, the state's claim notwithstanding.
"Many within our community and outside believe Yakub paid for the crimes and sins of his brother, who is still at large," said a shopkeeper who repairs mobile phones.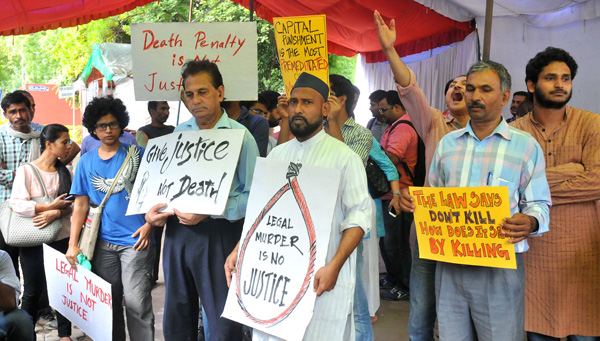 The shopkeeper witnessed both the 1992-93 anti-Muslims riots and the serial blasts that followed. He is still struggling to cope with the horror.

"My family was in the business of selling imported perfumes," he said. "We had to change our business, but our memories haven't changed."

"The memory of my shop burning is still fresh. But has anyone been put behind bars for the riots even after so many years? he added. "Then why was a person who confessed to his crime hanged?"

"As long as our community is made to feel ill-treated, graves like Yakub's will keep turning into shrines."

Indeed, this was a common refrain among the mourners: that while they are still waiting for justice for the riots, the state went out of its way to execute Yakub.

This frustration has been articulated by Muslim politicians such as Asaduddin Owaisi of the Majlis-e-Ittehadul Muslimeen and Abu Azmi of the Samajwadi Party.

"Those responsible for the deaths of 900 people in Mumbai are not considered terrorists, while those killed 257 are terrorists," Azmi had said.

But weren't Yakub's mourners worried about being labelled terrorist sympathisers like mourners of local militants in Kashmir often are by right-wing extremists and even the media?

"In Kashmir, the fight is between patriots and those who do not want to be with India," replied a paan seller outside a restaurant.

"The Memons' crime was a reaction to events that followed the Babri Masjid demolition. It had nothing to do with anti-national activities. It would be wrong to compare the two."

Should Yakub's family have accepted his body given that he stood convicted of terrorism? Haven't Muslim clerics issued a fatwa against offering burial prayers for any person associated with terrorism?

"Yakub can't be linked to terrorism. He surrendered and helped the investigating agency," said a 63-year-old perfume vendor near Mahim. "Had he been seen as a terrorist, people wouldn't have turned up in such large numbers."

'Shias, Sunnis, all joined the funeral. For us, Yakub wasn't a terrorist. We don't care what others say'

"In fact, Shias and Sunnis buried their differences and all joined the funeral procession," he added. "For us, Yakub wasn't a terrorist. We don't care what others say."

In fact many local residents attest that Yakub never leveraged his brother's connection with the underworld to assert himself in the locality. He was always polite and always paid his dues.

To drive home his point that the state made a mistake by hanging Yakub, the old vendor said Yakub's funeral procession was larger than even Haji Mastan's.

Mastan, Mumbai's original gangster, died in 1994. "In his later days, Mastan tried to remake himself from a smuggler into a leader of the Muslim community, but even that didn't get him as large a procession on his last journey as Yakub did," the vendor said.

"Ask the young men here and nobody would know who Haji Mastan was. Had Yakub died of old age in prison, people would have forgotten him too," the vendor said.





"But the haste shown by the government and the judiciary in hanging him has made sure he lives on as a martyr."