#HemaUpadhyayMurder: how a FB post & call records led cops to her husband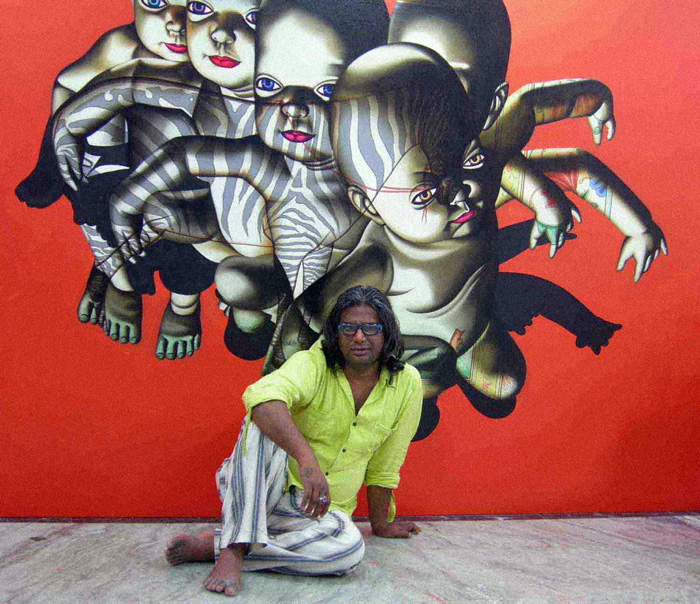 After grilling him overnight, the Mumbai police Tuesday arrested Chintan Upadhyay for the double murder of his estranged artist wife Hema Upadhyay and her lawyer Harish Bhambhani.
The police had earlier arrested four people for the double murder, all employees of Vidyadhar Rajbhar, the owner of a godown at Charkop, Kandivali. Rajbhar, the prime suspect, is still at large.
Also read - How the Mumbai police 'cracked' the #HemaUpadhyayMurder
The four of them and Chintan were produced in court later in the day. Chintan was sent to police custody until 1 January and the rest until 28 December 28.
Chintan has been booked on charges of murder, criminal conspiracy and destruction of evidence.
"Since Chintan had cooperated in the investigations until now, he wasn't arrested," said. "But during questioning last night, it was established that he had been involved in the double murder. So, he was arrested on Tuesday," said Additional CP, North Region, Fatesingh Patil.
In their remand application, the police had argued that Chintan's custody was necessary to "establish the motive behind the double murder and also to carry out investigations in Mumbai and other cities".
Sources in the police said Chintan had "always been a suspect". "He was called in for questioning Monday evening. We noticed inconsistency in his statements which resulted in his arrest," a police officer said.
A trail of evidence?
One "inconsistency" apparently was over a Facebook post. Chintan had posted the Hindi song "Alvida" a day before the double murder. "This could not have been a coincidence," said a senior police officer who is part of the investigation team.
"The post raised several doubts about Chintan. He was confronted about the post. When he failed to justify the post, he had already walked into the trap."
Also read - Artist Hema Upadhyay and her lawyer found dead in Mumbai drain
He also gave "inconsistent statements" about his activities during the week before the double murder. "Call records from 2-6 December show that he was in Mumbai and in constant touch with Rajbhar, the prime suspect," said a police official.
"The most surprising aspect is that Chintan called Harish Bhambhani's family the next day of the murder and inquired about him. He could not explain why he did so," the official added.
Chintan couldn't explain why he had posted the song 'Alvida' on Facebook a day before the murder: cops
Chintan's interrogators told the court that he "has confessed to meeting Rajbhar and hatching a conspiracy to kill Hema Upadhyay and Harish Bhambhani."
"But he has not yet disclosed the place where he met Vidyadhar Rajbhar," they told the court. "He also planned to rope in other accused in the murder. All these aspects need to be investigated, for which his custody is needed."
Chintan and Hema had filed for divorce in 2010. Three years later, Hema filed a case against Chintan, alleging that he had painted "obscene pictures of women" in their Mumbai home with the intention of "mentally harassing" her. Hema had been represented in the case by Bhambhani.
In 2013, Hema filed a case against Chintan for painting 'obscene pictures of women' in their home
The divorce was granted on 29 October 2014, with the court ordering Chintan to pay one-time alimony of Rs 16.51 lakh to Hema. But she was unhappy with the order and had challenged it in the Bombay High Court.
The police, meanwhile, have set up special teams to locate Rajbhar. "We are trying to ascertain if he has changed his cell number. Custodial interrogation of Chintan will be helpful in tracing Rajbhar," the official said.
More in Catch - Love, Sex and Dhokha: Crimes that shook India in 2015
Hema Upadhyay murder case: estranged husband Chintan Upadhyay arrested in Mumbai
Hema Upadhyay argued with key accused Rajbhar over Rs 5 lakh just a day before murder