Hate videos & street attacks: How Hindutva groups are targeting Sikhs in Jammu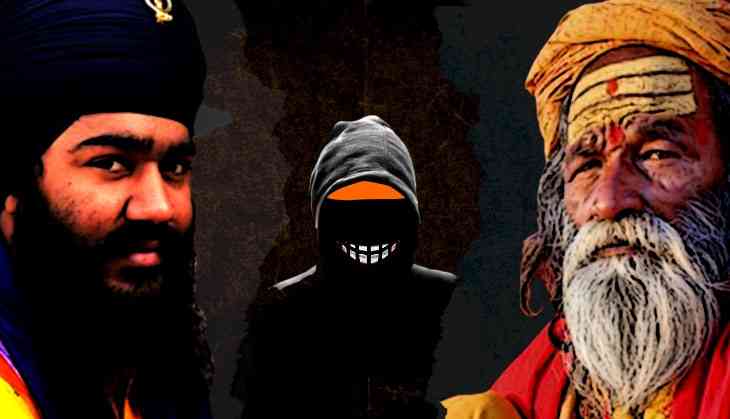 The largely cordial relations between Hindus and Sikhs in Jammu have come under strain of late due to the increasing assertiveness of Hindutva forces in the area.
The latest instance is a series of virulently anti-Sikh videos by a woman named Sakshi Bhardwaj that have gone viral on social media.
The videos are highly provocative as Bhardwaj makes derogatory remarks about Sikh gurus and the Sikh community. She calls Sikhs "hypocrites" and "anti-national". In another video, she refers to the community as "women who have long hair and wear bangles".
Who is behind the anti-Sikh videos?
The Sikh community in Jammu protested against the derogatory videos and filed an FIR with the police, urging it to take action against Bhardwaj.
Bhardwaj has since gone into hiding and some of the pages from which she posted the videos have also gone missing.
Bhardwaj's background doesn't seem to be clear. It seems that her purported website (covertwires.com) and her various social media properties are being handled by more than one person.
In a Twitter account in her name, Bhardwaj claims to be from Udhampur, a "Hindutvawadi" ,"idolater" and "ex-JNU-ite". Another, older video doing the rounds, shows Bhardwaj attending a seminar by a right wing speaker Rajeev Malhotra and identifying herself as a student at the Centre for Study of Regional Development, Jawaharlal Nehru University.
A Facebook account also existed in her name but now has been deleted. A brief look at her posts clearly show that she is a Hindutva supporter with views that are mostly pro-RSS and pro-BJP. However, she had criticised PM Modi when he spoke against Gau Rakshaks last year.
Sources in the local police say that Bhardwaj wouldn't dare to post such incendiary videos without the backing of a political outfit. However, they say that it is possible that she is being backed by an outfit that is "more radical than the BJP/RSS".
Sources in the police as well as the Jammu BJP say that the anti-Sikh hatred on social media emanating from the city could be the work of a local Shiv Sena unit.
Shiv Sena targets Sikhs
The Jammu Shiv Sena is said to have been allegedly targetting Sikhs on a regular basis. Last year, alleged Shiv Sena goons thrashed a Sikh in Akhnoor, around 28 km from Jammu.
A Sikh youth brutally beaten by local goons at Akhnoor and no body comes forward to save him...police is no were... pic.twitter.com/CPUWCmSbpb

— Inderjeet Singh (@drinderjeet92) May 15, 2016
Sikh leaders had sought action against the Shiv Sena for the attack on the youth.
Shiv Sena in Jammu and Punjab appear to be having a clear anti-Sikh tilt. Its leaders in Punjab, such as one Sudhir Kumar Suri, frequently court trouble through acts that provoke Sikhs.
Clashes between the Shiv Sena and Sikhs have taken place in cities like Amritsar and Phagwara in Punjab. Earlier this year, Sena cadres in Amritsar celebrated the anniversary of Operation Bluestar, which caused tensions.
In another incident this year, Shiv Sena goons are said to have attacked a Sikh businessman and forcibly removed his turban at Shaheed Bhagat Singh Nagar district in Punjab.
In Jammu, however, Shiv Sena's conflict with Sikhs has an even more violent history. On January 13, 1989, a majority community mob attacked a Gurupurab procession, killing 14 Sikhs and injuring 100 others. The mob also burnt down several Gurudwaras and properties owned by Sikhs.
According to reports, Shiv Sena played a key role in inciting the mob.
Videos part of a pattern
Local Sikh leaders say that the videos seem a deliberate attempt to hurt Sikh sentiments and create a communal polarisation in Jammu and adjoining areas. They see this as part of the attempts of Hindutva outfits to rile Sikhs in Jammu. There seems to be a pattern at work.
After the attack on Amarnath pilgrims in July this year, various Hindutva outfits, led by the Vishwa Hindu Parishad and Shiv Sena called for a bandh. It was reportedly supported by Opposition parties like the Congress, National Conference and Panthers' Party as well.
However, some Sikh traders refused to shut their shops and this incensed Hindutva cadres, who forcibly tried to make the Sikhs close down their establishments for the day. A scuffle ensued between the Hindutva activists and the Sikh traders.
The forcible imposition of bandhs by Hindutva outfits has been a major problem for Sikhs in Jammu. During the 2008 Amarnath agitation, Hindutva outfits carried out a blockade of goods going to and coming from the Kashmir Valley. Several Sikh traders in Jammu and adjoining areas opposed the blockade as they had significant business interests in the Valley.
"We were unnecessarily caught in a political crossfire. The blockade harmed business immensely," said Manjot Singh, a Jammu based merchant.
Hindutva assertion in Jammu has come in various forms. Though there have been instances of violence, the more insidious method these outfits use is of everyday bullying: such as forcibly enforcing bandhs, cracking down on Sikh political events and using every opportunity to portray Sikhs as traitors and Khalistani.
The last strategy was evident when the National Investigation Agency picked up Jammu-based lawyer and Jammu and Kashmir Social Peace Forum chairman Davinder Behal, who is known to be close to Hurriyat leader Syed Ali Shah Geelani. Hindutva groups tried to portray Behal's arrest as being a Hindu-Sikh issue and attempted to paint all the Sikhs in Jammu and Kashmir with the same brush.
Even when Behal was being taken away, cadres from certain Hindutva groups began shouting slogans of "Gaddaar ko Goli Maaro (shoot the traitor)" and "Indira Gandhi Zindabad".
A Sikh lawyer arrested by NIA in Jammu to investigate. The crowd is already chanting 'Gadaar ko Goli Maaro' & 'Indira Gandhi Zindabad'

WHY? pic.twitter.com/anQ5YYPCB4

— Jas Oberoi (@iJasOberoi) August 3, 2017
The Indira Gandhi reference seemed to have been an attempt to equate Behal's arrest with Operation Bluestar - the storming of Sri HarmandIr Sahib in Amritsar under Indira Gandhi's premiership.
Barring the 1989 massacre, Hindus and Sikhs have largely had peaceful relations in Jammu. But the delicate communal balance in the city has been disturbed with the increasing assertiveness of Hindutva forces, particularly the Shiv Sena. The targeting of Sikhs is also part of a larger alienation of the community in the polarised politics of Jammu and Kashmir.