Hadiya case takes peculiar turn as SC orders college dean to be her guardian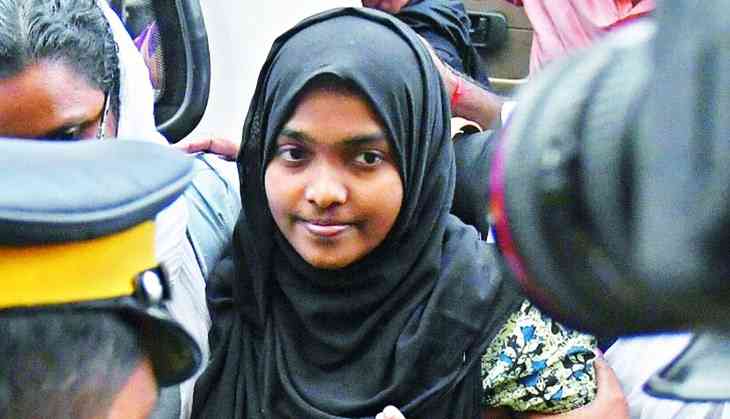 In a rather peculiar order the Supreme Court Monday ordered that Hadiya, who embraced Islam to marry Shahin Jahan, be taken to her college and its dean be her guardian.
A three-judge Bench presided by Chief Justice of India (CJI) Dipak Misra also ordered women police in "plain clothes" to be around the Sivaraj Homeopathic Medical College in Salem, Tamil Nadu to ensure her safety. Hadiya ney Akhila Ashokan is pursuing studies there.
The apex court also ordered hostel facilities for her. It is yet to decide on the issues of "love jihad" and "indoctrination" in the case.
The order is peculiar because sex or marriage between consenting adults is no crime; the marriage in this case is as valid as the one conducted in any customary practices and rituals.
But the Bench made a distinction in this case as a sequel to a startling report filed by the National Investigation Agency (NIA). According to it "'hypnotic counselling' and 'neuro-linguistic programming' are methods" used by radical organisations to entice young women to convert to Islam and marry Muslim men.
CJI Misra even touched upon whether this issue could be separately heard and Hadiya's issue would be settled (as an adult marrying a man). Going by that indication, other issues like "indoctrination" and methods adopted for that could be taken up separately.
The court remained silent on whether Hadiya's husband or his family members and parents could visit her.
The marriage of Hadiya and Jahan last December kindled a debate over 'love jihad', indoctrination and individual liberty.
Her father Ashokan, an Army veteran, moved the Kerala High Court in May contending that his daughter was "converted" and Islamic radical groups have "trapped" his daughter.
When the court nullified the marriage, her husband moved the Supreme Court. The question was whether Hadiya consented to the marriage? The apex court itself said her consent as an adult "is prime".
But now the larger issue of "indoctrination" hovers over the issue with the report of the NIA, which contended that parental consent is prime in cases of indoctrination.
Hadiya's deposition may continue Tuesday; however, the next hearing is fixed for the third week of January in which other issues like "indoctrination" and "scientific" methods allegedly adopted by radical groups to convert unsuspecting Hindu women to embrace Islam may be segregated.
One of the judges on the Bench observed that "this is an unusual case".
Though the genesis of the case was that of a Hindu girl marrying a Muslim boy and her parents moving to court, the NIA jumped into the fray due to the allegation of "love jihad" – i.e. conversion of Hindu girls/women into Islam by "indoctrination" and thereby "grow and multiply".
This according to the NIA appears to be the aim in the instant case as it stated in its report that hypnotic counseling is a "technique eimplyed by certain people to particular groups. There are trained people who use this method to influence vulnerable women".
These "vulnerable women" are then dragged off to an "altered state of mind" where they are made to believe in doing what the counselors want to.