#GurgaontoGurugram: every joke you need to know is in these 16 tweets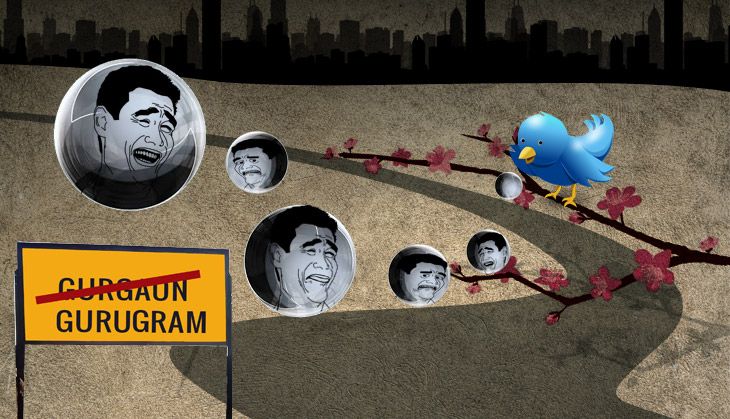 Gurgaon to Gurugram. Mewat to Nuh. This isn't the first time a city has been renamed. But on the ridiculousness scale, this may be a new high (low?). 
This latest name change got the blessing of state of Haryana Chief Minister Manohar Lal Khattar. "Since long the people of the area had been demanding that Gurgaon be renamed as Gurugram," he said, apparent ignorant to all irony because the people of Gurgaon have also, in fact, been asking for roads. And a sewage system. And, you know, air.
The Cong continued its current streak of irrelevance with an irrelevant protest.
Congress hits out at Haryana Govt for changing Gurgaon's name to Gurugram, says no logic behind renaming Gurgaon #GurgaonToGurugram

— News18 (@CNNnews18) April 12, 2016
While a more insightful critique came from this guy
On Ambedkar Jayanti BJP renames Gurgaon to #Gurugram - Guru Dronacharya's Gaon.

The Guru who took away a Shudra Eklavya's thumb. Appalling.

— Gaurav Pandhi (@GauravPandhi) April 12, 2016
Some were at a loss for words
No Gurgaon cannot be named #Gurugram pic.twitter.com/e3EQJoLTbf

— Vidhi (@VidhiTweets) April 12, 2016
But much of Twitter did what Twitter does, and rolled out the jokes. Here, in no particular order of awesomeness:
If I knew in my teenage years that all the times we were driving from #Delhi to #Gurugram to buy beer, well, I would have given up alcohol!

— Aseem Chhabra (@chhabs) April 13, 2016
Gurugram: Instagram for Gurus.#GurgaonToGurugram

— Shahana Yasmin (@shahana_y) April 13, 2016
I bet people living in #Noida are not gonna complain for a while about the city.#GurgaonToGurugram

— Moumita Majumdar (@Moumita57) April 13, 2016
Changing sentences is grammar. Changing state names is Guru-grammar.#GurgaonToGurugram

— BakchodBegum (@bakchod_begum) April 13, 2016
#GurgaonToGurugram. Waiting Telangana to Telegram, Sonipat to Sonogram Kerala to Kilogram and India will be renamed as Instagram 😁😁😂😂😂

— Rohit Malhotra (@rohitmalhotra59) April 13, 2016
Now at every golchakkar there will be a pathshala. #gurgaontogurugram

— TD (@ttrinadasgupta) April 12, 2016
I don't think they'll ever consider renaming Faridabad simply because they can't make it any worse. #Gurugram

— The-Lying-Lama (@KyaUkhaadLega) April 12, 2016
Plan to make a quick trip to #Gurugram. I shall call it Instagram.

— Ramesh Srivats (@rameshsrivats) April 12, 2016
Gurgaon is now #Gurugram.
The city is now confident of winning next year's Graami awards.

— Ramesh Srivats (@rameshsrivats) April 12, 2016
The way men stare at girls in Gurgaon, I am disappointed that its not renamed to 'Ghoor-gaon' #Gurugram

— Bakwas Rider (@BakwasRadio) April 13, 2016
#Gurugram is the SI unit of measuring the joblessness of any administration incapable of finding better preoccupations.

— Stereotypewriter (@babumoshoy) April 13, 2016
The ruins of Parthenon near the ancient city of #GuruGram pic.twitter.com/o6JRH8xrg8

— Saptarshi Basu (@sabeaux) April 13, 2016
How can dacoities, murders, mugging and rapes even happen in a place that has both Guru and Ram in its name? #Gurugram

— Roflindian (@Roflindian) April 12, 2016
If it was upto the Punjabi Folks, they would've renamed it to GurNaalIshqMeethaOyeHoye instead of #Gurugram

— Sand-d Singh (@Sand_In_Deed) April 12, 2016
I left #Gurgaon, I return to #Gurugram

I feel like Tom Hanks in 'The Terminal'. pic.twitter.com/r8UujoNTjL

— Pierre Fitter (@pierrefitter) April 12, 2016
Property prices of #Gurgaon has crashed by 50% after its renaming as #GuruGram

— Ashok Garekar (@DrGarekar) April 12, 2016